Exclusive Interview with Jean-Luc Servino – Director/ Screenwriter / Editor
Jean-Luc Servino is an italian director, screenwriter and editor. He make movies since 2014 winning several awards including "Best World Cinema Short" at the Culver City Film Festival with Zackary, "Best Cinematography" at the Los Angeles Film Awards, "Best Director" at the Eurasia International Film Festival with Dear Gaia, "Best Experimental Film" at Los Angeles CineFest with Whiskey for Robinson, "Best Drama Short" at the Under The Stars Film Festival, "Best WebSeries" at the Sezze Film Festival with "Edge", "Best Romantic Comedy" at the Hollywood Indie Film Awards with "Letter from Professor V", "Best Micro Short Film" at the Monthly Indie Shorts with "How About…" etc..
He studied at the London Film Academy and the American Film Institute in Los Angeles. In 2016 he wrote a book entitled "The vision of Ben". In 2017 he also approached the theater winning the regional prize for "Best Musical". His movies are available on Amazon Prime Video and IndieShorts TV.
Passionate about cinema since childhood, Jean-Luc shot his first short amateur films when he was 15. He immediately realized that this was his calling and began fine-tuning his filmmaking, photography and video editing techniques. In April of 2014, he participated in his first international film festival winning the Jury Award. The following year, another short film, about a child bride, was screened in over 50 locations throughout Italy.
Jean-Luc began focusing his attention on social issues, and in doing so, won the Humanitarian Award for Medicine in 2016 by Medical Care Onlus. In August of the same year, he launched an environmental webseries called "Natural Needs".
Shortly after, he published his first book, La Visione Di Ben, and then also joined a theater company. This theater company also provided a platform for him to launch an innovative production merging cinema and live theater. The theater company's musical "Nudo di Sogni" won the regional awards for Best Show in April 2017 and Best Musical in October of the same year.
Jean-Luc left the theater company and he dedicates to an experimental short. In december 2017 his film Zackary (2017), dedicated to the father Ferdinando, won the World Cinema Award at Culver City Film Festival (Los Angeles, CA). In April 2018 started the distribution of Whiskey for Robinson (2018) available on Amazon Prime Video.
In June he published the web-series "Edge – For the dreamers" who involves about 50 italian artists. In October of the same year, Jean-Luc began his London experience where he direct a short for LFA called "I fell in love with a Balloon", screened in several international student film festivals.
In November at Teatro Mercadante (Naples, Italy) he presented the docufilm Gli Angeli Silenziosi (2018) about volunteering and medicine. During the spring he shoot a new short film called Dear Gaia (2019).
Between July 2019 and January 2020 he won like "Best Director" in Moscow, "Cinematographer" in Los Angeles and the "Best Drama" award in Italy with "Dear Gaia". "Dear Gaia" was also available in Clermont-Ferrand Short Film Market 2020 and Social World Film Festival Young Film Market 2020.
During pandemic months, Jean-Luc produce some videoclips about Covid-19 and take his time to improve his knowledges with prestigious masterclasses with artists like Oscar Winner Pawel Pawlikowski, Suzie Davies and Daniel-Konrad Cooper.
In 2021 his experimental short "How About…" was screening at Tapei's Museum of Contemporary Art. In the same year he starts the distribution of "Letter from professor V" winning several accolades around the world.
In 2022 he finish his first film noir called "Goodnight Mister Johnson".
In August 2020 he was awarded "Excellence of Città Metropolitana di Napoli" for his artistic achievements.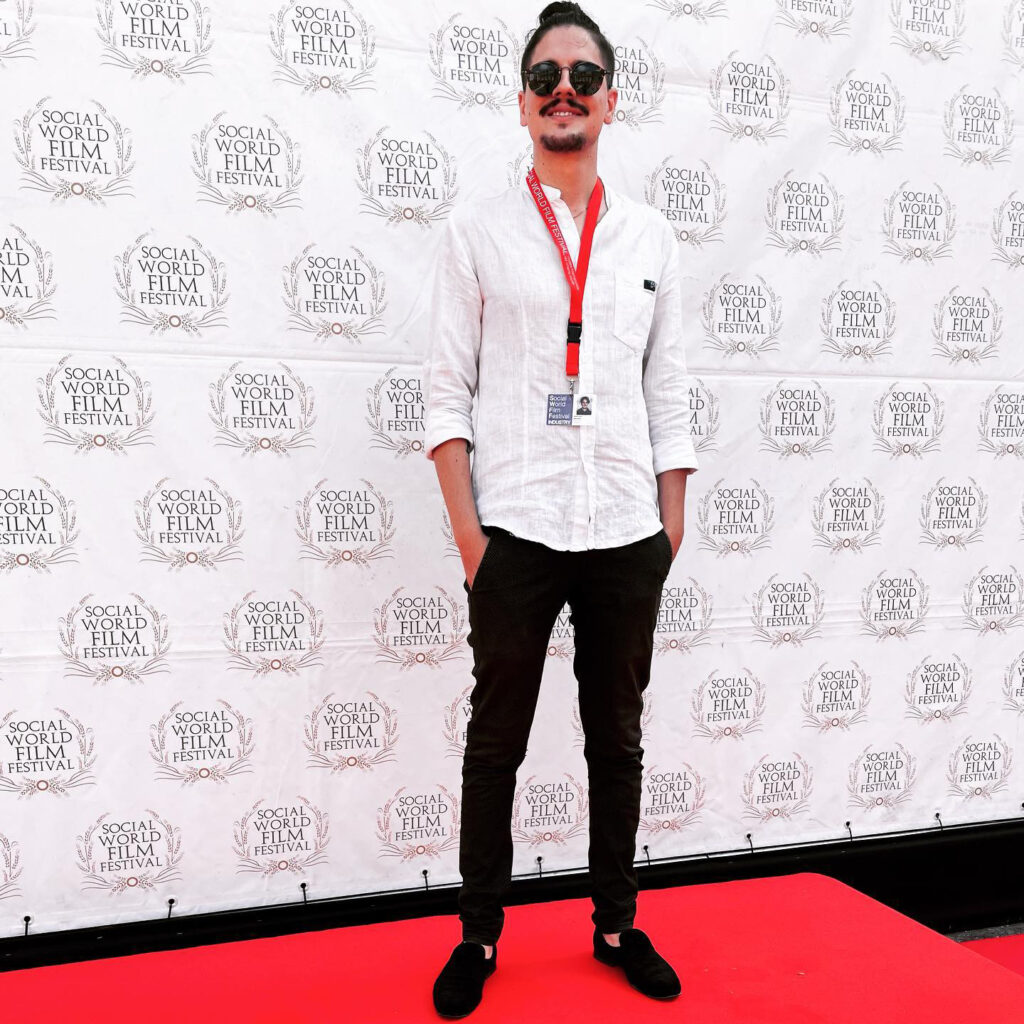 NY Glam: Tell us a little about yourself, growing up and your passions.
I was born in Italy, in a little country under the Mount Vesuvius where I grew up between the nature and the city. My father had a great passion for videomaking and photography, so I used my first camera at the age of 0 years, maybe touching the rec button or playing with it. My first conscious shoot was an adventure with my toys. I never left the passion for the cinema and in 2006 I start to make amateur movies with my friends with a fictional company called "Old Line Cinema", it was very funny years. I studied economics at the high school and political science at the university, but from 2014 I started my real filmmaker careers. The passion became work.
NY Glam: Did you have any specific influences growing up that lead you towards the film industry?
I think that specific influences have settled in my subconscious after the view of movie after movie. I felt the need to tell stories in my own terms.
NY Glam: What are you currently working on?
I am currently in the last steps of post-production of my first noir movie: "Goodnight Mister Johnson", a thriller that I had in standby from 5 years. Finally his time is come.
I am also working on the direction of another movie and on the writing of my next work.
NY Glam: What were your main responsibilities on this film?
First of all, the choice of the cast and the organization of the right team. After this, I personally took care of the choice of set locations, which is a really important thing especially for a noir movie. It was a long and meticulous pre-production. About the production, I worked on the direction and cinematography of the movie.
NY Glam: Can you tell us about your experience in working with your team in this film?
I usually choice the same team when I can do this, everyone is growing more and more in their field, especially my costume designer Emanuela Saviano and my makeup artist Nora D'Avino.
In these years has been established the perfect harmony with my usual team and this is really important… then if I grow up they deserve to grow with me.
NY Glam: What was the most important thing for this movie to achieve from a narrative and character standpoint?
It is important to say that "Goodnight Mister Johnson" is set in my imaginary universe without time called "Robinson World", so it is very nice if the viewer saw the previous movies set on the same scenario. In this movie I tried to do the best for the creation of the perfect noir atmosphere, with the right dose of mystery without forgetting the problems of the protagonist "Nico Johnson". He is full of rage for the murder of his wife but he continues to try to have a heart of stone attitude hiding his emotions during the investigations. His existential evolution is one of the main key of the movie.
NY Glam: What makes a film interesting for you? What are three qualities that you look for in a movie?
An immersive and interesting story, a good direction to sustain the story on the best possible way and above all a good pacing.
NY Glam: What project helped you launch your career?
If I have to choose a project, I say "Hello Sweet World" because it was my first attempt, almost by chance, to send a little experimental short at a Film Festival. I won a trophy and I was awarded in the city of Sorrento in 2014. That moment changed my life for the first time, but I also choose "Zackary", because it was the first time that I participate in an International Film Festival at Los Angeles and I won. My movie was screening in the house of cinema, under the Hollywood Hills in 2017, and that movie was dedicated to my recently passed away father Ferdinando.
NY Glam: What criteria do your team?
I have only one rule: it is imperative that the rotten apples are removed. I love to create a family atmosphere and I always do this, but if come a rotten apple that can destroy that atmosphere you can be anyone, you're out.
NY Glam: What are you most proud of? Describe your biggest accomplishment to date?
It is a very hard question because I'm lucky to say that there are a lot of things that made me proud. Maybe the biggest accomplishment was the medal of Excellence of the Metropolitan City of Naples in 2020, an acknowledgment for my artistic achievements.
NY Glam: As a screenwriter, what is the most important aspect of building a character?
He absolutely needs to be charismatic, so you need to study a series of characteristics that make interesting your character. It is really important to work on his characteristics, then every other aspect like his build or his costume design etc. will come automatically.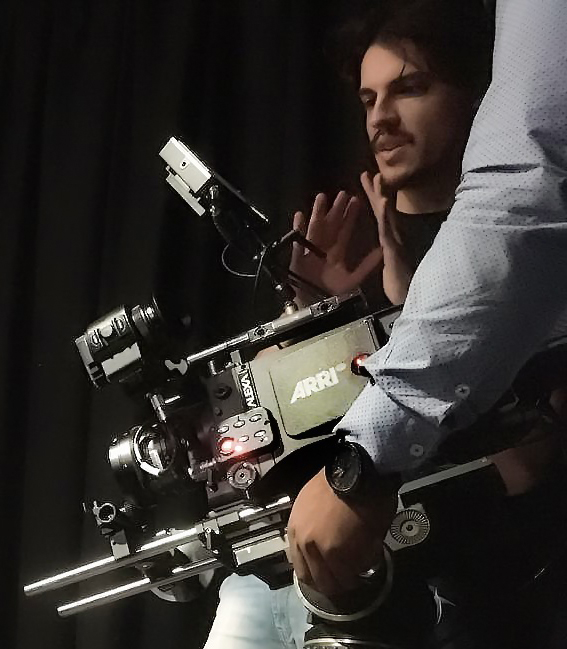 NY Glam: What are your ambitions for your writing career?
I would like to conclude a trilogy of books that I started in 2016 with "La visione di Ben" and translate it into english, it would be really nice for me.
NY Glam: Do you have any upcoming projects that you're super excited about?
Absolutely yes, but for the moment I keep them to myself except one, the return to the experimental world with a movie called "We laugh" (working title).
NY Glam: What advice would you give to someone who is aspiring to enter the film industry, especially as a film director?
Believe in your ideas, be self-critical, watch movies and try to learn something from every filmmakers, don't waste your time envy them or be jealous of them if they've done something more than you, use your time to study and to grow up. If you are a student, learn every technique they will teach you because it's really important, but never lose your own style if you have one. The line between a technical filmmaker and an artist is thin.
Hits: 62