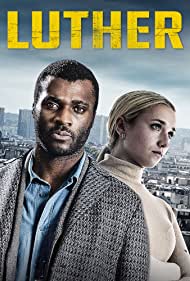 Luther is a British psychological crime drama television series starring Idris Elba as DCI John Luther and Ruth Wilson as Alice Morgan, written by Neil Cross. The first series is composed of six episodes which ran in May and June 2010. A second series of four episodes aired on BBC One in June and July 2011, and a third was commissioned in 2012 composed of four episodes which aired in July 2013. A two-episode fourth series was broadcast in December 2015, and a fifth series of four episodes premiered on 1 January 2019. BBC Studios handles the distribution. Elba has been a awarded a Critics' Choice Television Award, Golden Globe Award, and Screen Actors Guild Award for his performance as John Luther. The series has also received eleven Primetime Emmy Award nominations in various categories, including four nominations of Elba for Outstanding Lead Actor in a Miniseries or Movie.
The first series of Luther aired in 2010 and received positive reviews from critics, getting an average of 5.9 million viewers per episode.
The BBC announced a fifth series composed of four episodes on 12 June 2017. Filming started in early 2018. Ruth Wilson was confirmed to be returning as Alice Morgan for series five. Series 5 directed by Jamie Payne premiered on 1 January 2019, and was broadcast over consecutive nights through to 4 January.
Idris Elba had previously expressed his desire to start filming in September, however, due to an unknown delay filming didn't start until late October.
As the film is a co-production between Netflix and BBC Films, it's unclear if Luther will be available on Netflix UK. What's likely to happen is Luther will be available to stream on BBC iPlayer before eventually arriving on Netflix.
Netflix hasn't given a release date for Luther, however, with filming currently underway, we'd say it's a safe bet that Luther will arrive in the second half of 2022.