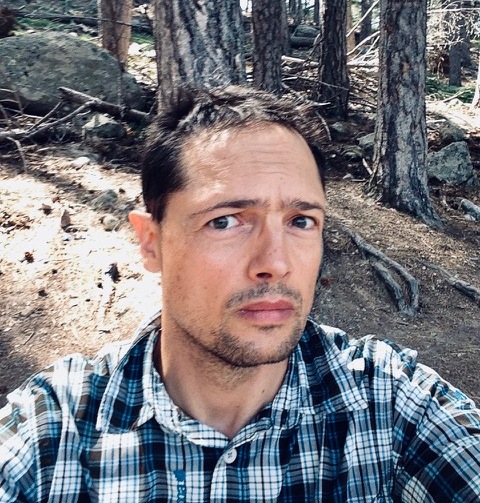 Joan Bentosela GONE director. Based in France. He wrote and directed three short films: Davvero (2004), Wet (2007), starring the French actress Laure Calamy, and Gone (2019). He also wrote three short radio plays for the French radio France Culture.  In 2005 he studied screenplay writing at La Fémis, the French National Cinema School in Paris, during a one year workshop. He makes films only because it's better than life. For him making films doesn't make you happier but it brings some colors to your life. And making films is creating a different world because this one is not right.  All the main characters of his films are female ones. It's not a choice, it's an evidence. In addition, he loves mystery and all his short films are full of mystery!
Exclusive Interview with Joan Bentosela – Filmmaker
NY Glam: How long have you been making films and videos?
I´ve been making short films and screenplays for 16 years.
NY Glam: What film was your directorial debut?
Davvero, a rather missed short film. In France, we say that the first crêpe is always missed! It is the same for the films!
NY Glam: What is your recent film about?
Gone is a psychological feminist thriller about maternity, loss of reality and alternate universe. A bickering family on a road trip stops at the gas station. Murielle, the mother, insists on having the car washed. And suddenly her reality disappears. What is her reality? Where is the truth? The audience has to decide!
NY Glam: How did you go about casting for the film?
I saw Aurélie Pitrat, the lead actress of Gone, in a theatre play in Ajaccio, Corsica, where I was living. I immediately knew that she was my Murielle! Everyone appreciates her extraordinary performance in the film. She brings a lot of humanity and sincerity to this role. I am very proud to have her in my film. I also saw the two other actors of the film in plays. Theatre actors inspire me more than others. Perhaps because I feel more directly their strength when they are playing on stage. There is a rare emotion. I started to write screenplays when I started seeing actors on stage.
NY Glam: What was the most important lesson you had to learn that has had a positive effect on your film? How did that lesson happen?
That the reality of a shooting is always better than the imagination of a screenplay! Moreover the shooting was a delight, this is the first time that it happens to me. This atmosphere gives you a big and strong liberty and confidence to do what you want to do. It's magical! If only it could be the same every time!
NY Glam: Tell us a bit about the other films you've made and your other projects.
Davvero is an Italian comedy about language and incommunicability in relationship.
Wet is starring the amazing French actress, Laure Calamy at her film debut. It is a fantasy short movie about the loss of reality and incommunicability in relationship. My two obsessions! The cinema only reflects what I am. I always talk about myself in my short films but not about my intimate life which would not be very interesting for the audience! I talk about my obsessions and fears. And I want to question the viewer about who he is for himself and for others.
Now I have three short film projects: a drama to be shot in Corsica, a fantasy one to be shot in Spain, and another to be shot anywhere! Always searching money for making them. And I'm writing a feature one.
NY Glam: What role have film festivals played in your life so far?
The screenplay of my second short film, Wet, was awarded in a festival in France, I had a grant and then I could make the film.
My third one, Gone, is now played in festivals all around the world. It is very exciting and rewarding. It gives me visibility that I didn't have before.
NY Glam: Is it harder to get started or to keep going? What was the particular thing that you had to conquer to do either?
It is harder to get started. Really. At your debut, you are like a little lamb surrounded with sharks! And then, with the years, you become less a lamb and more a shark! I have long considered that making films was something impossible. But ultimately no! It's proof!
NY Glam: How has your style evolved?
I choose more purity and simplicity. I look more for the core in a scene or a dialogue, and prioritise an uncluttered style. But I'm always learning. And considering the topics of my short films: darker and darker!
NY Glam: What has been your personal key to success?
Never give up and show perseverance. And always thinking about the child you were.
We make films because life is not enough.
NY Glam: What are you thinking about doing next?
My next short film. I want to shoot it in the Corsican mountains, extraordinary landscapes for a painful story.