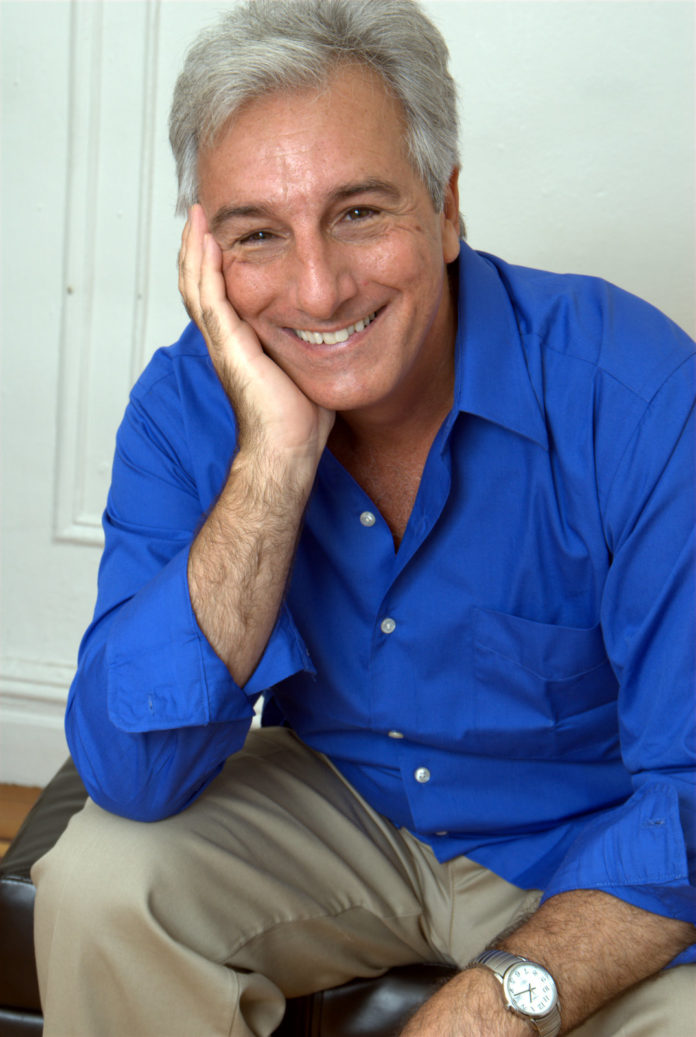 Marc Baron, a native New Yorker was born in Queens and grew up in Nassau County, first began acting and singing in grade school. In high school he began writing and directing many school projects, including a benefit that raised $14,000 for Cancer research. He continued acting, singing and directing in Pace University, Manhattan, where Prof. Joseph Miranne took Marc on as a protégé. Marc was titled the 'Most likely to succeed' by the college theatre club.
After service in Navy intelligence, Marc returned to Pace, then continued his studies at the American Academy of Dramatic Arts and H. B. Studios. Fred Kelly, choreographer, brother and instructor to Gene Kelly, became Marc's friend and muse, mentoring him in the early stages of his career. Fred, a well known direct of early television, brought Marc into The Lambs, America's first theatrical club. Shortly after, Marc began acting, singing, writing, directing and managing productions for The Lambs. Professionally, some films Marc has appeared in include Mortal Thoughts, Big, and Bullets Over Broadway. He is known as the stand-in and photo-double to the stars; Hugh Grant nick-named him the 'Long Chaney of stand-ins' for his uncanny ability to physically imitate numerous actors. He has worked with actors including Dustin Hoffman, Matthew Broderick, Michael J. Fox, Sean Penn, Sean Connery… and with directors Sidney Lumet, Andrew Bergman and Woody Allen … and with cinematographers such as Carlo DiPalma, Don Thorin, Bill Fraker, Laslo Kovacs and Zhao Fei.
As a writer, Marc has co-authored the stage musical and screenplay version of Love of a Lifetime; the comedy western screenplay, Don't Call Me Cisco; He co-wrote the police action-drama Blue Shirts; the thriller Winner Takes All, and Hot Properties, a romantic comedy based on a play Marc directed. Mr. Baron has been published in numerous newspapers, and in the Journal of Chemical Education, 1988. Marc uses his vocals abilities as a 'voice-over' artist recording commercials and narrations for radio and television and has sung in many area cabarets.
Marc has been a member of SAG-AFTRA since 1979, was very involved in the merger of SAG and AFTRA and has been serving on the NY Board for 12 years.
Exclusive Interview with Marc Baron – Filmmaker
NY Glam: Tell us a little about yourself, growing up and your passions.
I grew up in a household filled with art, just outside of Queens, NY. My mother used to say that art was in my DNA. My grandfather was a sculptor from Vienna who knew Gustav Klimt and Egon Schiele; and his brother, Florian was a rival sculptor. We had many of my grandfather's work in our home and I still have many in my apartment today. My grandmother was a concert pianist from Vienna who was distantly related to Gustav Mahler. My mother began her career as a singer/dancer and schooled in Vienna with fellow classmate Hedy Lamarr; my mother was supposed to audition for ECSTASY but my grandfather would not allow it. Her elder cousin, Otto Waldis, was an actor who began his career in Fritz Lang's M and died before filming his role in Mel Brooks' YOUNG FRANKENSTEIN.
I always had an interest in the arts. In grade school I performed in little productions, sang in the choir and played in the band. I did the same in high school, and college – where I was mentored by Gene Kelly's brother, Fred (who taught Gene how to dance). I was always passionate about music, theater and art.
NY Glam: What are you currently working on?
Today I wear many hats. I have been serving on the NY board of SAG-AFTRA for 12 years. I was just re-elected to my 3rd term as Shepherd (president) of The Lambs, America's oldest professional theatrical organization founded in 1874 (The-Lambs.org). I also serve as the president of The Lambs Foundation, which supports education in the arts and non-profit theater.
Years ago, while working on the film FAMILY BUSINESS, I was encouraged by Matthew Broderick and Dustin Hoffman to start writing my own projects. Over the years I have co-written and/or doctored many screenplays, but my focus is now on developing and producing a comedy feature I wrote, titled MEGABALL$ (MegaBallsMovie.com) – we're working on the financing.
NY Glam: What made you take this role?
I originally saw the story as a short. I was spending a lot of time in Florida taking care of my mother in her final months. I decided to escape those depressing evenings by writing the screenplay for MEGABALL$ and had a first draft in 10 days. The screenplay now has been recognized by more than twenty film festivals. Interestingly, it's up for an award at the Florida Comedy Film Festival just a mile from where my mother lived.
The script did extremely well in two readings held this summer in Manhattan. In fact, one of the writers of THE SIMPSONS, Mike Reiss, a 4-time Emmy winning comedy writer, attended and gave me a wonderful quote praising the script.
NY Glam: What journey does your character go on in the course of the monologues?
The lead character, Jimmy, starts off with many false presumptions – about his own abilities and about the people around him. In his effort to prove himself, he learns how to see and accept himself, and others, for who they truly are. We take advantage of the audience's willing to accept stereotypes, then turn them on the side to make them see in a broader light.
NY Glam: Tell us a little bit more about this film, what is it about, who else are you working with, and who is the director?
We've assembled a great team. Among them is every major award except an Oscar. I will be directing.
The log line is, "When an OCD computer geek, determined to prove he can mathematically predict winning lottery results, uncovers his plan has been bankrolled by the Mob, he struggles to beat the odds before his number's up."
My business partner, Joe Cirillo will be one of the producers. We have a great DP, Dejan Georgevich, and wonderful script supervisor, Veronica Lupu; and Ellen Jacoby as casting director. John Bruno will Line Produce. Our lawyer, Corky Kessler, is a Co-Executive Producer. A few lesser roles are cast, including Lin Tucci from ORANGE IS THE NEW BLACK.
NY Glam: What is the most challenging role you have played and why?
By far producing. Writing the script is purely creative, but getting others interested to build our team, and to raise the funds – that's supper hard. It's chasing drunken kittens. It takes constant work, reading about indie film trends then making frequent adjustments. Sometimes it can be very difficult to not get discouraged. It does seem, though, when things are looking a little bleak, something happens out of nowhere to perk us up – as if the universe is reminding us to stay strong. Right now, our biggest challenge is finding accredited investors to help fund MEGABALL$. We have invested a lot of time and a lot of our own money in the development, which includes all the required legal work.
NY Glam: And the most fun one?
By far, the writing. There's total freedom there. I also enjoy the challenge of helping others with their creative works – I often help others with formatting their screenplays and fine-tuning their stories.
One joy of the biographical work on my grandfather was discovering family in Europe thought dead since World War II. We've connected and became close, and I try to visit when I can.
I also find it fun and rewarding when I sing, usually at The Lambs, where I can emotionally move the audience.
NY Glam: Where have you played a lead role? What was the character about?
Though I have done a lot small stage work in NYC — and tons of play readings — most of my film work was as a stand-in. Not glamorous, but an integral part of filmmaking. It allowed me to learn a tremendous amount about filmmaking on sets, and I've gotten to work closely with top talent who willingly shared their expertise. Among them Sidney Lumet, Woody Allen, Sean Connery, Bill Fraker, Don Thorin, Dustin Hoffman and Matthew Broderick. We had great fun, and they were all very encouraging.
NY Glam: Describe your biggest accomplishment to date?
So many. Being a part of the SAG-AFTRA Board, helping the merger happen, and serving my fellow members … At The Lambs, keeping the Club vibrant and creating an atmosphere where members can let their creative spirits soar, and issuing grants to non-profit theaters
… and then my screenplay, which I hope gets made this year. It was very rewarding to hear all the audience laugh during the two readings this past summer in Manhattan and, of course, getting all that recognition from film and screenplay festivals is icing on the cake.
NY Glam: As a screenwriter, what is the most important aspect of building a character?
Getting inside the character's head. Finding what drives the character to action, to rise against conflict, then to have that moment of self-revelation where the character experiences a growth based on what has happened during the story. It's that moment — that's the pay-off! It's finding the ways to weave the story, giving the audience the surprising twists and turns, while pushing the character to grow from those experiences.
NY Glam: What have you seen lately that's inspired you?
Some clever written films, such as KNIVES OUT. We have had so many great films, and great performances this year. I'm also inspired by the actors, writers, friends around me who push forward to keep themselves creative. JO JO RABBIT was tremendously creative and effective as was PARASITE.
NY Glam: What's your goal for this year?
2020 – get MEGABALL$ into production. Absolutely!
NY Glam: What is your advice for aspiring actor/screenwriter?
Watch good talent, really observe them. Watch a lot of movies, good or bad, then analyze what makes them work or fail. Build a network of support and ask those your respect for ideas and feedback. Be open. Formatting, spelling and punctuation count! Don't be afraid of returning to the work and refining it.
Follow on Facebook, LinekdIn, Instagram (as OroloroEnt) and Twitter (OroloroEnt)