A short description of your professional career?
Mashroor Parvez: I've been making movies since 2003, I remember the resolution of my first camera being less than a megapixel and I used to edit in windows movie maker. Those were the days! Even back then I wasn't much of a preacher.
My day job is working at an IT firm as the creative director. I worked as an assistant director for nearly 4 years in the Dhallywood film industry before that. I took my graduation from North South University (NSU) two years later as I got the chance to co-direct a feature film. This was not my project of choice, but I was hellbent on getting my director's license even if that meant boarding a sinking ship.
I finally acquired my license in September of 2014 from the Bangladesh Film Development Corporation (BFDC) and started working as a film director in the entertainment industry. I ended up making a single drama for Channel i (largest private television network in the country) that would start the arduous path towards "Raian", my first solo directorial film. When the pilot was not picked up, I started to self-finance this project and expanded it into a full-length movie over a period of 3 years that found limited theatrical release in Dhaka city. The journey ended with a special screening at the Bombay Theatre in New York City on the 9th of December 2017.
What have you learned since your first film?
Mashroor Parvez: After seeing the audience reception of "Raian" abroad, I knew I had to take a chance on myself and see if I could make something from the ground up that resonated with those outside of my home country. I've done two short films since joining Far-East IT Solutions Ltd. and both of them have been selected at film festivals the likes of the International Film Festival of South Asia (IFFSA) Toronto and the International Filmmaker Festival of New York (IFFNY), amongst many others as well as winning multiple awards, both national and foreign.
I've grown as a person over the years and that clearly showcases in my work and I don't mean that on a technical level. I've always maintained film grammar to tell my stories and I make it a point to break it only to serve the narrative. There's always going to be a sensationalist aspect to filmmaking but I try to ground the key components in my stories to reality. The theme of misery has been a constant for me.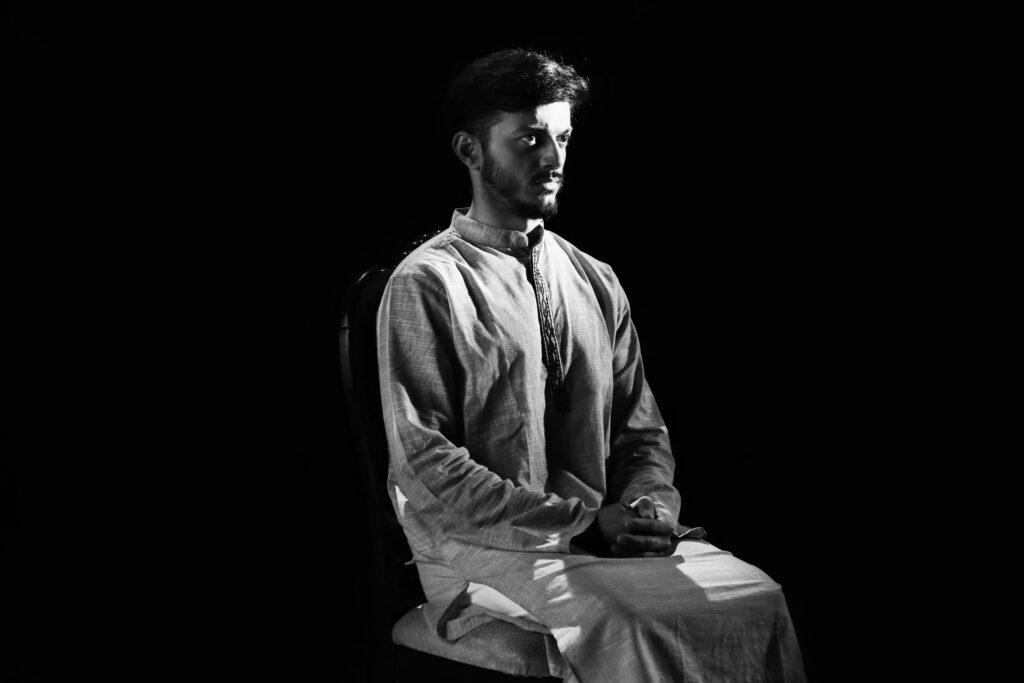 What projects are you currently working on?
Mashroor Parvez: We think about black and white in terms of good and bad – the principle of yin and yang. Both of my shorts, "The doGs Illusion" and "The silence of KNOWING" act as a precursor to what I would end up finishing in my second feature "going Home". Various kinds of despair dropped by at the wayside of life. Not wanting to go into spoilers I'll stick with the basic overview: A serious man who used to wear sunglasses at night wants to go home, after a series of incidents involving his past life.
I painted a framework of ties that bind the audience to discuss; there is no particular color or shade that I'm looking for. The film was supposed to come out this August but due to the pandemic, the release date got pushed back to next year.
What is different about being in the director's chair with this project?
Mashroor Parvez: Honestly, it's the shrinking budget that's mostly a bother as I don't like to finish every day in the nick of time. I still manage to get the shots I need but time isn't a luxury I can afford just yet. I make films from a very personal space, there's a specific story I want to tell, but unfortunately in Bangladesh, most producers are not ready to pay for that. Mainstream cinema is the only segment that's left in our dying film industry and fortunately or unfortunately, I'm considered an art film director due to my disinterest towards traditional storylines and song and dance routines common in South Asian films.
So, it was a matter of maintaining the cinematic feel throughout without giving away to the audience the piecemeal nature of the production. I do not plan on becoming comfortable with my work anytime soon and reaching the apex is nigh impossible. After many years of struggling, I have learnt how to light the fire within. I am not afraid of it blowing out anymore. I have to believe there is an audience for my work outside of my country.
What has been your personal key to success?
Mashroor Parvez: I don't presume to know everything as a director. All my ideas are open to possibilities but I'm careful to not be too open because the experts here don't know their subject matter very well. Their minds can be closed, focusing on only things that they can do. Expertise in that sense can become a shackle, really restrictive. Granted, this can be a strength as well. I contribute both my professional expertise and knowledge and creative openness to my team. And as they are able to work freely, they feel comfortable working with me. Whether that inherently becomes part of the process, I can't say.
What advice would you give to someone who wants to have a career in filmmaking?
Mashroor Parvez: It's always the hardest to get started. That first step is everything. And in the middle of everything, motivation does start to run out slowly. That's when commitment and persistence are key. Life is mostly made up of failures, so when success does finally happen it should not be a cause to slow down. This process cannot be a one-off either, you must teach yourself to do it time and again. And with all of the failures I've had, it's a philosophy that's kept me going over the years. Also whiskey.
Please name three artists, whose work has influenced your work. What would you like to ask each of them?
Mashroor Parvez: Sohel Rana: What are your thoughts about prioritizing career over family now that you're the last living legend of Bangladesh?
John Carpenter: While shooting "The Thing", did you know that the finished movie would not only eclipse the original but end up becoming one of the greatest science fiction horror films of all time?
Martin Scorsese: What is your go-to "I need a fucking drink" of choice?
What do you enjoy most about your job, your career?
Mashroor Parvez: I make movies first and foremost for myself and while that philosophy does not guarantee a film that will be loved, it does guarantee work with a spirit that has never been seen before. That to me is worth striving for. Nothing is unsettling about having your deeply held beliefs reinforced to you. I strive for the truth in all my works. Entailing a message about how we don't have to conform to what is expected of us based on the role we're handed at birth or the roles we end up adopting later.
All artists bring themselves around to the same question: Why do I create?
Mashroor Parvez: I don't believe in the idea of art for art's sake. I am deeply invested in the belief that good art should make us less moralistic and judgmental and should be a supplement to faith in terms of developing our reserves of kindness towards humankind. One way or another, the artist puts themselves through the creative process and, typically, uncovers some greater truth about themselves. For some, it's to express a greater emotion, one that can't be tackled head-on, nor conveyed through ordinary conversation. For others, it's the simple production of a commodity. I fall into the former.