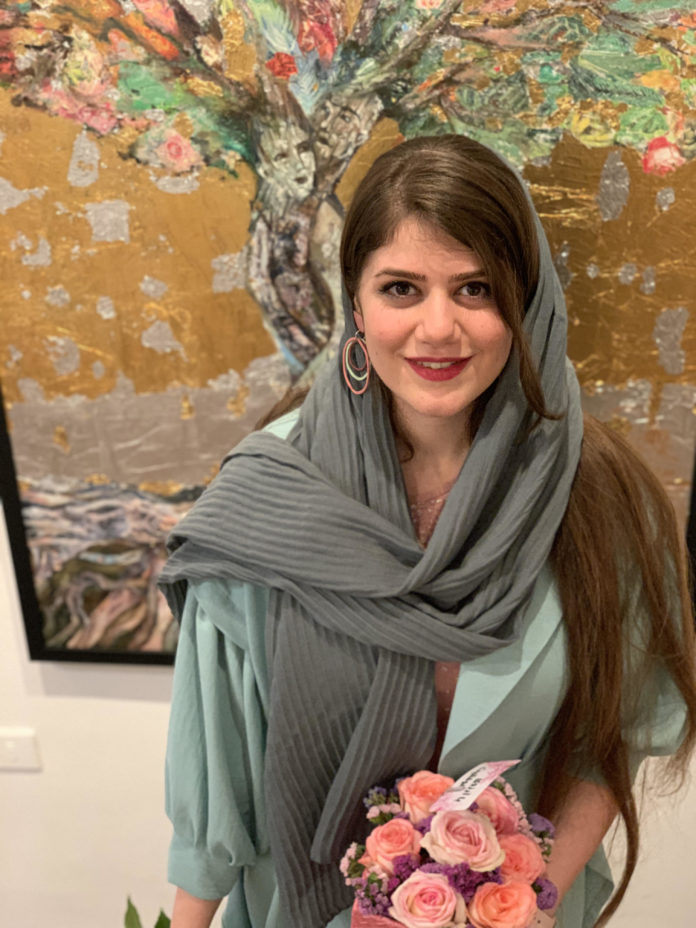 Exclusive Interview with Elham Movafagh-Painter
NY Glam: Tell us a little about yourself and your career beginnings.
EM: My name is Elham Movafagh. I live in Tehran, the capital city of Iran. From my early childhood, I loved painting. I mostly used pen & pastel and later in my teenage years had painted a few of oil paintings. However, my love for art was affected by the requirements in my high school, NODET, (National Organization for Development of Exceptional Talents). The most important role you should have in this school was to be best at mathematics and science, while art was not being valued equally. I had to give up art, chess and music. I remember, feeling extremely disappointed, depressed and stopped painting. Years later when I fell in love for the first time I started painting again to express my feelings. White canvas help me feel relaxed and peaceful, I love to create things of my own. I have a BA in architecture and now I am in the process of getting my master degree. Professionally as an architect , lm working for international company where I design interior spaces.
NY Glam: What projects are you currently working on?
EM: I am working on a new painting; it is a reflection of my adventures and a map art. It is a larger painting than I usually paint – seven square meters. The idea of this painting is to show the world's diversity presenting different countries and their cultures. The paining will include my dairy in Farsi, the language of my ancestors, and English, as an international language.
NY Glam: What art do you most identify with?
EM: Painting and photography using different materials, especially mirrors. I like to capture nature and architecture. For me photography is about making a moment immortal. I believe when you take a photo and share it with the world, it may seem just as any other photo of this place, but, it is not – everything is changing in a seconds, the world is transient and being able to capture a blink of eternity is what art is to me.
NY Glam: What themes do you pursue?
EM: I call my themes "Ellish" because they are a mixture of different themes that have been filtered through my mind and because they mirror my personal style. I am not following any specific themes. I use modern art, abstract, expressionism, symbolism and decoration and the techniques I use are mono print, linoleum print, collage.
NY Glam: What's your favorite art work?
EM: I admire Jackson Pollok's paintings for his unique talent to show that art is formless yet, has special patterns, which not everybody can see. I like the mystery of his forms! My favorite is his early years painting "Mural." His ability to create so many layers with unique color combinations fascinate me. I also like Persian artists, especially, Monir Farmanfarmaian who worked with mirrors creating unique art pieces. I like traditional handmade woven carpets art by Nazgol Ansarinia. The "Rhyme & Reason" capturing the beauty of people's casual life.
NY Glam: Tells us about some of your recent exhibitions. What memorable responses have you had to your work?
EM: Honestly, up until now have only shown my art to my friends and family, it was no exhibitions.. I'm very exited because my painting "Valinor" became part of group exhibition named "Love", at the Zarna Art Gallery in Tehran . The execution was opened on 02 Aug 2019 and the closing day will be on 07 Aug 2019.
The most memorable response is, "I love the raw look of your art."
NY Glam: Tell us about one of your projects, which you are very proud of.
EM: I think it may change as I paint more, but right now, it's "My adventures." My self-portrait with my precious collection of museums, metro, flight tickets, coins and many other little things that I wanted to preserve not just in my memory, but to share it with the world. When you look at this painting, you can see through my art the countries I visited: Italy, France, Germany, Netherlands, Spain, Portugal, Belgium, Serbia, Turkey, Russia, United Arab Emirates, China. This painting is not completed, I am hoping to visit New York some day and add the ticket to the Empire State Building, Statue of Liberty and Broadway show.
NY Glam: What does "being creative" mean to you?
EM: The ability to develop not to be shy of different ideas and to create, using unusual materials.
NY Glam: What are you trying to communicate with your art?
EM: I think, like all artists, I am trying to express what moves me, what feels important to me. Like showing different cultures and a peaceful world . I use many different materials such as mirrors, newspapers, oil watercolor, and metals, to reach a point of harmony in their combination. I'd like to believe, that when people can see a reflection of themselves in the mirrors embedded in my paintings, they can see themselves in the world and see the world through their own imagination. One of my latest painting I call "Black gold." It's about war for power over oil and how it's affecting regular people. I may sound trivial, but I would like to believe that my art could help people see the simple idea that peace is universal and precious no matter where we from and what our position in society.
NY Glam: What role does the Artist have in Society?
EM: Not to be concerned of consequences or approval but also finding strength in themselves to show the truth and to inspire people. I believe true artist can encourage trust, love, respect and peace.
NY Glam: What are your thoughts on being an artist in today's world?
 EM: I believe, the world of art is timeless and above judgment, it is also a hard work and soul of the painter. As an artist born and raised in Iran, I am eager to live in a peaceful world. I believe art could play a crucial role in bringing different cultures to understanding and accepting each other and to finding peaceful solutions in conflicts. The world facing bigger problem – the global warming and all the countries have to come together make peace and find solution how to save our beautiful planet. I sound trivial again but" I'm not the only one " the dreamer and so many people from all over the world have similar thoughts.
NY Glam: How has painting influenced your life?
EM: A few years ago after I started painting constantly, I realized that I can express my thoughts and emotions in my paintings and relieve myself, painting makes me see everything in life differently. All my uprising and schooling was to put my mind in a frame of what is accepted and expected in my society, to discipline and suppress my spirit. When I am painting, especially, abstract – the walls of those frames fall, I feel unbounded, formless and free.
NY Glam: What art movement or artist would you say influences your work most?
EM: It is hard to name a specific one, many artists influenced me deeply but the one I was always fascinated with was Leonardo da Vinci. I was a teen when I read a fiction book called "The da Vinci Code." It inspired me to study Da Vinci's life, he was a genius: as a painter, as an architect and engineer. I spent much time watching and studying his work. He is the reason I became an architect. I traveled to Milan only to see his painting "The Last Supper."
NY Glam: What can we expect from you this year?
EM: I have some new ideas, but all in its time.
NY Glam: Can you share with us three favorite things about your city/culture?
EM: Tehran is the place I was born and my hometown, the capital city of Persia (now Iran) – it is a place full of ancient culture. The city walls were built in 1553, then in1786 it has become the capital of Qajary Persia. The old town of Tehran with lots of traditional bakeries is my favorite place. The bread is served hot from the old-style stone ovens. I love the smell and the taste! Tehran is surrounded by the mountains, I love to watch them from our rooftop at the sunsets, or on a rainy day – the rain washes away the air pollution and you can see the mountains in their full might and beauty with all the different colors, with their white peaks.
I love the historical center of Tehran on weekends and its traditionally quiet Fridays, in a contrast to overcrowded weekdays. I walk on narrow old-fashioned streets, enjoying the silence and sensing the old town's authenticity. When I go to Old city center during the week I like to visit the Grand Bazar, which is at least 400 year old and is a city within a city – one of the most amazing places I've ever seen. I love its architecture its vanity its rich colors and laud noises its smells and its atmosphere of an everlasting festivity.