Vedran V Pasalic b. 1984 Mostar, Bosnia and Herzegovina. The artist studied Graphic Design at Salt Lake Community College 2001 – 2005 and studied Fine Art at University of Utah. He had several local shows in Salt Lake City, was a RAW Artist Directors Cut December 2013. Was top 10 Artists of Salt Lake City Showcase for RAW Artists Dec 2013. The artist had 2 shows at Sundance one in the Infinity Lounge Jan 2015 and the other was for Paralyzed Olympic Athletes. First solo show premiered at Gallery Mestizo in Salt Lake City, UT August 2015.
Exclusive interview with Vedran V Pasalic b. -Painter
NY Glam: Tell us a little about yourself and your career beginnings.
I am a native of Bosnia and Herzegovina. I was 11 years old when I came to the US with my family. In 1995 after the war was over my family decided to leave the country and seek a better life. It was very hard to start a new life in a new country, new language, new culture without knowing anybody. But everything is possible with hard work, learning, studying and most of all support and love from the family.
Coming from a father who is an Academic Artist and watching him work at his studio, I started drawing when I was 4 years old. In art I saw a greater power that could touch people. After finishing up my Graphic Design degree, I enrolled at University of Utah to study Art. My work was noticed by my Art professors, they noticed strong power coming from my work. That gave me an idea to make a name for myself "Painter of Power "
NY Glam: What projects are you currently working on?
Currently I am working on painting " ODIN The Allfather " previously I drew him in pen and ink and it was extremely successful that it was all over the Viking world on Instagram.
Now I want to use different mediums to create a series of ODIN paintings.
NY Glam: What art do you most identify with?
The Art that evokes power and emotion! Look at my art of the ODIN, 3 Holy Horses and the Lion. What do you see?
NY Glam: What themes do you pursue?
I am fascinated by the ancient world, Norse, Roman and Greek mythology.
NY Glam: What's your favorite art work?
"Oath of Horatii" by Jacques – Louis David
NY Glam: Tells us about some of your recent exhibitions. What memorable responses have you had to your work?
My work has been exhibited few times at Sundance, Park City – Utah. RAW Artists of Salt Lake City for 2 years in a row. Was a director's cut RAW Artist, my most recent feature was drawing of "ODIN The Allfather" it was featured on Instagram Viking world.
NY Glam: Tell us about one of your projects which you are very proud of.
Sundance 2014 Painter of Power with Paralyzed Olympic Athletes
NY Glam: What does "being creative" mean to you?
It means being connected to creation itself.
NY Glam: What are you trying to communicate with your art?
The name says it all "Painter of Power" I want to awaken Power, Hope, Energy and Greatness to the people who see my work.
NY Glam: What role does the Artist have in Society?
The role of the Artist is to inspire, tell a story and create things that will touch people's lives.
NY Glam: What are your thoughts on being an artist in today's world?
It's not easy to be an Artist in today's world. My job as an Artist plays a very important role in society. My job is to lead, uplift, or provoke with my work.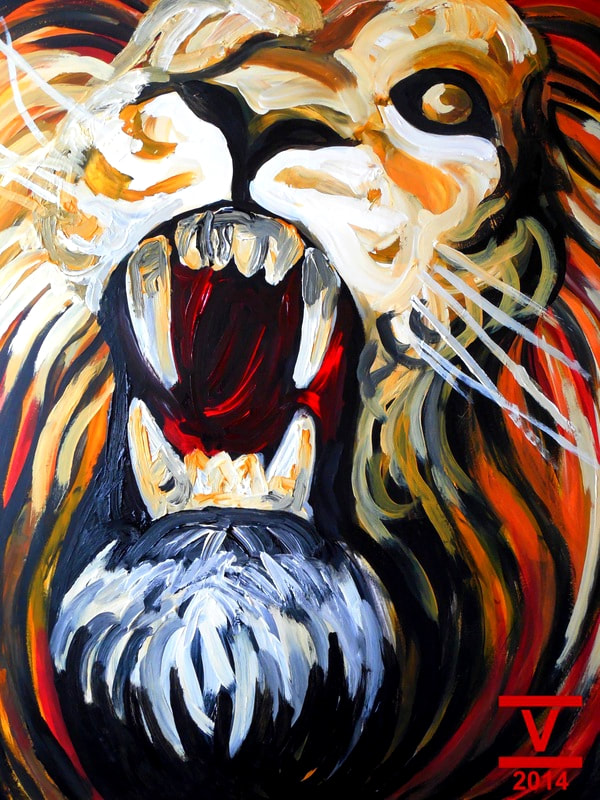 NY Glam: How has painting influenced your life?
People are immediately attracted to the images I paint, because they evoke Power. Everywhere I go people are drawn to my work. I remember what my professor told me once "There is power coming out from here! There is something here!"
NY Glam: What art movement or artist would you say influences your work most?
My father is the greatest artist. He embedded in me a love for the art and the rest was up to me.
NY Glam: What can we expect from you this year?
This is the year of Painter of Power! One of the projects of this year will be painting a series of ODIN paintings.
NY Glam: Can you share with us three favorite things about your city/culture?
Utah is one of the most beautiful states in the US, Zion National Park, Bryce Canyon National Park and Arches National Park are spectacular!