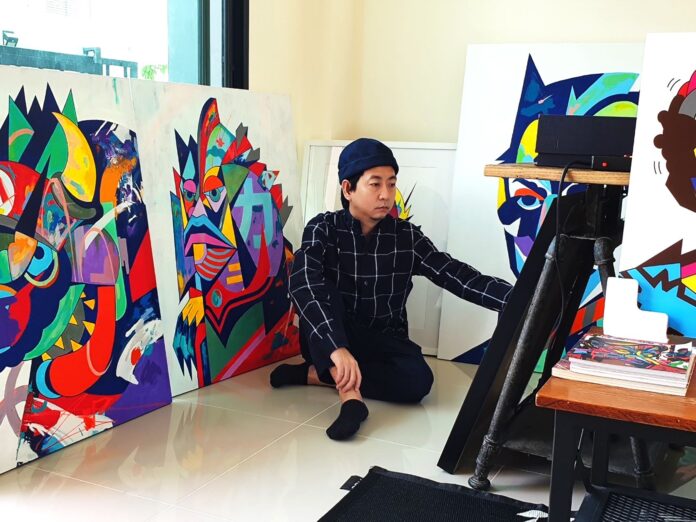 Exclusive interview with Pichet Rujivararat "TIKKYWOW" – Artist

He completed Art Education from Chulalongkorn University. For many years, he has
worked in well-known Advertising Agencies, where he has involved with many projects.
And also his work as an artist collaboration with many campaigns such as Carabao
Can Thailand, Thai Airway TV commercial, King Power and Disney's Endless
Celebration 2018, WWF, Unicef, Johnnie Walker, T-shirt design for Nike in USA,
G-shock, Playing Arts Card in USA, Cassia Hotel by Laguna group, and 2nd award "Paint the Sky with Amazing Thailand" of Air Asia airline, Collab toy with Martian toy in New York, Etc.
Some Work Experienced
Design font Installation art tiger translate 2008
Paint exhibition show in Bacardy Halloween Party 2011
Final round designer of Art of Brooklyn Film Festival 2012
Exhibition show "Pride of The Nation #1 TONY JAA" 2012
Design art work on car for Bangkok International Auto Salon 2013
Design post card for Thai Airways airline to use in Germany 2015
Movie poster exhibition show by Kult Magazine : Singapore 2015
Cover magazine design to Kult Magazine : Singapore 2015
Exhibition show 1 of Thai artists in Nike Air Max Day, Singapore 2015
1 of 55 artists from worldwide to design Playing Arts card : USA 2015
Threadless : USA 2015
Exhibition show Observation, Kult Magazine : Singapore 2016
1 of artists Curioos : Newyork 2016
1 of 3 artists Create Your Original Story Campaign 2016
Toy Exhibition show "CE Toy Bangkok Comic Con" 2016
Green Charity 25th Greenwave 2016 on Radio wave name "Tuk Tuk Thailand"
Art Group exhibition "Masks" at Diesel Art Gallery , Japan 2016
Choking Hazard Exhibition curated by Kult, Singapore 2017
Art design interior room, The Line Condo, Sansiri Property
Exhibition show Dune : A SCI-FI ART SHOW at Kult, Singapore 2018
"Knock'em dead" solo Exhibition at YELO House 2018
Exhibition show in Museum of Me at Emporium Department Store 2018
Join in movie advertising "The World is Always new" , Thai Airways 2018
Art design of Reebok Crossfit Enduro, Singapore 2018
Art design for Mercedes Benz Driving Event 2018
Exhibition show Art for the Future of Unicef Thailand 2018
Thailand
Display Egazine / Computer Arts / CG Magazine / A Day Bullentine / GQ Magazine /
Tempo Magazine / Soul4street / Bangkok Post / Timeout website..Etc.
Europe
Sticker Bomb : UK / Zeixs : Germany / I Said A Hip : France /
Semi Permanent : Australia.
USA
Juxtapoz / The Creators Project / AIGA : New York /Threadless / TQE Toy : New York.
Asia
Pinzle Magazine : South Korea.
Freestyle-Illustrating Urban Fashion : Hong kong.
Kult Magazine / Toys R Evil / Neo Folk : Singapore…Etc.
NY Glam: Tell us a little about yourself and your career beginnings.
I got a bachelor degree in Art Education from Chulalongkorn University, Thailand. I have been working with many famous magazines and advertising agencies. I started getting involved in art since university. But it was getting more interesting when I worked in creative agency where I had been surrounded with creative working environment and artistic. I've been doing until now because it's practicing me and it shows my expression. Also challenged me to accomplish the work. I feel fun and always happy every time I do the artwork.
NY Glam: What art do you most identify with?
I interested in all kinds of art, whether it's Sculpture, Painting, Installation Art, but especially interested in Street Art, Pop Art, and Illustration.
NY Glam: What themes do you pursue?
The themes that I like is about fashion, music, movies and situations in the world.
NY Glam: What's your favourite art work?
My first favourite art work I created is called "Yak" in Thai contemporary make it look nice smooth in colourful and shape. I want to bring Thai Giant character "Yak" to standout and modern. And it was on published in Juxtapoz magazine. So it was the starter of my path way being an artist.
And second is Nike projects, which are T-Shirts design for Nike at Head Office, USA. And design Nike shop display in Thailand by working with team Nike, Singapore. I feel very challenging, very excited, nervous and worried when I communicate with them because I'm not good in English. I thought so hard when I communicate with them they would understand what I was trying to explain or not. Also the different time because we are in different countries but it was not a big problem. Finally the job was successfully completed.
NY Glam: Tells us about some of your recent exhibitions. What memorable responses have you had to your work?
The latest exhibition that just finished. I feel relieved and happy as i get a feedback and a good response to this event by hearing compliments from many admirers and in view of the image and concept of the work that is interesting. . Also in this project I have tried something new like VR Exhibition which is a new way for people to use the app or smartphone to visiting the gallery. Because at the beginning I was wondering how the event would come out or whether people would be interested or not. Due to the situation of covid-19 that restricts people to come out to do many things or visit the event difficult.
NY Glam: Tell us about one of your projects which you are very proud of.
I've had opportunity to show my artworks in many exhibitions and have been working in many projects in Thailand and abroad such as Singapore, Japan, Taipei, England, USA, Australia, etc.
Air Asia airplane pattern design contest with stories designed from many cultures regions of Thailand. I was so proud to tell these stories through my style. Simulation on an airplane for foreigners to see which made me feel excited, fun and challenged, and I also won the 2nd prize. Disney's Endless Celebration 50 years. It was an event held all over the world. I was one of many artists that was chosen to design pattern on Mickey Mouse models. The concept and the inspiration came from Thai boxer uniforms. Thai weaving machines and the giant patterns, this work I felt so fun and I enjoyed it very much. It made me feel like going back to be kid again. It showed Thainess through Mickey Mouse by bringing the pattern of Thai basketry to decorate the Mickey Mouse head and connected as a strap with Muay Thai shorts conveys the universal Thainess. The giants adjusted the look on Mickey face to look attractive, smiling, and exciting by painting the perfect Mickey Mouse my childhood and every child's favorite cartoon. G-Shock limited edition Series named "Siam Manus Street". The work stand out in using Thai fabric patterns to design on the clock to look contemporary and unique.
NY Glam: What does "being creative" mean to you?
For me, life without art or being creative must be very boring. It'll be very simple, not very colourful because art expresses who I am. It shows everything in many ways, happiness, cheerfulness, sadness, loneliness. If I don't do art, I'd feel so depressed. It makes us look at things in a new perspective different from others and more fun creativity means a lot to me, it's all around us. It's up to our perspective to develop and use it to create new things in our lives.
NY Glam: What are you trying to communicate with your art?
I want to convey my feelings and emotions towards the world and events. Including interest in fashion, movies and music, fondness for cartoons, toys, especially Thai art, Thai patterns through colourful patterns and lines in my style. In a different perspective that feels fun, bright and meaningful in itself.
NY Glam: What role does the Artist have in Society?
The role of art in life is to drive us to live life with creativity. It makes us look at things in a new perspective different from others and more fun creativity means a lot to me, it's all around us. It's up to our perspective to develop and use it to create new things in our lives.
NY Glam: What are your thoughts on being an artist in today's world?
I think the world is constantly changing and evolving. Artists have to adapt and keep up the perspective on technology and things that are evolving and work on creativity all the time. The modern world allows artists to get to know each other. Meet and collaborate more easily.
NY Glam: How has painting influenced your life?
I have the pleasure of doing what I love and having fun. This makes work that is fun and challenging by use ideas all the time.
NY Glam: What art movement or artist would you say influences your work most?
My favorited artist is Jean Michel Basquiat. He was a successful artist at a young age. He has new perspectives. His style of work is independent of both the scribbled lines and the use of color that makes his work so powerful. Moreover, his life style was so interesting, going out to create works on the side of the road, party life with celebrities working with fellow artist of his time like Andy Warhol sparks many ideas. His life was made into a movie.
NY Glam: What can we expect from you this year?
I intend to do my best with the work in various projects. Also I'll try to do a lot of self improvement. Find opportunity to do the artwork that I love in my own way with the new inspiration, new perspective to make me feel fun to work and present as I want to desired.
NY Glam: Can you share with us three favorite things about your city/culture?
That I feel like and thought it was interesting
1 Thai street food is delicious and unique. It is known to people all over the world such as Pad Thai, Tom Yum Kung and many other Thai dishes.
2 Tuk-tuk car are the symbol of Bangkok. Must try to sit
3 Thai temples, conveying exquisiteness, sophistication, and beauty in Thai patterns and shady.
NY Glam: Where can everyone keep up with you to learn more ?…social media…website
Yes, please following on social media;
IG: Tikkywow , Twitter: Iamtikkywow, FB page: Tikkywow studio