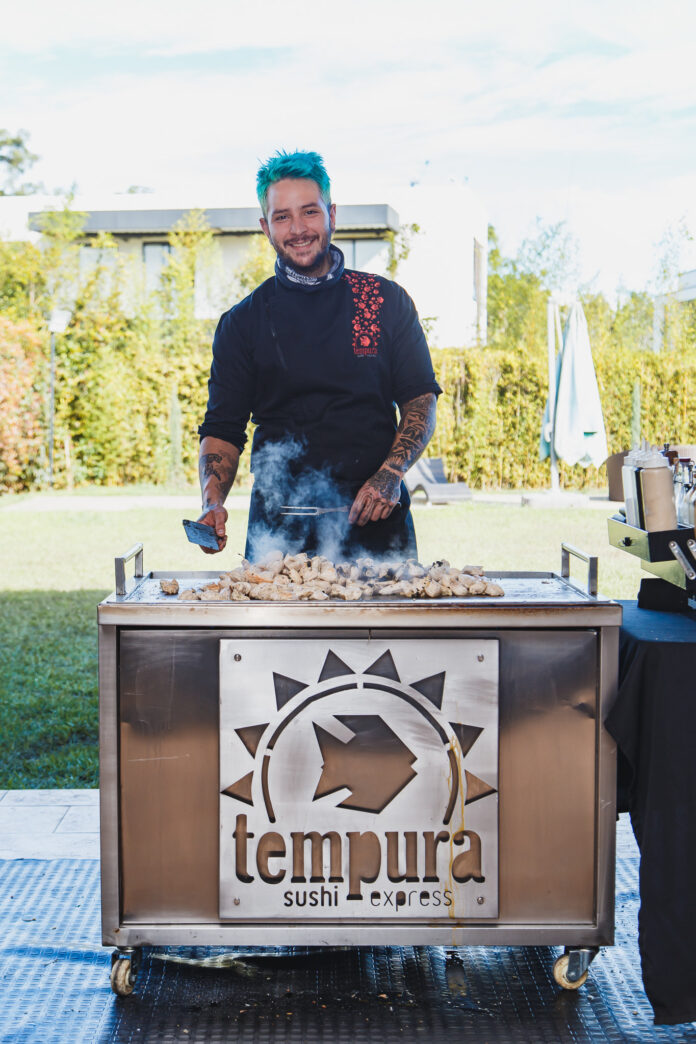 TV and Celebrity Chef Camilo Gonzalez is an influential artist in the world of cuisine. He is one of the most technically gifted professional chefs Colombia has seen. Born in New Jersey and raised in Colombia, Chef Camilo Gonzalez is known for his innovation and playfulness in the kitchen. He has dominated the culinary industry with his famous teppanyaki show and his extraordinary cooking.
Camilo Gonzalez has launched a successful culinary career, who quickly became popular as Top Chef in TV cooking shows. In 2015 Camilo Gonzalez opened the famous Tempura restaurant located in Bogota and Medellin in Colombia, specializing in gourmet sushi and his signature teppanyaki show.
Tempura Restaurant is highly rated for its exceptional cuisine and creating one of the best restaurant experiences around the world. Tempura Restaurant is renowned for its star-quality cuisine featuring premium rolls and varieties of teppanyaki dishes. The restaurant is by reservation only, and has attracted VIPs, special guests, and tourists, who crave an extravagant show, delicious food, and an unforgettable experience that makes them really happy.
For Chef Camilo Gonzalez it is more than just cooking skills and a passion for creativity. What drives Camilo every day to perform his amazing teppanyaki show is the ability to build positive connections with people that can make a powerful difference in living and experiencing life to the fullest. Inspired by master chef Tomoyuki Sugano, Chef Camilo Gonzalez brings the ultimate Japanese "Omakase" personalized experience, coupled with an outstanding artistic performance.
NY Glamour Magazine Exclusive Interview with Top Celebrity Chef Camilo Gonzalez
NY Glam: How long have you been a chef?
Chef Camilo Gonzalez: I have been cooking for 11 years but as a chef of my own tempura brand I have been for 6 years.
NY Glam: Cuánto tiempo llevas siendo chef?
Cocinando llevo 11 años pero como chef de mi propia marca tempura llevo 6 años.
NY Glam: Where did you train to be a chef?
Chef Camilo Gonzalez: I owe my training as a chef to a Japanese itamae who came to my country when I was just starting out in the world of gastronomy, called Tomoyuki Sugano, a very important person in my life as a chef, to whom I owe where I am now and everything for what I have accomplished over the years.
NY Glam: ¿Dónde entrenaste para ser chef?
Chef Camilo Gonzalez: Mi formación como chef se lo debo a un itamae japonés que llego a mi país cuando apenas estaba empezando en el mundo de la gastronomía, llamado Tomoyuki Sugano una persona muy importante en mi vida como chef a la cual le debo donde estoy ahora y todo lo que he logrado a lo largo de los años.
NY Glam: Tell us about the opening of the restaurant Tempura and where it is located?
Chef Camilo Gonzalez: The Tempura restaurant is located in two cities, Bogota and Medellin (Colombia), our main headquarters are in Medellin. It all started 6 years ago in the kitchen of my house. I started with a sushi roll selling it to my neighbors. The second year I had a small headquarters in Envigado and by the third year a larger one in El Poblado with two kitchens. We now have a private sushi bar served only by reservation. Our strength is the teppanyaki show and the gourmet sushi is different from all commercials, we offer the best experiences for any occasion.
NY Glam: Cuéntanos sobre la apertura del restaurante y dónde está situado?
Chef Camilo Gonzalez: El restaurante se encuentra ubicado en dos ciudades, Bogota y Medellin (Colombia), nuestra sede principal se encuentra en Medellin, todo comenzó hace 6 años en la cocina de mi casa, empece con un rollo de sushi vendiéndoselo a mis vecinos, al segundo año tenia una sede pequeña en Envigado y al tercer año uno mas grande en el Poblado con dos cocinas y contamos con una barra de sushi privada atendida solo bajo reserva, nuestro fuerte es el teppanyaki show y sushi gourmet diferente a todos los comerciales, brindamos las mejores experiencias para cualquier ocasión.
NY Glam: Tell us about the menu at Tempura Restaurant.
Chef Camilo Gonzalez: Our restaurant is called Tempura, we do not have an extensive but exclusive menu that consists of 10 premium rolls and 8 varieties of teppanyaki dishes with some starters. In addition to this one of the most interesting things about our sushi bar is that the menu comes out to the taste of the dinner. On several occasions they do not necessarily have to be subject to the menu and we offer an OMAKASE experience. This is a Japanese word that refers to trust and leave everything in the hands of the chef.
NY Glam: Háblenos sobre el menú en Tempura?
Chef Camilo Gonzalez: Nuestro restaurante se llama Tempura, no tenemos un menú amplio pero si exclusivo que consta de los 10 rollos premium y 8 variedades de platos de teppanyaki con algunas entradas, adicional a esto una de las cosas mas interesantes de nuestra barra de sushi es que el menú sale a gusto del comensal, en varias ocasiones no necesariamente tienen que estar sujetos a la carta y brindamos una experiencia OMAKASE, esta es una palabra japonesa que hace referencia a confiar y dejar todo en las manos del chef.
NY Glam: What's your secret to keeping customers coming in?
Chef Camilo Gonzalez: It is not a secret, it is the passion and experience that we provide to the dinner.
NY Glam: ¿Cuál es tu secreto para mantener a los clientes entrando?
Chef Camilo Gonzalez: No es un secreto, es la pasión y la experiencia que le brindamos al comensal.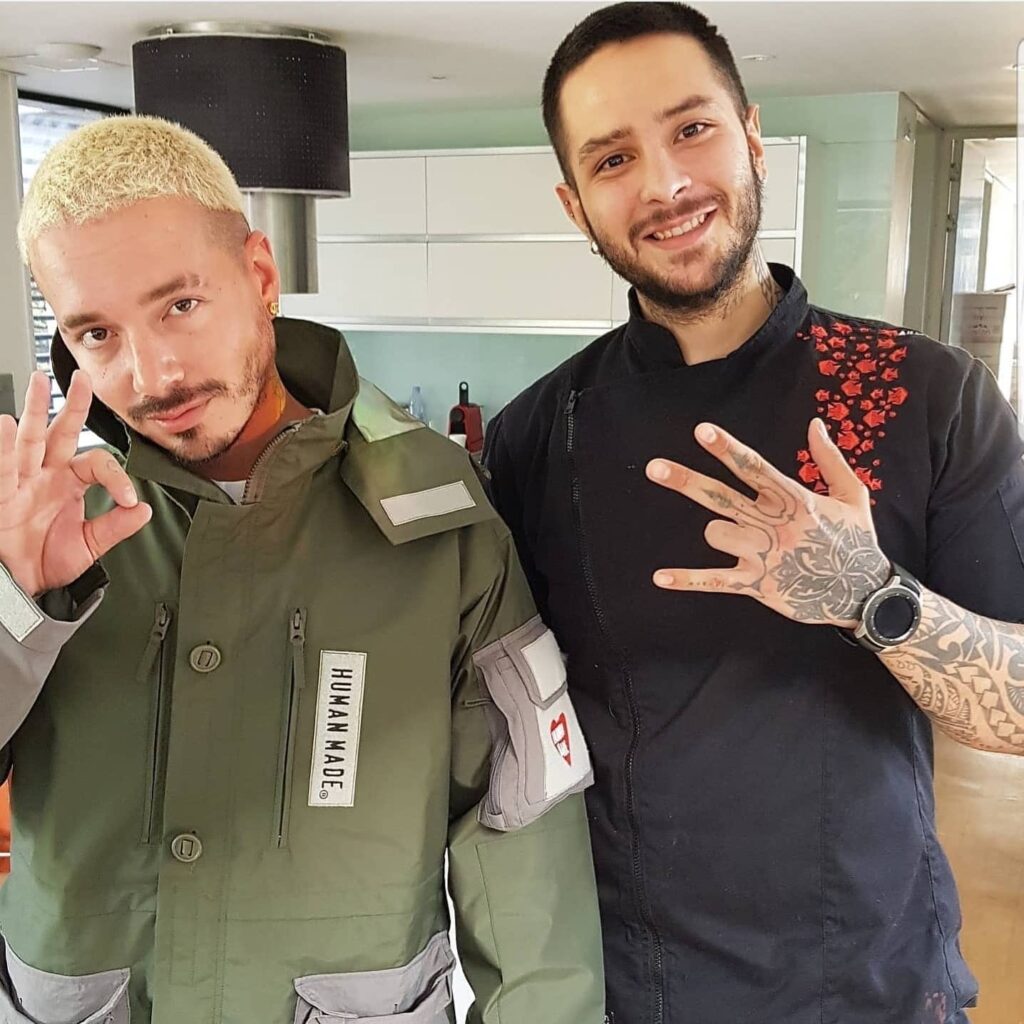 NY Glam: What are the top 3 items that are most orders?
Chef Camilo Gonzalez: Our menu, as mentioned above, is not very extensive, our strength is the teppanyaki show and the exclusivity of sushi.
NY Glam: ¿Cuáles son los 3 primeros artículos que son la mayoría de los pedidos?
Chef Camilo Gonzalez: Nuestro menú como se dijo anteriormente no es muy amplio, nuestro fuerte es el teppanyaki show y la exclusividad del sushi.
NY Glam: What is your signature dish?
Chef Camilo Gonzalez: Teppanyaki is the dish that defines me the most, because of the authenticity and passion I have.
NY Glam: ¿Cuál es tu plato de firma?
Chef Camilo Gonzalez: El teppanyaki es el plato que mas me define, por la autenticidad y pasión que tengo.
NY Glam: What kind of trends do you see in the food industry that you are incorporating in your cooking?
Chef Camilo Gonzalez: Teppanyaki is the dish that defines me the most, because of the authenticity and passion I have.
NY Glam: ¿Qué tipo de tendencias ves en la industria alimentaria que incorporas a tu cocina?
Chef Camilo Gonzalez: Mi único objetivo con la comida japonesa es mantener su tradición y respetar la cultura japonesa y no mezclarlo con otros tipos de culturas.
NY Glam: What has been the most memorable part of your career so far?
Chef Camilo Gonzalez: The most memorable moment I have is my present time for everything I have achieved, to see how my knowledge and my efforts have yielded good results, how we have achieved so much recognition from the dinners and their loyalty to us.
NY Glam: ¿Cuál ha sido la parte más memorable de tu carrera hasta ahora?
Chef Camilo Gonzalez: El momento mas memorable que tengo es mi actualidad por todo lo que he logrado, ver como mis conocimientos y mis esfuerzos han dado buenos resultados, como hemos logrado tener tanto reconocimiento ante los comensales y su fidelidad hacia nosotros.
NY Glam: Are there any community projects you are involved in?
Chef Camilo Gonzalez: At the moment I am not part of any community project but all my life I have been a lover of animals especially dogs and I am a follower of animal protection foundations and I have always promoted animal respect and I would very much like to be part of these projects.
NY Glam: ¿Hay algún proyecto comunitario en el que estés involucrado?
Chef Camilo Gonzalez: Por el momento no hago parte de ningun proyecto comunitario pero toda la vida he sido muy amante a los animales especialmente los perros y soy seguidor de las fundaciones protectoras de animales y siempre he fomentado el respeto animal y me gustaría muchísimo hacer parte de estos proyectos.
NY Glam: What is your advice to others aspiring to enter and succeed in the restaurant business?
Chef Camilo Gonzalez: The main component to be successful is to be disciplined but no less important is to be constant and learn. Nobody is born with success, this is achieved after a lot of work. One of my times where I learned the most was working as a cook where I knew everything about cooking in depth. cooking, working as a team and leading a team.
NY Glam: ¿Cuál es su consejo a otros que aspiran a entrar y tener éxito en el negocio de los restaurantes?
Chef Camilo Gonzalez: El principal componente para tener éxito es ser disciplinado pero no menos importante es ser constante y aprender, nadie nace con éxito, este se logra después de mucho trabajo, una de mis épocas donde mas aprendi fue trabajando de cocinero donde conocí a fondo todo sobre la cocina, a trabajar en equipo y a liderar un equipo.
NY Glam: What are your career/personal ambitions?
Chef Camilo Gonzalez: My professional ambition is to strengthen my brand and be recognized for having the best sushi and teppanyaki in the country. My personal ambitions is to travel to the Middle East, to continue learning from these cultures. In the world of gastronomy one never stops learning. And as my teacher used to say "today better than yesterday, tomorrow better than today". You can always learn something new, no matter how much you think you know, you can always improve.
NY Glam: ¿Cuáles son sus ambiciones profesionales/personales?
Chef Camilo Gonzalez: Mis ambiciones profesionales es hacer mas fuerte mi marca y ser reconocido por tener el mejor sushi y teppanyaki en el país. Mis ambiciones personales es viajar al Medio Oriente, seguir aprendiendo de estas culturas, en el mundo de la gastronomía uno jamas deja de aprender, y como decía mi maestro "hoy mejor que ayer, mañana mejor que hoy" siempre se puede aprender algo nuevo, no importa que tanto creas saber, siempre se puede mejorar.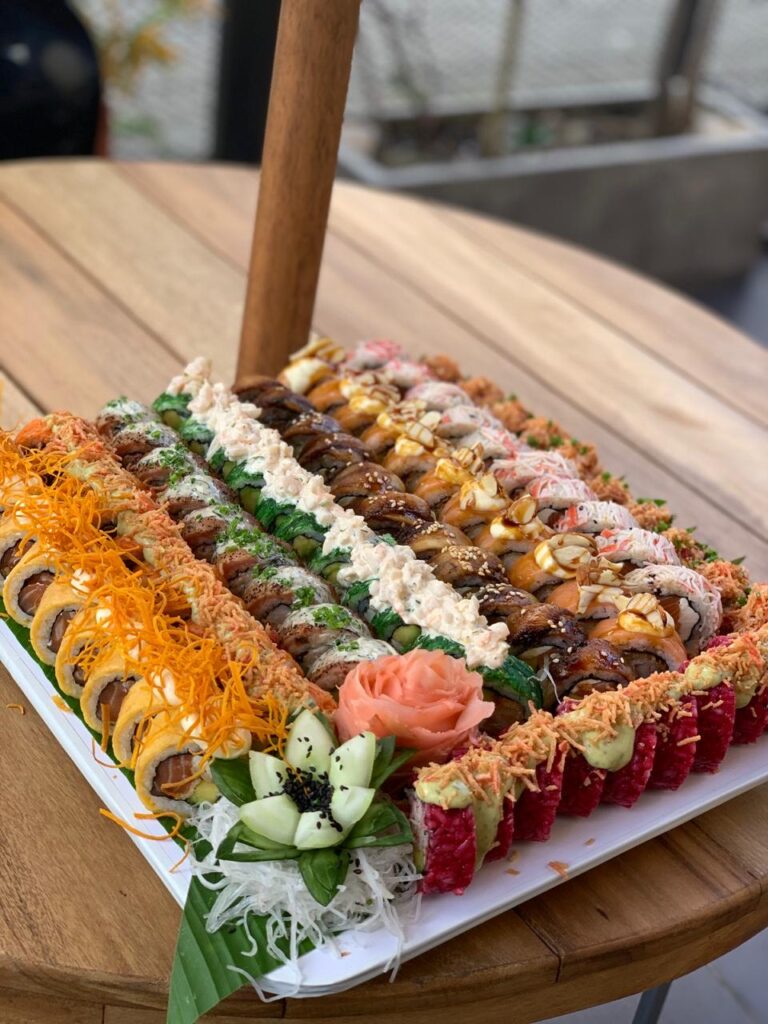 Social Links:
Instagram:
@tempura_sushi_express
@chefcamilogonzales
@tempurasushiexpress_bogota