Exclusive Interview with Filmmaker Massimiliano Mauceri
Massimiliano Mauceri is a film director and screenwriter, born in Florence, Italy, in 1974. In 1994 he wrote and directed his first short film, which won 6 awards. In 2003 he wrote and directed a short film called "Once Upon a Time a King", which won 41 awards (17 first places) and it was screened in 130 Film Festivals around the world. He realized, as director and screenwriter, nine short films and one commercial video and he wrote three feature-length screenplays. He won 134 awards (42 first places) around the world: 79 awards (26 first places) with his short films and 55 awards (16 first places) with his feature-length screenplays.
NY Glam: Congratulations on being accepted at the prestigious International Filmmaker Festival of New York. Can you tell us about the film and the process of making it?
Thank you very much, it's a big honor to have been selected at International Filmmaker Festival of New York. I love New York, and it's very rewarding to have my film here. I made this short film as a thriller proof movie for my next first thriller feature film, not because the story is the same but because I didn't have a thriller genre on my past short films, so I wanted to face this genre before making the feature film. I made this film in only two days, one for pre-light, and one for shooting. It's a two minutes movie, no dialogues. But Due to the nature of his idea, the movie required many days of study before shooting.
NY Glam: How did you go about casting for the film?
I found the actor and the actress on my socials, Instagram and Facebook. I asked to send me showreels and then a self-tape for specific scenes of my movie. I am very satisfied with my choice, Carlotta Galmarini is a really great talent. The actor had a very little scene, but he has been perfect.
NY Glam: What is the story about and how did you achieve it cinematically?
A girl looks in the mirror and dreams… but reality is different. This is the logline, and the film is so short that I can't say more. The whole film is focused on the mirror. We enter the mirror with camera and we go in another dimension, watching the dream of her. All that without visual effects. And that was the challenge. We used a double actress when the mirror was not there. And the second challenge was to shoot in only one-shot. We made 46 takes. As I said before, I studied deeply the scene to find and organize the better solution. I have to thanks my DOP Alessandro Zonin, my production designer Margherita Citran, Niccolò Gabbrielli for the double "mirrored" mak-up, and costume designer Veronica Di Pietrantonio. They made a really great work. It's not easy to find a good crew for a short film.
NY Glam: Will you be attending the IFFNY festival in New York in May?
I would love to attend festival but I live in Florence (Italy) and I don't think it will be easy.
NY Glam: How long have you been making films and videos?
I started to make movies at 20 years old. Now I am 44. Making movies is what I love.
NY Glam: What film was your directorial debut?
"Fantasy is only a lie" in 1994. A short film which won six awards in Italy, and in that period the short film festivals in Italy was about ten, so it was a great result.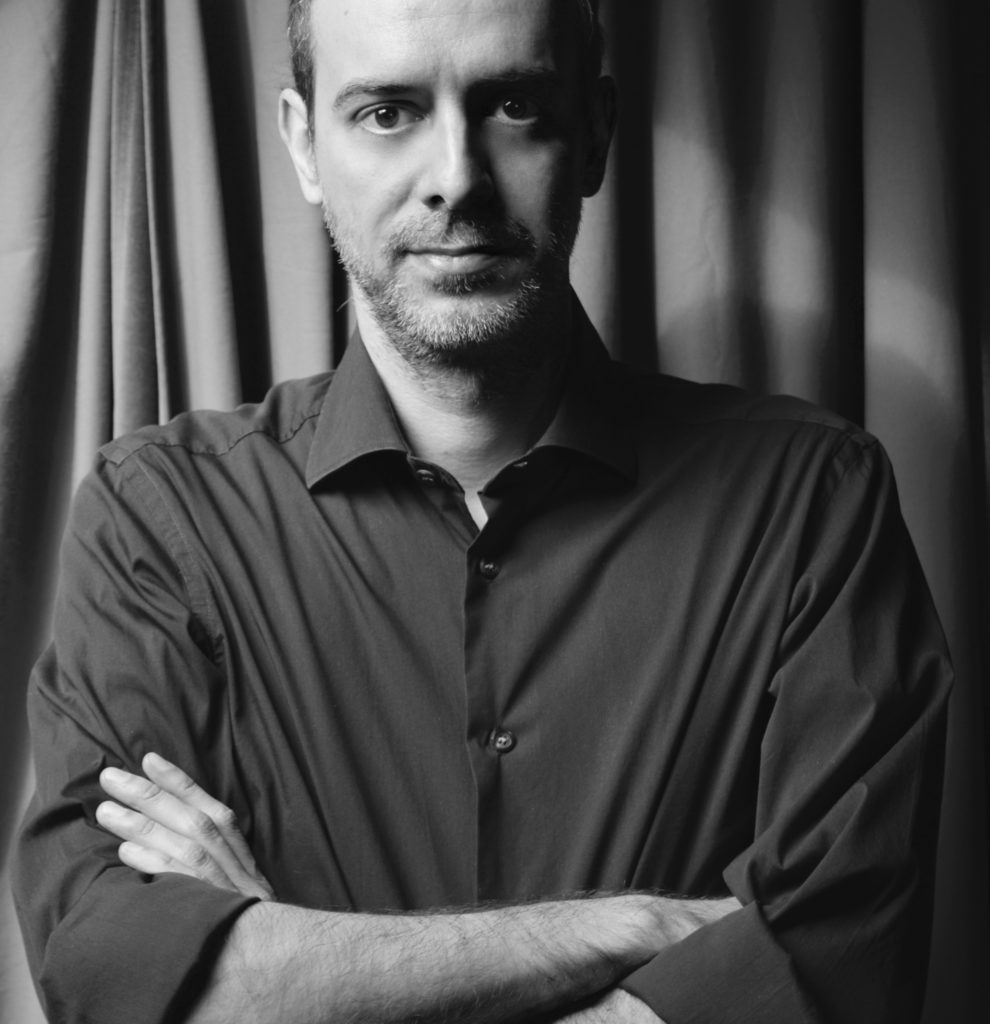 NY Glam: What was the most important lesson you had to learn that has had a positive effect on your film? How did that lesson happen?
The lesson I had to learn in the past years making movies, is that it's necessary to have always the control of set, of actors, of crew. You need each person to give you the best, so often the job of director is to be a psychologist. But most of all, it's important to understand that you can be the most good director of the world but without your crew you are nothing. Said that, I would like to tell you a curious lesson I learned in this last film. This movie, "The Mirror", has two endings, I mean that I made two movies with the same begin and two different endings. So now I have two short films, "The Mirror (ending 1)" and "The Mirror (ending 2)". When I "found" the first idea of this movie, I was thinking only about ending one, but I was not so sure about it. Until one day I had another great (I thought) idea for a different ending. Speaking with some screenwriter friends, all together they was agree that the second ending was better. But, since I still had doubts about the better ending, I chose to shoot both endings. And so I did. Now, after a lot of friends watched the film and they told me to prefer the ending one, I learned that maybe, often, the first genuine, spontaneous, instinctive idea, is the better solution. I don't deny the second ending because it has its "fans", but maybe it was not necessary.
NY Glam: Is it harder to get started or to keep going? What was the particular thing that you had to conquer to do either?
I think absolutely is harder to keep going. Because it's a work that needs always money and money and money. And always you have to convince someone to invest on you. About starting, the difficulty is only the choice. But when you have a real passion, you have not so many choices. Maybe the only secret is never never never give up.
NY Glam: How has your style evolved?
It's difficult to explain, but I can say that I can't watch today my first short films, I feel bad when I try. Maybe one day I will can't watch this movie too. I love a short film when I make it, but years later I find a lot of defects. I try always to do the best. But I want always more. Maybe I will satisfy about this film until my next work. You must always ask more of yourself. You must always aim for the highest point.
NY Glam: What has been your personal key to success?
Success is won day by day. And the next step is always the most important for me. My next step is to make my first feature film "Writing The End".
NY Glam: What are you thinking about doing next?
As I said, I am waiting to make my first feature film. It's a thriller. I wrote it with the Italian writer Aisha Cerami, Academy Award winner Vincenzo Cerami's daughter. I have already a producer and we are waiting to find total financing.
NY Glam: Where does your studio want to go from here?
Not being aware of the future is the only thing that keeps us going. I work to dream of the future I wish.