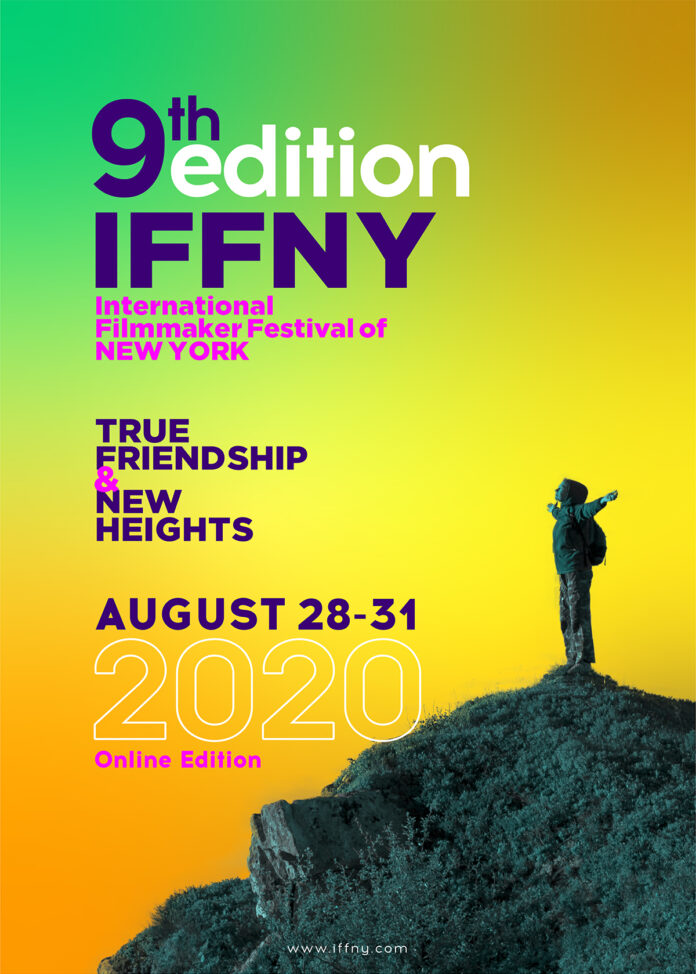 The famous International Filmmaker Festival of New York Coming on August 28 to 31. This 9th Edition of IFFNY will be held online.
IFFNY Official Selection – 9th Edition of 2020
–FEATURE FILMS
* OLMA DJON/ Victoria Yakubov/ FRANCE
* MYSTIC SHRINE MAIDEN/ Takeshi Sone/ JAPAN
* AN OCEAN BLUE/ Sabrina Moreno/ ARGENTINA
– SHORT FILMS
* GENERICAMENT / Giulio Neglina / ITALY
* SLANGING/ Svend Colding/ DENMARK
* GONE / Joan Bentosela / FRANCE
* NEW BRONX / Filip Ignatowicz/ POLAND
* RONIN / John Do / AUSTRALIA
* AMARE AFFONDO /Matteo Russo / ITALY
* KLITHMA/ Korab Lecaj/ KOSOVO
* ANNA / Dekel Berenson/ UKRAINE
* ASHMINA / Dekel Berenson/ NEPAL
* A BLOODY MESS / Asis Sethi / CANADA
* JACK TURBO/ Darcy Thompson / USA
* GOOD BONES / Kit Vinsick/ USA
* SHORT CALF MUSCLE / Victoria Warmerdam/ NETHERLANDS
* THE TIME IN BETWEEN THE SECONDS/ Mark Clauburg/ USA
* ZEYNEP / Mustafa Efelti / TURKEY
* EAT YOUR HEART OUT/ Abby Pierce/ USA
* THE OPERA SINGER/ Anthony Fazio/ USA
* AMERICAN MARRIAGE/ Giorgio Arcelli Fontana/ USA
* ORNAMENTATION IS A GIFT/ Raymond Smiling/ USA
– FEATURE DOCUMENTARY
* RISING SILENCE/ Leesa Gazi/ BANGLADESH
* THE JUMP/ Jorge Porras Gamboa/ MEXICO
* MY DEAR MOTHER/ Paul-Anders Simma/ FINLAND
– SHORT DOCUMENTARY
*THE RAVENITE/ Dennis Mohr/ CANADA
* LITTLE HEARTS / Richard Higson/ UK
* WRAPPED AN IDENTITY LIKE A COAT/ Xue Chao/ CHINA
– MUSIC VIDEO
* ESHET CHAYIL OF HIP HOP/ Lea Kalisch/ Switzerland
* 49.HIGHLAND HOME/ Dan Schaefer/ USA
* CYNATION; ANTHEME OF THE DAMNED / Aaron Mak/ AUSTRALIA/
– ANIMATION
* BOOKANIMA: DANCE/ Shon Kim/ KOREA
* THE HEALTHMAKERS/ Sara Juric / CROATIA
* THE ONE WHO CROSSED THE SEA/ Jonas Riemer/ GERMANY
Total: 346 applications
Selected: 35 movies
Countries-23: USA, Canada, Italy ,Germany, France, Australia, Switzerland, Croatia, UK, Kosovo, China, Finland, Mexico, Bangladesh, Turkey, Netherlands, Nepal, Ukraine, Poland, Denmark, Argentine, Korea & Japan.
Category 6:
-Feature Film, Short Film, Feature Documentary, Short Documentary, Animation & Music Video.
Awards for 2020:
*Best Feature Film
*Best Short Film
*Best feature Documentary
*Best short Documentary
*Best Animation
*Best Music Video
*Best Actor Award
*Best Actress Award
*Best Production Award
*Best Cinematography
International Filmmaker Festival of New York (IFFNY) will be held on August 28-31, 2020.