Exclusive Interview with Lane Gifford – Artistic Director
Lane Gifford is artistic director of LaneCoArts, a New York based multi-arts company that examines the intersecting relationship between dance, theater and the visual arts. After attending Purchase College Conservatory of Dance, Lane Gifford founded LaneCoArts in 2006 with a mission to create physically charged dance dramas that reflect meaningful social issues and expand the language of movement through lenses of drama, visual arts, film and sound. Her multi-arts approach to dance grew from her early experiences living and working abroad as a dancer, developed with her experiments as both artist and choreographer and later evolved as she entered the film industry as a designer/producer with Sony Music. In her dance theater works, Lane Gifford explores communication in today's technologically driven world through a process of collaboration with other artists where the juxtaposed creative languages, engender a process of cross-pollination. The goal is to connect with today's audience through critical commentary in compelling dance theater works.
Design plays a central role in the shaping of these compositions. All aspects, from specific costumes to unusual props, video projection, sculptures and backdrops, are textured into the fabric of the movement conversations.
Lane Gifford currently is a Wingspan Arts teaching artist, offering multi-arts movement classes to children in New York City's public school system. She also has taught dance in several institutions including University of Kansas and her own summer creative arts program. Her mission as an educator: ignite the imagination of children and young adults and use the arts as a collective voice.
Ms. Gifford first studied dance at The Boston Conservatory in Boston, MA. She received a BFA in dance performance and MFA specializing in choreography from Purchase College Conservatory of Dance. Performances include: Jacob's Pillow Dance Festival, NY International Fringe Festival, Dixon Place, Baruch PAC, Triskelion Arts, Le Poisson Rouge, New York Theater Workshop, Boston Center For The Arts residency and performance, Dance New Amsterdam RAW Directions, American Dance Guild, Battery Dance Festival, University Settlement, ITE Festival, The 92st Y, Bryant Park Festival, Dixon Place, Dance Place (Washington DC), Kaatsbaan Cultural Park for Dance, Missouri Valley College Residency and Spring To Dance Festival (Saint Louis, MO). Commissioned projects include McKnight Artist Fellowship, University of Kansas Fellowship, Southern Utah University Residency, Northeast Choreographer Residency, Ballet Nouveau Colorado/Redline Gallery, iKada Dance Company and Joffrey Ballet School Commissions. Lane Gifford was a finalist in Western Michigan University 2015 National Choreography Competition. Recent events: Kaatsbaan Residency, Bryant Park Festival, Women in Dance Leadership Conference Performance and Jamaica Center for Arts and Learning/Making Moves Festival/2020. Cancelled invitations due to COVID include McCallum Theatre/Palm Desert Festival, CA/2020 and NimbusPRESENTS: Offline + / BAM Fisher Theater 2020/Brooklyn, NY.
Grants and Awards
Empire State Creates Grantee 2021, Richenthal Foundation Grant 2019-2020, New Music USA 2020, Maine Arts Commission 2020 Award with Artist Margaret Lawrence, Mid Atlantic Arts Foundation for Dance Place Performances 2016 (Special Presenters Initiative program / National Endowment for the Arts and the DC Commission on the Arts and Humanities), 2014 & 2020 Arts Foundation of Cape Cod Grant 2014 & 2020, Foundation for Contemporary Arts Emergency Grant 2012, Manhattan Community Arts Fund Grant 2011, BUILD Grant (Building Up Infrastructure Levels for Dance) 2011, Harvard University/Project Zero Financial Assistance Award 2004, Outstanding MFA Award – Purchase College 2004
Education: Purchase College MFA – Choreography & Dance Education / 2004, Project Zero – Harvard University Summer Program / School of Education – 2004 and 2005, Purchase College BFA – Dance, LaneCoArts is a 501(c) 3 non-profit organization.
Board of Directors: Christopher Pineau, Margaret Schuette, Lane Gifford, Advisory Committee, Cassandra Bednall, David Bronston, Robert G. Doerr, Claire Graves, Jay O. Sanders, Beth D. Tractenberg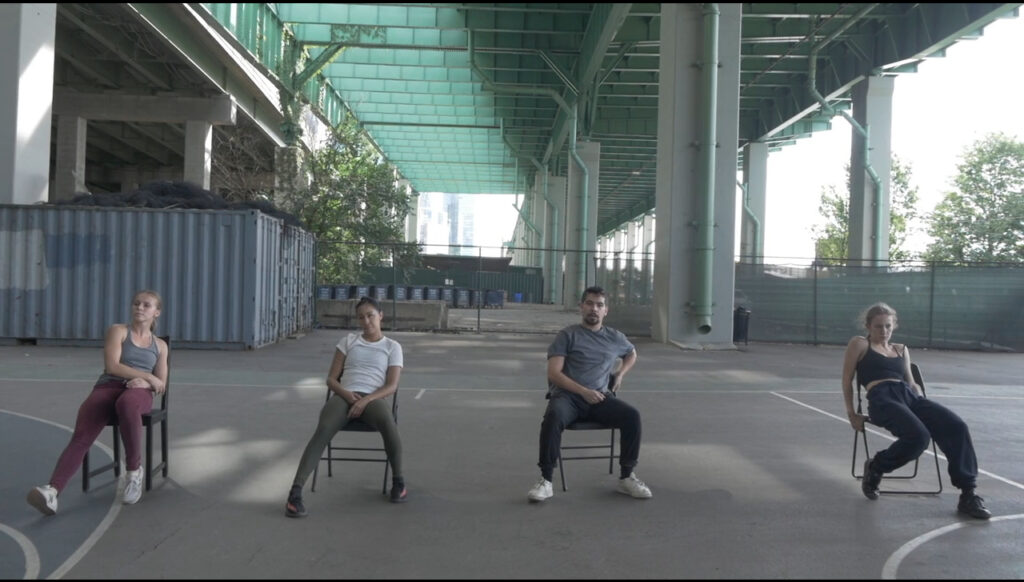 NY Glam: What are you currently working on? Tell us a little bit more about your company/organization.
Throughout the past year, as artistic director of LaneCoArts, I was able to continue working with my collaborators and continue our creative process. We produced two dance films and are currently in the editing stages of our third film. In addition, we are now getting back to the studio to rehearse together as a group as we prepare for a performance scheduled for November 20th at 9PM at Dixon Place. We also are starting now to prepare for an early 2022 site-specific event, taking place at Cove Street Arts, an 8000 sq. foot multi-media center in Portland, Maine. This exciting opportunity involves a collaboration with visual artist Margaret Lawrence and composer Yin-Han Zoe Yang.
NY Glam: What projects have been your favorites that you have been a part of and why?
My most memorable projects have involved our participation in various residencies including Kaatsbaan Cultural Park, Boston Center for the Arts, Missouri Valley College, Southern Utah University, University of Kansas, Joffrey Ballet School, and Northeastern Choreographic Residency. These opportunities were important because they offered time, space, talented dancers, and a supportive environment to create new works with final performances, presented in both professional and university-based theaters. Sharing our work and vision with audiences and students throughout the country is key to my mission as a dance artist.
NY Glam: What three social issues are most important to you and why?
Gender inequality, climate change, and racism.
Key for me as an artist is responding to issues of the day and taking on subjects that resonate with me and have an impact with my collaborating dancers. In this regard I hear what is important to the artists I work with and thus believe gender inequality, climate change, and racism are subjects that deserve discussion and reflection.
NY Glam: What was the most significant change you brought about in a project / organization?
In 2019 I began researching the US Constitution which then led to my composition, "Then There are None." This was a significant experience for me because it reinforced my belief in the process of connecting my work as a choreographer with current social issues and sharing engaging ideas with viewers – ideas that inspire conversation. I gained essential knowledge about the formation of our country as we examined The Constitution and "E Pluribus Unum", the original motto of this country as designed by the Continental Congress in 1782.
NY Glam: What is the biggest lesson you have learned in your career?
An important lesson I have learned as a choreographer is that developing one's artistic acuity is key to personal growth. Fine-tuning creative awareness and exercising the eye is essential. My mission is to make connections, look around me, study different art forms, notice parallels, and recognize the potential for cross-pollination. A quote from Leonardo Da Vinci is believed to have mentioned the "insatiable acuity of the artist's eye, always on the move, always looking, questioning and learning and pulling the mind along with it." This is central to my work as a dance artist.
NY Glam: What are the most important values and ethics of a leader?
As the artistic director of a growing dance theater company based in New York City, I concentrate on being aware of current trends in the art world, developing works that are meaningful to my participating dancers, and striving for a nurturing and simultaneously productive working situation that stresses a completely collaborative environment.
NY Glam: How can one improve their leadership skills as Artistic Director?
I believe one can improve leadership skills by being organized, aware of the big picture, and ready to delegate to a strong team of assistants.
NY Glam: What is your advice for those who would like to reach higher in their career?
My advice for those who wish to move higher in their careers, is to surround yourself with a loyal and talented team. Working in partnerships is essential for progress.
NY Glam: What are you an advocate of? What are your life passions?
I advocate for making sure that the arts are a fundamental part of everyday life and for introducing indispensable arts education to the lives of the next generation.
NY Glam: What/who inspires you?
I gravitate to people who combine art forms and push those idioms to new expressive domains. One of my creative inspirations is Bill T. Jones' piece "The Analogy Trilogy: Part I and II". Sankai Juku's "Kagemi", Mark Haddon's "The Curious Incident of the Dog in the Night-Time", Mass MOCA in North Adams, MA, designer Alexander McQueen and 1970's choreographers are other examples of the arts redefined.
NY Glam: What are five characteristics that make successful leaders?
Curiosity, Persistence, Strength, Articulation, Empathy
NY Glam: What are your future plans/goals/projects?
I plan to continue to navigate my way through and out of our COVID reality. I hope to use the experience I gained this past year working in film, to fine tune my choreographic skills and move onto new and rewarding dance theater projects.
NY Glam: How can others get involved in your organization?
Please visit us at:
Website: lanecoarts.org, Facebook: @Lanecoarts, Instagram: @lanecoarts, Linkedin: @Lane Gifford, Email: info@lanecoarts.org
NY Glam: What is your advice for aspiring young Dancers?
Realize that this field takes passion, diligence, creativity, and great intelligence to advance and thrive.
NY Glam: What's next?
Up next for LaneCoArts: our collaborative rehearsal process, a Dixon Place performance, and our Cove Street Arts production. Better days, new ideas, theaters opening, museums returning, and possibilities reimagined.