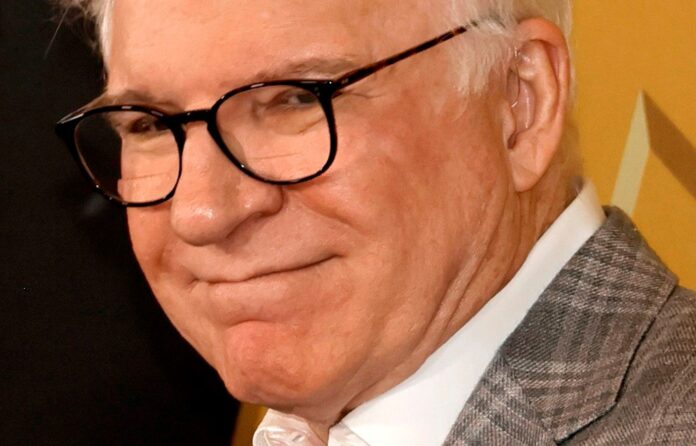 For more than five decades, Steve Martin has been making audiences laugh with his sharp wit, comedic timing, and unique brand of humor. From his early days as a stand-up comedian to his current projects, Martin has left an indelible mark on the entertainment industry.
Born in Waco, Texas, in 1945, Martin developed an interest in magic and comedy at a young age. He honed his skills as a performer while studying at California State University, eventually becoming a writer for The Smothers Brothers Comedy Hour in the late 1960s. Martin's breakthrough came in 1977, when he released his comedy album "Let's Get Small" and starred in the hit film "The Jerk." The film was a commercial success and cemented Martin's status as a leading figure in comedy.
Throughout the 1980s, Martin continued to star in successful comedies like "The Man with Two Brains," "Three Amigos!," and "Roxanne." He also hosted "Saturday Night Live" numerous times and became known for his unique brand of absurdist humor. In the 1990s, Martin expanded his range as an actor, taking on dramatic roles in films like "Grand Canyon" and "Leap of Faith."
In recent years, Martin has continued to be a force in the entertainment industry. He has authored several plays, including "Picasso at the Lapin Agile" and "Meteor Shower," and has also published several novels and novellas, including "Shopgirl" and "An Object of Beauty." Martin has also continued to act, appearing in films like "The Big Year," "It's Complicated," and "Billy Lynn's Long Halftime Walk."
Perhaps one of Martin's most notable recent projects is his collaboration with Martin Short in their comedy show "An Evening You Will Forget for the Rest of Your Life." The show, which features the two comedians performing sketches, telling stories, and performing musical numbers, has been a critical and commercial success. The duo has also released a Netflix special based on the show, titled "Steve Martin and Martin Short: An Evening You Will Forget for the Rest of Your Life."
Throughout his career, Steve Martin has proven himself to be a master of many forms of comedy. From stand-up to film to theater, Martin has consistently pushed boundaries and brought his unique sense of humor to audiences around the world. With his recent projects continuing to be successful, there is no doubt that Steve Martin's legacy of laughter will continue to be felt for years to come.