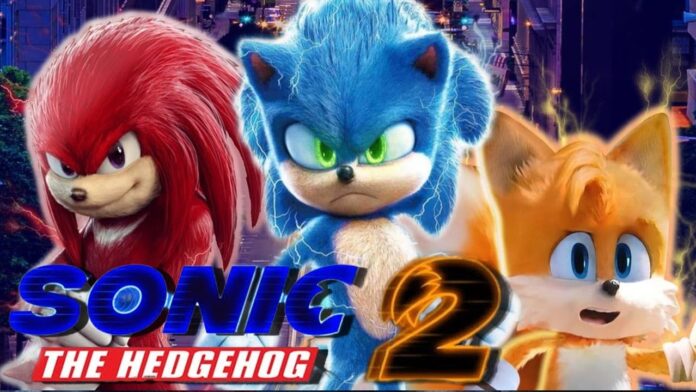 Sonic the Hedgehog 2 is an upcoming superhero comedy film based on the video game franchise published by Sega. It is the sequel to Sonic the Hedgehog and is once again directed by Jeff Fowler and written by Pat Casey, Josh Miller and John Whittington. Ben Schwartz reprises his role as the voice of Sonic, alongside Jim Carrey as Dr. Robotnik and James Marsden and Tika Sumpter as Tom and Maddie Wachowski; Idris Elba joins as Knuckles. Months after the first film, Dr. Robotnik returns from a mushroom planet while Sonic meets Tails. Following the success of the first film, and with plans for a film series, Paramount Pictures announced the sequel in May 2020. Filming took place from March to June 2021 in Vancouver and Hawaii. Sonic the Hedgehog 2 is scheduled for release in the United States on April 8, 2022, by Paramount Pictures in association with Sega Sammy Group.
Voice cast:
Ben Schwartz as Sonic the Hedgehog: An anthropomorphic blue hedgehog who can run at supersonic speeds. Sonic settles on Earth as a new member of the Wachowski family with Tom and Maddie after defeating his arch-nemesis, Dr. Robotnik, in the first film. With Tom and Maddie on vacation, Sonic meets Tails and embarks on a journey to find the emerald of great power before Robotnik and Knuckles can. Idris Elba as Knuckles the Echidna: A serious, yet gullible, anthropomorphic red echidna who is a determined treasure hunter. Though aggressive and short tempered in nature, Knuckles is an experienced formidable fighter with super strength and gifted with the ability to glide and climb walls. Having been tricked by Eggman into joining him, he comes to Earth seeking an emerald of great power.
Jim Carrey as Dr. Ivo Robotnik / Dr. Eggman: A mad scientist and Sonic's arch-nemesis, whose goal was to capture Sonic and use his super-speed for world domination, but was instead defeated by the blue hedgehog and also had any evidence/records of his existence subsequently erased by the U.S. government. Now more insane than before as a result of being stranded on the mushroom planet for nearly three months, he pledges to return to Earth, get revenge on Sonic and achieve his newfound dreams of world conquest. Eggman teams up with Knuckles to find the emerald, knowing that he is only using him to achieve his goal. James Marsden as Thomas Michael "Tom" Wachowski: The sheriff of Green Hills, Montana, who helped Sonic recover his rings and defeat Eggman in the first film. Tika Sumpter as Maddie Wachowski: Tom's veterinarian wife who helped Sonic and Tom to put a stop to Eggman in the first film. Adam Pally as Wade Whipple: Tom's chief deputy. Natasha Rothwell as Rachel: Maddie's older sister who dislikes Tom. Lee Majdoub as Agent Stone: Eggman's former assistant. Stone has taken his boss's place after Sonic defeated and sent him to the mushroom planet. Additionally, the character of Miles "Tails" Prower will appear, an anthropomorphic yellow-orange two tailed fox who is Sonic's sidekick and best friend. He previously appeared in the mid-credits scene of the first film, where he was voiced by Colleen Villard. Shemar Moore will appear in an undisclosed role.
Sonic the Hedgehog 2 is scheduled to be theatrically released by Paramount Pictures in the United States on April 8, 2022.