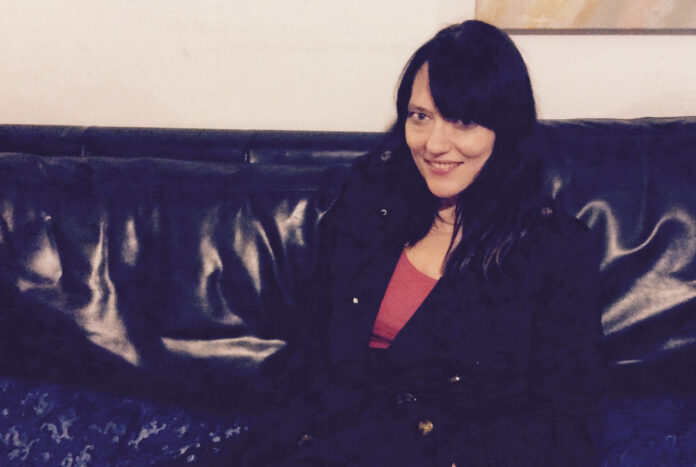 Exclusive Interview with Sara Twomey – Artist
Sara Twomey is from East London, she paints from her spare room studio in South London. As well as working as a tutor in colleges in London UK, she also worked In the USA where she completed Trompe-l'oeil Murals, this experience taught her the optical possibilities of painting. She worked at Science Ltd as artist fabricator and the Studio Assistant Manager to the artist Damien Hirst. She currently works as a Pop Up Painter in London! Twomey has exhibited in group shows including an international group exhibition at the Cork Street Open in London in 2013 & 2014, Rogue Space Gallery NY, and the 2018 Spectrum Miami Art Fair. She is currently in an online exhibition called the Butterfly Effect and the Flux Review Summer exhibition 2022, also has been long listed for the Visual Art Open 2022. Twomey has described her process as follows: "My Black Paintings are all about the light, black is a spacious color, almost like a void. The paintings are never static as they are interacting with patterns and symbols on the surface of the painting. As the series develops the shapes are too, I started with two dimensions, now I am painting three dimensions and now using a Gold leaf. I feel there are more dimensions to explore. The light causes the structure to appear and disappear. The viewer has the desire to fix the now into an organized pattern, but the light shifts constantly expressing the inevitability of change."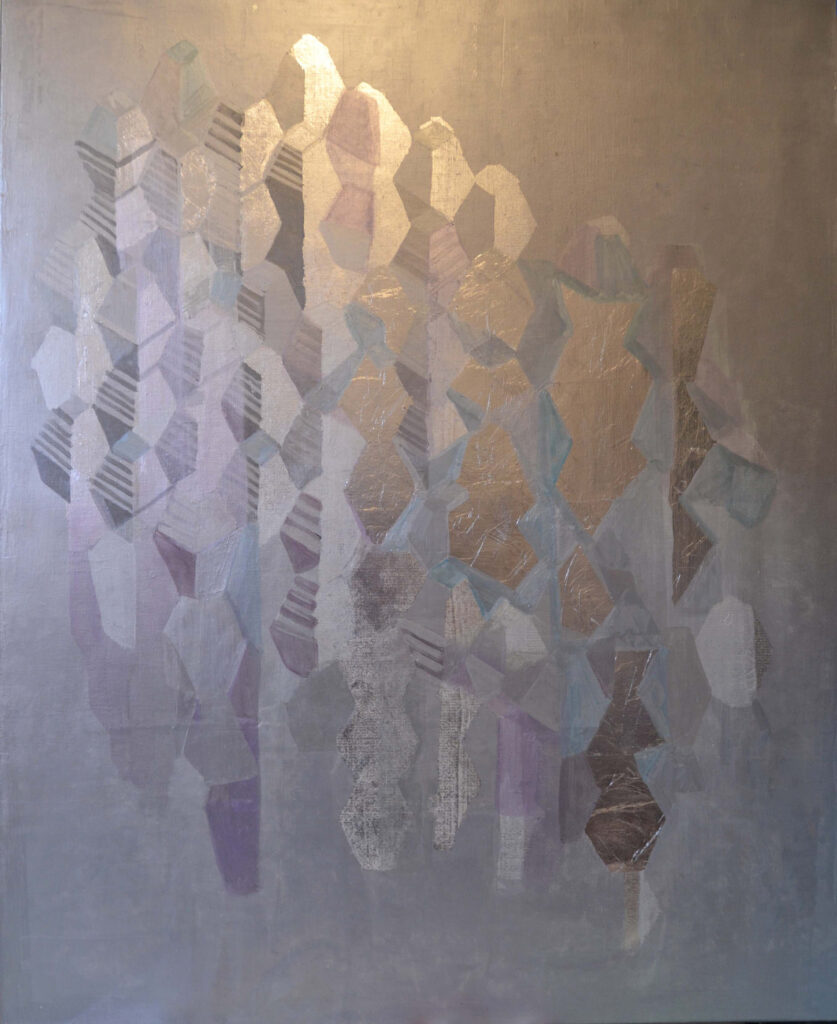 NY Glam: Tell us a little about yourself and your career beginnings.
If I'm not at my day job teaching, then I am in my studio painting, I have a spare room/studio where I paint and live in South London, I can't ever seem to get enough time in there. I started out as a Graphic Designer working for different advertising agency's in the 90's, but I didn't much enjoy having to follow the generic inhouse style, in fact a job would be rejected if anything looked like a particular individual artist style, this made work feel pretty soulless and so I would go into local art gallery's in London looking at the Paintings full of expression and thick oil paint, this sparked my longing to learn how to paint. So after work I started to teach myself how to paint and I am still learning!
NY Glam: What projects are you currently working on?
I am working on a series of Black, Gold and Silver paintings, they are quite small canvases because I am making lot's of experiments to try and figure out what is going on before I make larger works. The paintings are continually developing, I am using acrylic paint, pigment and gold leaf for the material and this creates the different surface, almost like facets that capture light, absorb light, reflect it, I work on many paintings at the same time, each one evolves in an unexpected way.
NY Glam: What art do you most identify with?
I identify with Cubism, Minimalism, Abstract expressionism and geometric paintings, but I love any painting where the two dimensions are optically shifted by use of surface and shape and line.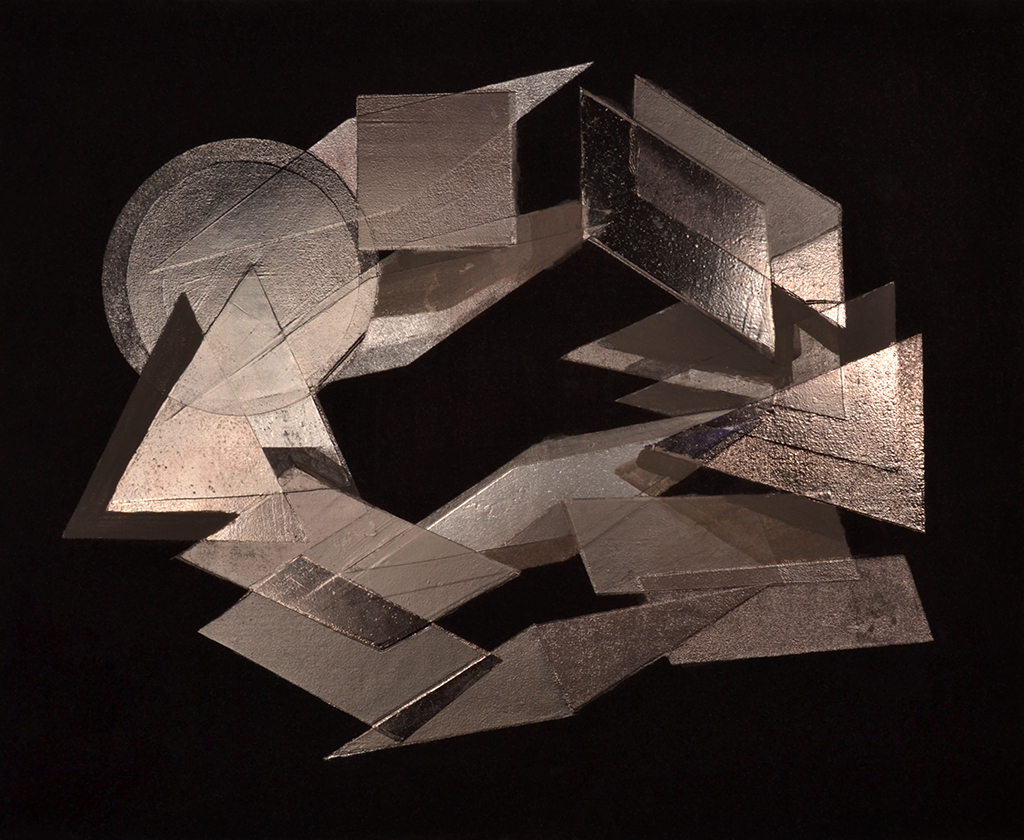 NY Glam: What themes do you pursue?
Light is a recurring theme, the material surface and texture of the paint itself is my main concern, this allows me then to explore concepts such as silence, or disappearance, and rhythm. The paint gives me the freedom to play with these themes.
NY Glam: What's your favorite art work?
One of my favorite works is not necessarily my best painting, but it got me out of a long time being stuck in a kind of impressionist type style, the painting enabled me to express truly how I felt, it was the first work where I used completely Black paint, not much was going right in my life, there was a lot of loss in my life and Black paint was the only color I wanted to use. The painting is called Prison, it started a whole new series of works, its almost 10 years ago now and the work is still evolving.
NY Glam: Tells us about some of your recent exhibitions. What memorable responses have you had to your work?
My recent exhibitions have all been online group virtual exhibitions and I had some great responses to my work. For instance, someone stated that they, 'don't really like art at all, but there's just something that gets to me about your work.' Another comment stated that they, 'have a sense of silence when they see the Black paintings.' I really like that some part of what I am trying to express is getting across.
NY Glam: Tell us about one of your projects which you are very proud of.
I was totally shocked to get my paintings selected for an international exhibition in Cork Street Open in London. Then, to make the whole experience amazing, the painting sold at the Private View Opening night. The following year I submitted another painting called 'Archive of Black' and again the painting sold on the opening night.
NY Glam: What does "being creative" mean to you?
Being creative is an escape from the real world. By the act of painting, I can work through fear and loss and these emotions can be transformed and expressed. Creative expression can be a means to renew and heal and it feels spiritual, almost like a meditation, as I am in touch with something that brings me peace and joy.
NY Glam: What are you trying to communicate with your art?
I am interested in the physicality of paint, creating structure and depth, working with movement and light, exploring the reflective properties of the material and its interaction with the ever-changing environment. Although my paintings persist in time, nothing about their surface is fixed, everything is in flux and entirely dependent on the context of the moment in which they are viewed. They change with the time of day and the weather and even the characteristics of the person standing before them. The paintings are sensitive to their environment by design, but the interactions they have with that environment are uncertain.
NY Glam: What role does the Artist have in Society?
The role of an Artist is to disrupt the 'normal' and open up new perspectives, new ways of seeing and exploring meaning in the everyday. The practice of creative endeavor and rigorous self-critique as a means to explore new possibilities and understandings of our place in the world and to encourage others to the importance and benefits of finding their own creative voice within.
NY Glam: What are your thoughts on being an artist in today's world?
Never has it been more possible to explore in detail such a great range of creative expression in the arts. It's exciting to see so many artists processes but the sheer volume of art online makes it very difficult for any one individual artistic work to be seen. With so much material available there is an emphasis placed on consumption and often we are led by easy scrolling and availability to over consume. Daily exposure to hundreds or even thousands of images creates a mental and critical fatigue and an image of a painting ceases to represent a physical object and becomes just another digital image.
NY Glam: How has painting influenced your life?
Painting has shaped my life and if I am not actually painting, I am researching and experimenting with techniques and materials. I think it's an obsession or perhaps an addiction because it is something I just can't stop doing. My paintings always conquer the spaces I live in, I do try to contain it in a spare room but slowly the living room starts looking like a studio too. The TV is something to lean my paintings on, the sofa becomes a painting bench, I hide the largest canvases under the carpet and everything I come into contact with eventually gets covered in paint. If I travel, I am looking for new elements of visual language that I can bring into my painting. I was recently in Egypt and the pyramids and other impressive megalithic constructions had a big influence on the geometry in my work. In many ways my painting is less of an influence and more of a definition in my life.
NY Glam: What art movement or artist would you say influences your work most?
I am drawn to work that prominently features geometric shape and design as an expressive element, Artists such as Escher and Picasso, Bridget Riley for her Optical effects and also Pierre Soulages because of the color black, the surface and how he interprets black as spacious. The work of these artists and others helps me to understand and critically evaluate my own work.
NY Glam: What can we expect from you this year?
I was invited to give a talk about my work, the venue and date are under discussion, I have also been longlisted in an international open exhibition, so I have my fingers crossed at the moment! Regardless of whether or not I get selected for any shows I will be continuing to develop my work in unexpected ways. I am using new materials, and working at larger scale on gold paintings right now and I hope to have the chance to exhibit these new works later in the year.
NY Glam: Where can everyone keep up with you to learn more? …social media…website
https://www.instagram.com/saratwomeyart/