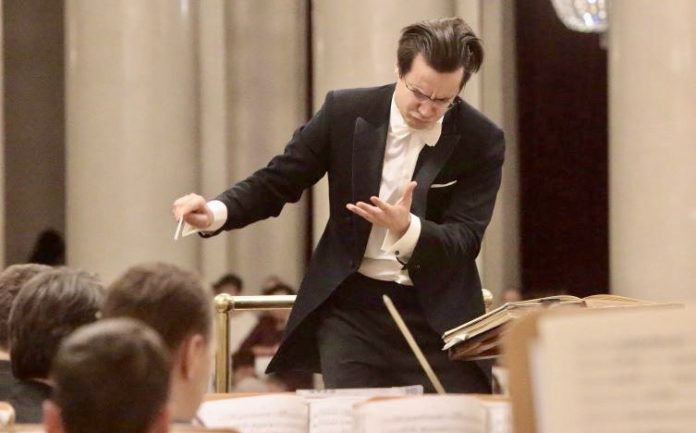 Exclusive Interview with Yaroslav Zaboyarkin -Conductor
NY Glam: Yaroslav, first of all, congratulations on a huge success at "Young Conductors' Debuts" gala (January 2019) where you conducted the worldwide famous St. Petersburg Philharmonic Orchestra. What did you feel during and after the concert?
Thank you very much! It was a really milestone concert for me! I worked a lot to make this concert happen in my career. I felt a little nervous before entering the stage but with the first steps towards the conductor's podium I became calm, with a clear mind, and heart full of energy and inspiration. I had no doubt that everything is going to be great! I couldn't imagine any other outcome.
NY Glam: Tell us a little about yourself, growing up and your passions.
I was born into a musical family. Everybody except my father (he is a professional architect) were musicians. So in some way I had all prerequisites to become a professional musician.
I can say honestly: practicing violin at the age of 4-5 is quite hard, especially when other kids play for example hide-and-seek in the yard. But I must admit that the result is much greater than the expectations! Since childhood I was fond of symphonic music masterpieces. The music of Mozart, Beethoven, Tchaikovsky and Rachmaninoff was often the main station on the radio in our cozy flat. So apparently I was fed with classical music. Now I cannot imagine my life without it.
NY Glam: What music project are you currently working on?
Not long ago I returned from a tour of Japan with Paavo Järvi and the Estonian Festival Orchestra. I was there as assistant conductor and also as violinist. I conducted concerts at the St.Petersburg philharmonic hall, then right after I had went on a European tour with Yuri Temirkanov and the St.Petersburg Philharmonic Orchestra. In July I participated in the Pärnu music festival in Estonia, and also the Järvi Academy conducting course. Later I will participate in the 7th Lovro von Matacic international conducting competition in Zagreb, Croatia.
NY Glam: What do you like more – playing violin within an orchestra or conducting an orchestra?
Right now I'm in a very interesting period in my life. I play in top level orchestras, assisting great masters and I've got more and more concerts as a conductor. Most importantly, by combining all this I learn so much! I feel that I become stronger and wiser from day to day. It's amazing! So I like everything that connects me with music and I'm glad that for now, I have the time to combine all this.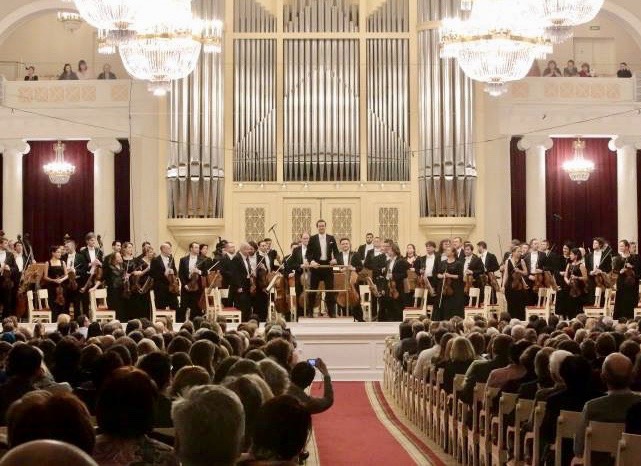 NY Glam: Do you plan to combine a career of a violinist and career of a conductor in the future?
My passion and goal is conducting in the very best way possible. So everything that I do is a step towards my goal.
NY Glam: On April 16th, 2019, you have brilliantly conducted Charles Ives' "Holiday Symphony" along with maestro Alexander Titov. How was it working in parallel with Mr. Titov and conducting an orchestra together?
I must say that Maestro Titov is very well known in St. Petersburg and in Russia firstly because of the fact that during Soviet times he was the only one who propagandized the music of Charles Ives. He made a series of concerts dedicated to Ives in the 1980s. Almost every masterpiece of Charles Ives was performed for the first time in Leningrad under his baton. It is very a great honor to assist and perform Charles Ives with him!
NY Glam: Which musicians have you learned from?
I graduated from the St. Petersburg Conservatory twice. In 2006-2011, I studied violin with the great violin Professor Antonina Kazarina. In 2011-2016, I studied orchestra-symphonic conducting with Professor Mikhail Kukushkin whom I consider one of the most accurate adherents of the famous Ilya Musin technique of orchestral conducting. I play and work with many of the great conductors and soloists of our time and I learn a lot from each of them. I think that this is the best way to learn how to be a very good musician and conductor. But over the last several years, I have received the biggest influence and knowledge from Yuri Temirkanov, Neeme and Paavo Järvi. These are my mentors today.
NY Glam: When and where has been a memorable performance for you?
My first performance as conductor during my first ever serious musical event. In 2012, as a second year student, I conducted the New Japan Philharmonic orchestra in Tokyo during my first attempt of participation in an international conducting competition. Unforgettable experience!
NY Glam: Is there a particular instrumental composition you have arranged that never fails to move you emotionally?
Indeed, when I have some spare time I arrange music which I love, for violin and different types of scores. Now I'm working on Michel Legrand's «Je ne pourrai jamais vivre sans toi» or «I Will Wait for You».
NY Glam: Describe your biggest accomplishment to date?
I became a father!
NY Glam: Who is your favorite violinist, conductor and composer?
I find it quite tricky to answer this frequently asked question, especially about composers. Because there are so many great individualities and musicians around the globe! All of them are so different and I like many many of them. You know It's like talking about painting sculpture, writing…Nikolai Roerich, Andrew Wyeth, Auguste Rodin, Leo Tolstoy, Aldous Huxley and an endless list of great names. I can't say that somebody is a favorite and somebody is not. I think time answers this question better than every human being. That's why for applicable performers I prefer to use the word «Convincing» instead of «Favorite», but still, it does not fit for composers.
Violinist:
Most convincible for me from the category of «Legends» are David Oistrakh and Yehudi Menuhin.
As for those whom I've heard live, I think it's Midori Goto. We spent a week full of rehearsals and concerts during the tour with Paavo Järvi which I mentioned earlier. She performed Violin Concerto No. 1 by Sergey Prokofiev and Jean Sibelius' violin concerto. I was charmed and amazed by her interpretations, energy and the «creative moment» which appears during concert performances. I consider her one of the most convincing violinists and musicians of our time.
Conductor:
The one, who can within the first minutes of being on the conductor's podium convince the musicians around him to follow his vision, passion for music and his search for harmony.
Composer:
The one whose masterpiece I am conducting now.
NY Glam: Which concert or symphony do you dream to conduct?
I have got my second concert season running, so for now as you can imagine my «Dream to conduct» list will not fit in here! But for this moment I'm mostly looking forward to conducting Leonard Bernstein's Serenade for Violin, Strings, Harp and Percussion. I will work with an amazing violinist from the Netherlands, Frederieke Saeijs, in October during the opening concert of the 10th international Silver Lyre music festival at the St.Petersburg Philharmonia.
NY Glam: What's your goal for this year?
Of course I have them and I have them a lot! These annually goals are small puzzle pieces of my big vision. But as Henry Ford said: «You can't build a reputation on what you're going to do.» So next time I will answer your question but from the angle of achievements of the past year!
NY Glam: Do you have a role model in classical music? If yes, who is it?
Yes I have. Composers. These are people who have got the same role as writers, painters, sculptors. These people are shaping our time. They are a mirror of our age and the age in which they lived.
NY Glam: What is your advice for aspiring musicians?
Be honest with music and the composer's work! Remember, music never lies!