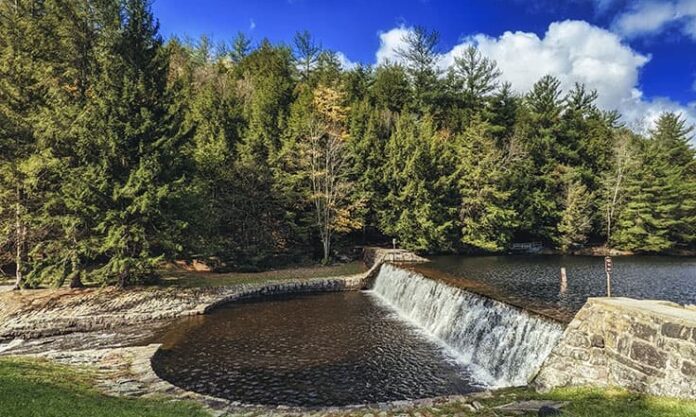 Pennsylvania is known for its scenic natural beauty, and the Raymond B. Winter State Park is a shining example of this. Located in the heart of central Pennsylvania, this park is a perfect getaway for those looking for a serene and peaceful place to relax and unwind.
Named after Raymond B. Winter, who was an influential figure in the conservation of Pennsylvania's natural resources, the park covers an area of 695 acres and features a vast array of recreational activities for visitors to enjoy. The park is situated near the Bald Eagle Mountain range, which provides a breathtaking backdrop for the park's natural beauty.
The park is a popular spot for hikers, with a network of trails that crisscross the park's forests and meadows. The trails range from easy to moderate, and visitors can choose a route that best suits their level of fitness. One of the park's most popular hikes is the Mid-State Trail, which winds through the park and offers panoramic views of the surrounding area.
The park also features a lake that provides ample opportunities for fishing, swimming, and boating. The lake is stocked with a variety of fish, including bass, trout, and catfish, making it a popular spot for anglers. Visitors can rent a boat or bring their own to enjoy a day on the water.
For those who prefer to stay on land, the park has a variety of picnic areas, complete with grills and tables. The park also has a playground for children, making it an ideal spot for families to spend a day together. In the winter months, visitors can enjoy cross-country skiing and snowmobiling on the park's trails.
One of the park's most unique features is the wildlife center, which provides visitors with an up-close look at Pennsylvania's native animals. The center is home to a variety of animals, including black bears, elk, and bald eagles. Visitors can take a guided tour of the center and learn about the park's wildlife and conservation efforts.
The Raymond B. Winter State Park is a hidden gem in Pennsylvania's wilderness. With its beautiful scenery, wide variety of recreational activities, and commitment to conservation, it's no wonder that the park is a popular destination for visitors of all ages. Whether you're looking for a relaxing day in nature or an outdoor adventure, the park has something to offer. So, the next time you're in central Pennsylvania, be sure to visit the Raymond B. Winter State Park and discover all that it has to offer.