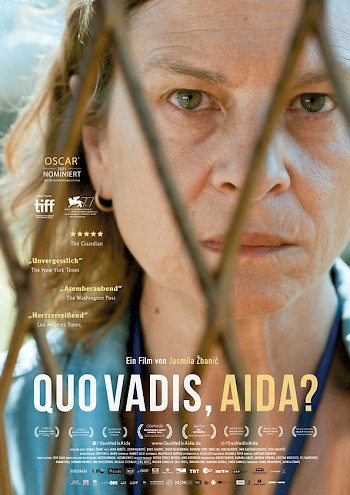 The film had its world premiere at the 77th Venice International Film Festival on 3 September 2020. It was also screened at the 2020 Toronto International Film Festival on 13 September 2020. In February 2021, Super LTD acquired U.S. distribution rights to the film. It was released in the United States through virtual cinema on 5 March 2021, followed by video on demand on 15 March 2021.
Cast:Jasna Đuričić, Izudin Bajrovic, Boris Ler, Dino Bajrovic
Quo Vadis, Aida? uses one woman's heartbreaking conflict to offer a searing account of war's devastating human toll. Bosnia, July 1995. Aida is a translator for the UN in the small town of Srebrenica. When the Serbian army takes over the town, her family is among the thousands of citizens looking for shelter in the UN camp. As an insider to the negotiations Aida has access to crucial information that she needs to interpret. What is at the horizon for her family and people-rescue or death? Which move should she take?