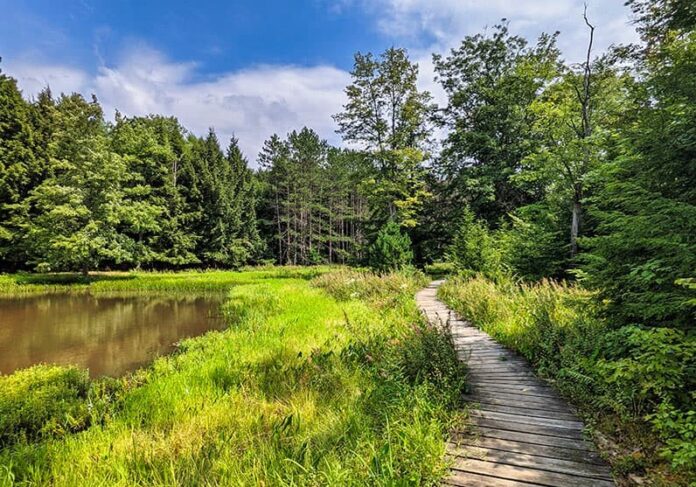 Nestled in the heart of Pennsylvania's Wilds, Parker Dam State Park is a haven for nature enthusiasts seeking solace and adventure. Spanning over 968 acres, the park boasts a wide range of recreational activities, including camping, hiking, fishing, boating, and picnicking. From its scenic vistas and pristine forests to its meandering streams and tranquil lakes, Parker Dam State Park offers a serene escape from the hustle and bustle of everyday life.
Located in the north-central region of Pennsylvania, Parker Dam State Park was established in 1925 and is named after its centerpiece, the Parker Dam. The dam, which is over 90 feet high, was constructed in 1909 to create a water supply for the city of DuBois. Today, it serves as a popular destination for fishing, kayaking, and canoeing.
One of the park's main attractions is its 20-acre lake, which is stocked with a variety of fish, including bass, trout, and bluegill. Fishing enthusiasts can cast their lines from the shore or rent a boat from the park's concession stand. The lake is also an ideal spot for swimming, with a sandy beach and a designated swim area.
For those who prefer to stay on land, Parker Dam State Park offers over 16 miles of hiking trails, ranging from easy nature walks to challenging treks. The trails wind through the park's lush forests and offer breathtaking views of the surrounding mountains. Hikers can also explore the park's unique ecosystem, which is home to a variety of wildlife, including white-tailed deer, black bears, and bald eagles.
In addition to hiking and fishing, visitors can enjoy a range of other activities at Parker Dam State Park. The park has a large picnic area, complete with tables and charcoal grills, and a playground for children. Camping is also available, with 45 rustic campsites and 16 modern cabins. The park's campground features a shower house, laundry facilities, and a camp store.
Overall, Parker Dam State Park offers a picturesque escape to nature lovers, with its stunning scenery, diverse wildlife, and abundant recreational opportunities. Whether you're seeking a peaceful retreat or an adventure-packed vacation, this Pennsylvania gem is sure to satisfy.