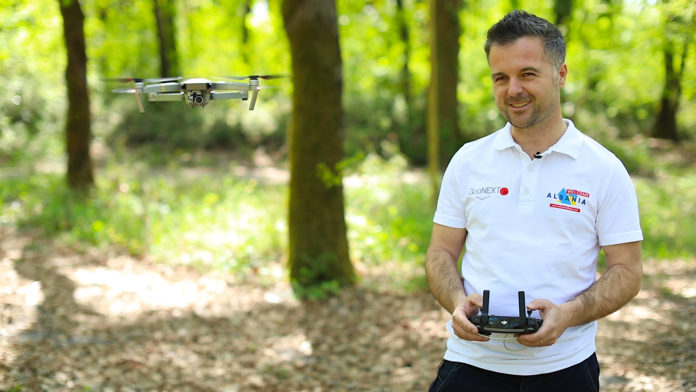 Google Street View is a virtual representation of the surroundings on Google Maps, containing millions of panoramic images enabling people everywhere to virtually explore the world. Celebrity award-winning photographer and filmmaker Olsi Beçi has been selected as the arial cinematographer for the GooNEXT AL, a certified Google Street View Company.
"I am happy to be part of this incredible selection at the California Street Summit for Google Street View to represent Albania. It is such a great honor to be chosen as the one out of many talented videographers representing my country in the world summit at Google and putting Albania in the street view map. This project is especially meaningful and important to me because people everywhere in the world can now virtually explore Albania. Every country will have the opportunity to showcase their final video at the California Street Summit. I am deeply thankful to be the chosen as the professional cinematographer for my country in this international summit ," stated Olsi Beçi for NY Glamour.
For this Google project Olsi Beçi has mapped Albania using drones, arial footage and imaging to present Albania in a completely new way for Google Street View. Through his pictures and videography, you can explore the history, traditions, cities and street views.
"This Google project is also beneficial to attracting new customers and driving business by offering high-quality virtual tours when searching for businesses and products in your area. Anybody anywhere in the world can now discover your business thanks to Google Street View, " added Olsi Beçi.
Olsi Beçi is a renowned photographer, producer and cinematographer. Olsi is inseparable from the celeb world. He started as a photographer in Italy, soon becoming one of the most influential fashion and celebrity photographers in Europe. He built his artistic expression by pushing the boundaries of modern photography, fashion photography and social documentaries.
Olsi has worked with many celebrities including supermodels of Miss Universe such Angela Martini and Adrola Dushi. He has been chosen to serve on the jury of Miss Universe Albania, is the official photographer for the International Filmmaker Festival of New York and will soon be traveling the world with the Albanian Excellence International Exhibit Gallery showcasing successful women of the 21st century.
Olsi Beçi came to prominence for his documentary photography and filmmaking in Italy and Albania. Throughout his professional career in photography, Television and cinema, he is recognized for his style and meaningful art. He is recognized with the Outstanding Artistic Achievement and Excellence in Arts Award in honor of World Creativity and Innovation Day by the honorable U.S. Congressman Eliot Engel. Additionally, Olsi
Beçi was recently honored with the Award for Art Achievement from NATO.