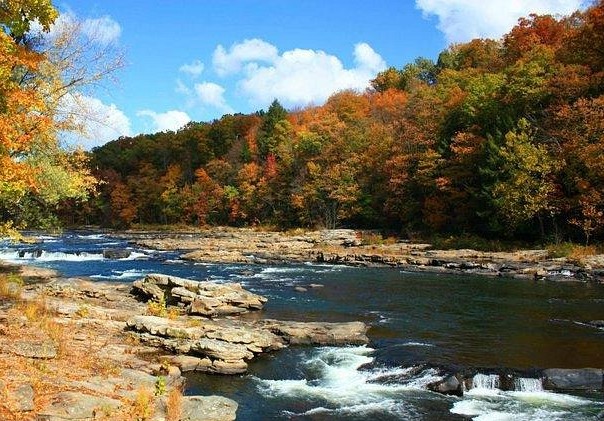 Located in the Laurel Highlands region of Pennsylvania, Ohiopyle State Park is a nature lover's paradise. This 19,052-acre park offers a variety of outdoor activities, from hiking and biking to white water rafting and rock climbing. The park's stunning waterfalls, scenic trails, and diverse wildlife make it an ideal destination for outdoor enthusiasts, families, and nature lovers.
One of the park's main attractions is the Youghiogheny River, which runs through the park and provides a range of activities for visitors. The river is a popular spot for white water rafting, kayaking, and fishing. The rapids range from Class I to Class V, making it suitable for all skill levels. Visitors can rent equipment from local outfitters or join a guided tour for an unforgettable experience.
In addition to water activities, the park offers over 80 miles of hiking and biking trails, ranging from easy strolls to challenging hikes. One of the most popular trails is the Great Allegheny Passage, a 150-mile rail-trail that connects Pittsburgh, PA to Cumberland, MD, and runs through Ohiopyle State Park. The trail offers stunning views of the river and the surrounding mountains, as well as historic landmarks, such as the old railroad tunnels and bridges.
Ohiopyle State Park is also home to several stunning waterfalls, including the Ohiopyle Falls, which can be viewed from the park's observation deck. The park's other waterfalls include Cucumber Falls, Meadow Run Waterslide, and Jonathan Run Falls. These natural wonders offer picturesque photo opportunities and are accessible via short hikes or scenic drives.
For those who enjoy rock climbing, Ohiopyle State Park has several popular climbing areas, including Bruner Run, the Meadow Run Climbing Area, and the Breakneck Rocks. These areas offer a variety of routes for both beginners and experienced climbers.
Camping is also available in the park, with options ranging from traditional tent camping to RV camping and cabins. The park offers several camping areas, including Kentuck Campground, the Youghiogheny River Campground, and the walk-in campground at Quebec Run Wild Area. Reservations are recommended, especially during peak season.
Ohiopyle State Park is a must-visit destination for anyone looking to explore Pennsylvania's natural beauty. Its combination of water activities, hiking and biking trails, stunning waterfalls, and rock climbing opportunities offer something for everyone. Whether you're looking for a day trip or a longer stay, Ohiopyle State Park is a scenic wonderland waiting to be explored.