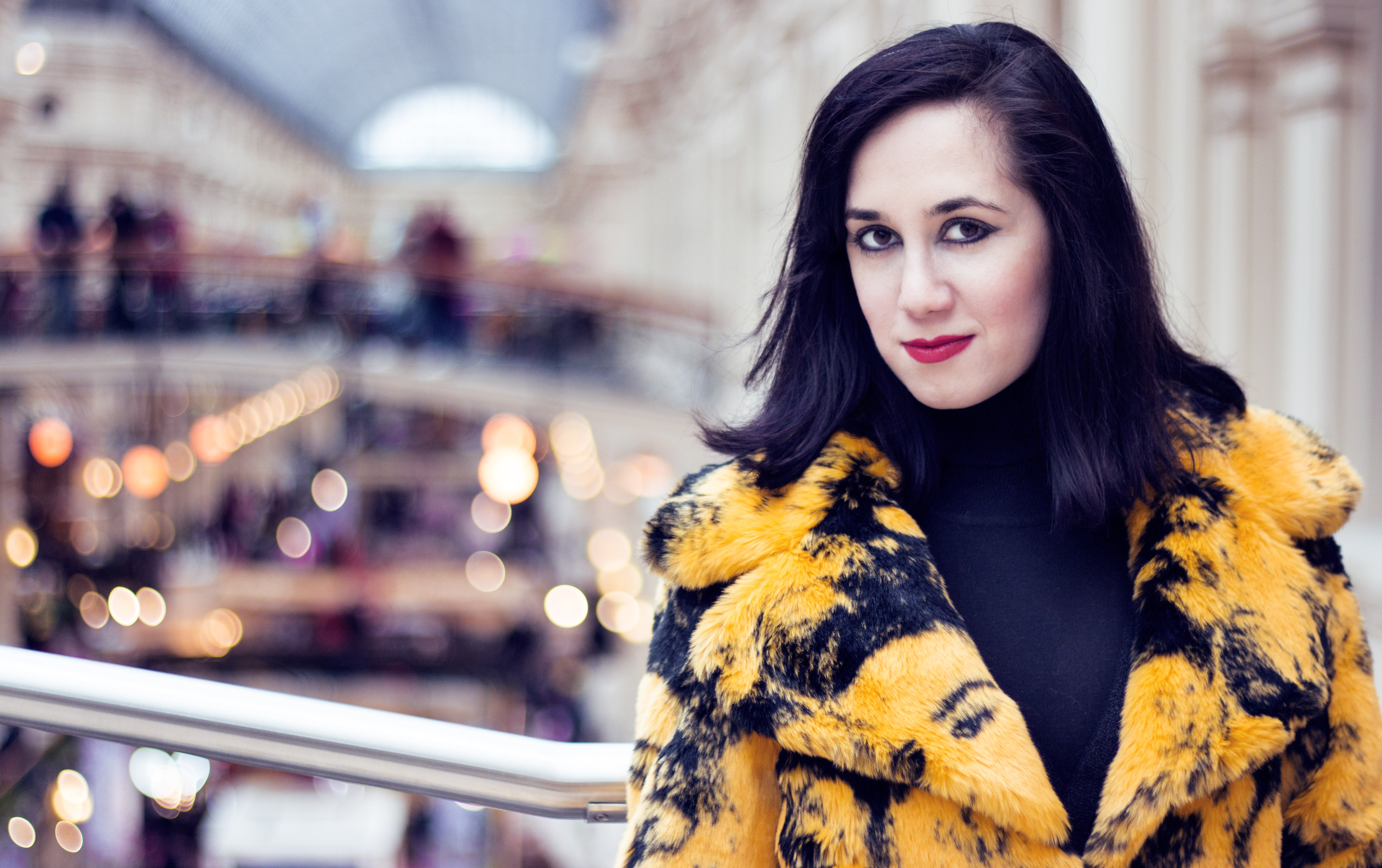 Internationally acclaimed filmmaker and artist Amina Zhaman has reached new heights in her career with the award-winning film "Battle Fields", directed by Anouar H. Smaine, associate produced by Amina Zhaman, starring Sean Stone and Anouar Smaine. She has recently signed on as the art director of the prestigious International Filmmaker Festival of New York, taking place from May 17-21, 2019 in NYC. Currently Amina Zhaman is working on her theater project debuting as dramatist with her original play "Chaliapin/O'Neill".
Exclusive Interview with Filmmaker Amina Zhaman
NY Glam: Amina, as art director of IFFNY what are your expectations for the festival this year?
My expectations are very high. This year team of IFFNY is proud to present World Premieres, US Premieres, exclusive films and unexpected co-productions. Festival grows, so does its program's geography. I literally can't wait to meet filmmakers from all over the world and watch their films/documentaries/music videos/animation. There's always a great atmosphere at the International Filmmaker Festival of New York. I feel blessed to be surrounded by so many gifted people. Each year I have a chance to share my experience at the Round Table Discussion and learn from my fantastic colleagues.
IFFNY is known for a strong program and famous for opening new names on film horizon. Push filmmakers get at our festival helps them go beyond the horizon. Success at IFFNY helps promising filmmakers in their future international careers – in Hollywood and worldwide. Founder and director of IFFNY Mrika Krasniqi is a true visionary. I admire her for the highest level of professionalism, open mind and never-ending creative ideas. Each and every year she gives an amazing chance to present a film in NY to so many talented filmmakers. And Iber Deari is a brilliant selector with a great taste. He is a gifted filmmaker himself and of course it helped him pick the best films and music videos from 637 submissions.
NY Glam: Tell us a little about yourself, growing up and your passions.
I was born in Nalchik, grew up in Moscow, graduated from the prestigious Russian Academy of Theatre Arts (GITIS), wrote a thesis on Eugene O'Neill's work and made 2 first ever screen versions of his one-act plays "Before Breakfast" and "The Movie Man". Though my breakthrough was in cinema with feature hit film "Right to Love" (directed by Paul Kurti, written by Amina Zhaman, USA, 2012), and later in theatre with stage productions "7 Days. 7 Nights" and "Faithful Wife" (both adapted and staged by Amina Zhaman in Russia in 2017), my biggest passion is music.

I wrote Original Soundtrack for 3 films of mine and 2 theatre productions – "Till Death Do Us Part" (directed by Alim Kouliev, adapted by Amina Zhaman, USA, 2018) and upcoming "Chaliapin/O'Neill" (written by Amina Zhaman in 2018). For many people my music is a beautiful addition to the movie/stage production, for me – it's the main reason and motivation to make a project at all. Because on screen/stage I will hear what I do best – instrumental music and unique songs. My music will always play when I'm on stage or on screen. Otherwise I'm simply not interested in making a project.
NY Glam: What was your latest movie project?
"BATTLE FIELDS" (directed by Anouar H. Smaine, associate produced by Amina Zhaman, USA, 2018). After its successful World Premiere in Idyllwild, California, in March 2018, New York Premiere at INTERNATIONAL FILMMAKER FESTIVAL OF NEW YORK (IFFNY), international boom of the movie in Algeria, Morocco, Russia, Bulgaria, France, Holland, screenings in Los Angeles (CA), Laughlin (NV), and Las Vegas (NV) – in Brenden Cinema of PALMS Casino Resort, recently "BATTLE FIELDS" was screened in LA again – on March 28th, 2019 at the Mexican Center for Culture and Cinematic Arts (Consulate of Mexico in Los Angeles) in the unique program along with other 4 award winning festival movies.
This international sold-out event was excellently organized by Actors Slash and moderated by its founder, brilliant actress/producer Vange Tapia. It was a third LA screening of "Battle Fields". Previous 2 screenings were held in "Miracle" cinema (Los Angeles Nollywood Film Awards) and USC School of Cinematic Arts.
I am very proud of such results: international acclaim, multiple awards, global attention, new experience. Most importantly – film touched people's hearts in different parts of the world, and that's incredible. Work in this film made me see: you don't have to be on screen to become a face of the movie. If you work super hard, colleagues see it and audience feels it. I was honored to receive a "Best Female Producer" Award for my work in "Battle Fields" at Slavic Fairy Tale International TV & Film Festival in Sofia (Bulgaria) in September 2018. Nevertheless in the future I want to make films where I star only, and I don't want to produce anymore.
NY Glam: What theatre project are you currently working on?
I'm currently working on a theatre project based on my original play "Chaliapin/O'Neill". It's my debut as dramatist. In the past I successfully adapted (for both – screen and stage) American, Russian and Italian classics – namely Eugene O'Neill, Maxim Gorky, Mikhail Lermontov, Dario Fo and Franca Rame. I was happy to receive great reviews from audience, playwrights and screenwriters. Now it's time to present my first original play inspired by a true story. I wrote a one-act comedy and literally can't wait for people to see it on stage.
NY Glam: Who will play a founder of American drama Eugene O'Neill in your production?
Amazing theatre actor Sergey Kempo. And I will play Carlotta Monterey, Eugene O'Neill's third wife.
NY Glam: What made you take this role?
Besides being perfect for this role and being a specialist in American drama (Eugene O'Neill's work in particular), the fact that nobody (except my executive producer Marina Bolotokova and my lawyer Oles Gvozdichenko) wanted me to play Carlotta. Underestimation has always been inspiring me. It helped me get further than I originally planned. After music, underestimation is my number 1 motivation.

NY Glam: What is the most challenging role you have played and why?

Antonia in "Till Death Do Us Part". First of all, it was my stage debut and it was in Hollywood theatre! Of course, I played in the student theatre when I was studying in GITIS, but I never played enough to feel absolutely confident on stage as a theatre actress. In the role of Antonia I fully expressed my talent as a stage actress, my temperament. I was on stage for 1 hour non-stop acting opposite brilliant actor Alim Kouliev. We ascended above any language and cultural dynamics that resulted in a successful theatre production. He directed this production and I wrote an adaptation of Dario Fo and Franca Rame's play "An Open Couple".
We both were creators and performers in this Hollywood theatre show. It was a big challenge for both of us. It was amazing to perform 2 nights in a row in front of a full house at Stephany Feury Studio Theatre which is located opposite Paramount Pictures Studios. Sold-out shows in the heart of Hollywood is a dream that came true. There's nothing more awesome than performing on stage, especially in a comedy! At last I did it and I can't wait to play Antonia again.

NY Glam: And the most fun one?

Again – Antonia. Because I am funny and my stage partner Alim Kouliev is funny too in real life. Plus we both have comedy talent. I knew the show will be hilarious and audience will laugh out loud throughout it. I mean, I wrote most of the jokes and I had so much fun saying them with sarcasm – the language I speak fluent.
NY Glam: Describe your biggest accomplishment to date?

My thesis on Eugene O'Neill's one-act plays.
NY Glam: What's your goal for this year?

To world premiere my stage production "Chaliapin/O'Neill" in Moscow and transfer it to Broadway.
*Cover Photo by Kate Taylor