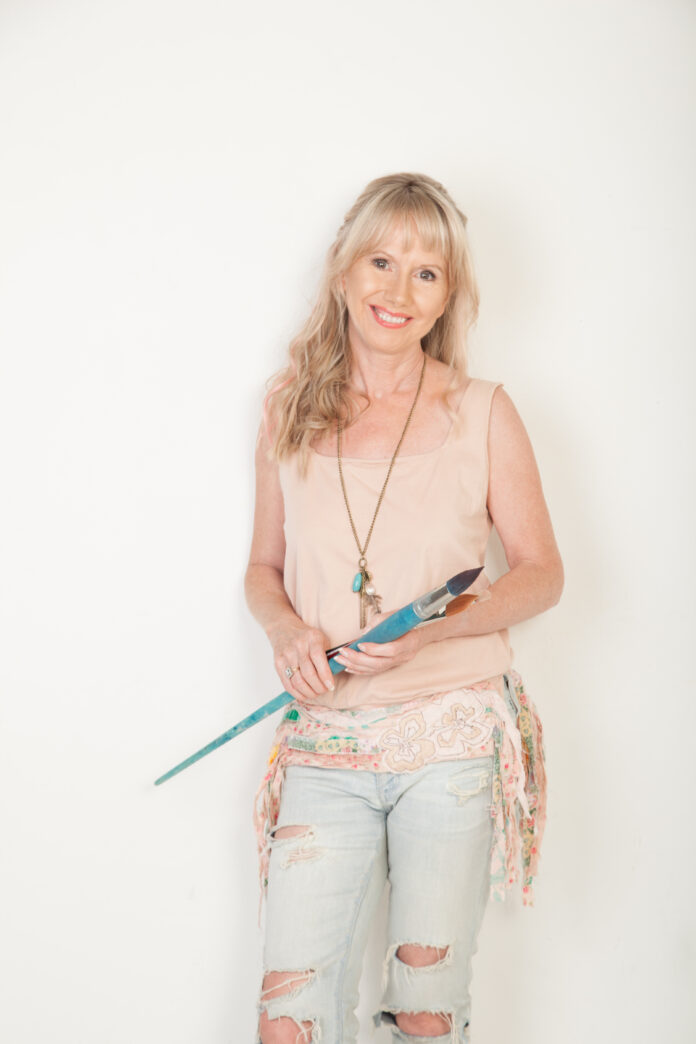 Exclusive Interview with Suzi Morris' – Filmmaker & Painter
Suzi Morris' paintings resonate with the spirit of scientific discovery whilst exploring the relationship between the unpredictable inner landscape of the body and paint. 'Self' is metamorphosed as 'I', a painted line which appears singularly or repeated, emerging in some works from dense networks of swirling brush strokes and in others manifesting among atmospheric clouds or hovering at the edge of inky dreamscapes. Painted in varying tones of cadmium red, deep cobalt blue and vibrant greens, these visions describe an inward observation; a looking into the body where microscopic space expands and extends infinitely – a reversal of perspective which inverts the outward-looking notion of the Nineteenth-Century colonial sublime.
Living with the ordeal of viral keratitis led Morris to research the wider concerns over advances in DNA sequencing and regenerative medicine at Imperial College, London. Discovering that science is harnessing the power of the virus from which she has suffered all her life in engineering cures for cancer, led to her doctoral thesis proposal of the Viral Sublime.
The sublime has its origins in the ancient world and yet it remains a symptomatically modern aesthetic. Morris' concept of a Viral Sublime is being refreshed and reinvigorated for a post-Romantic age when the natural world is under such cataclysmic threat, and our atomized lives force a solitude that many would rather avoid. These bold, resplendent paintings explore where postmodern ideas of the sublime survive and thrive in the fields of bio-technology, medicine and science.
A former Art Director in Film, Morris completed her professional doctorate in Fine Art at University of East London in 2017, supported by da Vinci Artists Brushes and Schmincke Paint. Previously, she was offered a scholarship to Kingston University and later received an MA in Painting from the City & Guilds of London Art School. In 2017 she was featured in Modern Painters and her work is represented in the Imperial College, London art collection and many other corporate and private collections globally. Morris lives and works in London.
NY Glam: Tell us a little about yourself and your career beginnings.
I grew up in Scotland, the middle child of three children. My father was a scientist so I inherited a natural curiosity for what we cannot see with the naked eye. Loss determines the people that we become and the loss of my mother at a young age meant that in navigating my life I had to piece together a resilient female self-image of my own. Winning art prizes from the age of 4 meant that I never had the dilemma of questioning what I was going to become. I always knew that I was a painter although it wasn't considered a career choice at that time. As a consequence, my early working life began in interior design before undertaking my BA(Hons) in Graphic Design and Illustration at Kingston. The opportunity of a scholarship to the Royal College of Art was adjourned until I could financially support myself, hence I worked in a variety of jobs including a design consultancy in London. Freelance painting commissions offered a way to fulfill my love of painting. It was while working in art direction for film that I finally made a commitment to painting full-time. I returned to school and undertook an MA at The City & Guilds of London Art School before completing a Professional Doctorate in Fine Art at the University of East London with the support of da Vinci Artists Brushes and Schmincke. It's been a challenging journey late in life but reflecting back, it's a validation that if we are willing to live fearlessly then we can all become the person that we always wanted to be.

NY Glam: NY Glam: What projects are you currently working on?
Before the pandemic drew the world to a standstill, I was working on a project in collaboration with Leukaemia UK and Imperial College, London. The end goal being to create a series of exhibitions to raise awareness of HTLV-1 virus and make a film about a rather high-profile leukaemia survivor. Global data indicates that the COVID-19 pandemic is far from over, and charities have been many of the hardest hit so I am continuing to create the works with a view to advancing the project when time permits. I'm also part of a collective of artists who I studied with during my doctorate so plans for our next exhibition post lockdown are in progress. Last year I was officially made a brand ambassador for da Vinci Artist's Brushes plus I also work with art consultants and a gallery, so life is pretty busy.

NY Glam: NY Glam: What art do you most identify with?
Painting and film. I'm interested in artists whose practice is deeply rooted in the experience of process. There also has to be a certain silence to the work, something transcendent that goes deeper beyond colour and space. Transformative. Mark Rothko, Newman and Bill Viola's work all address the bigger questions, the mystery of life and the tragedy of the human condition. For me, evoking what I perceive to be invisible, intangible and unpresentable, although recognized by the senses, have become fundamental concerns.

NY Glam: What themes do you pursue?
I'm interested in the body and the crossovers between science, medicine and art along with the history of the sublime in aesthetics. For decades I've struggled with medical intervention in managing Keratitis, a viral inflammation of the cornea that can eventually cause blindness. Discovering that the virus responsible for vision loss in one eye, is now serving as a digital avatar in the fight to cure cancer and other inherited diseases, opened the timely world of genomics and virology to me. Fascinated by the paradox of a virus' ability to 'kill' or 'cure' led me to explore how genomic medicine is opening the doors towards personalised medicine. With new technologies enabling us to monitor our own bodies and next generation sequencing drawing transformational change within mainstream healthcare, I question how it will be to be human in the future. This in turn affects any of us who interact with medicine so I want to show immediate medical issues in a new way.

NY Glam: NY Glam: What's your favorite art work?
In a historical sense, Gauguin's monumental painting Where Do We Come From? What Are We? Where Are We Going? 1848-1903. I was overwhelmed by the sheer scale and the meaning behind this painting when I went to see it in the Museum of Fine Arts Boston. Like many artists including myself, Gauguin was interested in the fundamental questions of the body through birth, life and death and of what lies beyond.
In a contemporary context Bill Viola's Tristan's Ascension is a work which moves me to tears every time I watch it.

NY Glam: Tells us about some of your recent exhibitions. What memorable responses have you had to your work?
I was invited to create a solo show 'Of Blooded Things' as part of Imperial Festival, Imperial College, London. The opportunity of having two leading scientists from Imperial join me in conversation during the show led to many interesting responses to the work. While many scientists read the work from an academic standpoint, they were still often deeply moved by the paintings. Some found solace in the works while others were intrigued to understand the science behind them. Cherry Smyth wrote the essay for the show; 'By inhabiting the viral sublime of her imagination, Morris' paintings take us into 'a far more than her', an immensely rich seam of knowledge at a new turning-point in medical science which is rarely represented in visual art'. 'Of Blooded Things: the paintings of Suzi Morris, Cherry Smyth, art writer and poet.
One of my collectors wept in front of a painting which he and his wife had commissioned. There could not have been a greater validation for me that this painting was a success, and I don't always feel that way. I'm always overly self-critical of my paintings! Perhaps that's being very 'British?'

NY Glam: Tell us about one of your projects which you are very proud of?
Wellcome Trust invited me as a sole artist to present at a Virus, Genomics and Evolution conference in Cambridge. Presenting at this event co-authoring a paper with my supervisor Professor Faye Brauer, offered me the opportunity to hear responses to my work, that later fed into my practice. I had just completed a series of works titled The Families. The Families is a series of nine aluminium panels, each work corresponding to a viral family under clinical investigation using viruses as avatars in the treatment of cancer.
The beauty and destructiveness of viruses had increasingly become a source of fascination as I drew homologies between the inherent unpredictable characteristics of oil pigment, which is not disparate from the conduct of viral behaviour in the body. As virotherapy uses natural or engineered oncolytic viruses to selectively kill tumour cells in the treatment of terminal diseases, a virus being put to therapeutic use is such a paradox.
The paintings never seek to illustrate; rather an underlying reference is of a perceptual view of scientific reality within the 'invisible' world. Through investing the paintings with a sensibility, they become a game of interpretation.
At the time scientists at Imperial College, London, were exploring nine viral families Rhabdoviridae, Herpesviridae, Poxviridae, Reoviridae, Paramyxoviridae, Picornaviridae, Adenoviridae, Parvoviridae and Retroviridae.

NY Glam: What does "being creative" mean to you?
Art has a tremendous power to move people and hopefully trigger something that causes us to question and try to understand. Being creative for me is about raising questions and generating ideas connected to what's happening in the world. Presenting different ways of seeing and creating something that previously didn't exist. I think as a creative we have to be willing to take risks, deal with uncertainty and the potential for failure. It's about allowing the work to be transformative and embracing the unknown no matter what.

NY Glam: What are you trying to communicate with your art?
The paintings are deeply rooted in a process rife with ideas and feelings on being human. There is something much deeper beyond the colour that I want to share. Conceivably, the work might function in helping to socialise the genome as personalised medicine enters mainstream healthcare. Or they may help us to see in new ways and understand that which is difficult to see, making the invisible visible. Through exterior observation of science and my imaginary interior perception of the frailty of my body, the most emotive aspect of painting becomes paint itself. Problems of the body are universal, so through encompassing layers of glaze over time, intermingled with smearing and daubing of colour in conjunction with imagining, sensing, memory and perceiving, my practice has become defined by the process through which I make sense of my lived bodily experience.
Given my interest in science and the sublime, the rapid rate of new discoveries in genomics and virology, has led to the sublime acquiring a sense of additional urgency. It remains a force that shapes our contemporary culture of anxiety and fear. The pandemic and vaccine hesitancy are prime examples. While the types of fear that we experience today may have changed, politically and culturally, and even though it is difficult to quantify a phenomenon, I argue that the legacy of the notion of the sublime may be experienced as much today in terms of the Viral Sublime as it was in the eighteenth century but in different ways. I'm really looking to make science into something more emotionally evocative, something visceral, and more capable of triggering awareness to key changes in the revolutionary ways that medicine is changing.

NY Glam: What role does the Artist have in Society?
Artists are capable of helping people to see the world from a different perspective and share the potential to influence culture, politics, and even the economy through art making. We can shed light on important issues. During the pandemic I really wanted to find a way to make a tangible difference. I knew just enough about virology to understand how new biotechnologies would be being used in the development of a vaccine. So, I drew upon my interest in viruses and my connection with Imperial College, London to raise money for the Imperial College COVID-19 Response Fund. I made a short film in isolation in my studio to call out for support. Through exposing my own battle with viral keratitis and pledging 50% of the proceeds of some of my smaller paintings, thankfully the press and Aesthetica Magazine published my story, and those collectors who purchased my paintings helped towards funding the vaccine.

NY Glam: What are your thoughts on being an artist in today's world?
Being an artist today is very different from when I was first at art school in the eighties. New technologies social media, and the internet enable artists to connect independently at a global level now. The opportunities are so much greater making being a full-time artist much more possible now.

NY Glam: How has painting influenced your life?
Painting is a means to make sense of my lived experience. Having travelled extensively and dealt with ill health, I've witnessed atrocities of human behaviour that slip beyond my own and conventional understanding. The act of painting enables me to process what's happening externally in the world and turn it into something of value that moves people. My paintings have become an embodiment of exploring the imagined inner landscape of my body. When I'm painting it's as if I'm no longer burdened by the actual working body; the process of manipulating paint somehow engenders a resurrection within invisible energies and expansion. My world is invisibly ordered by virology through managing my condition while abstraction points to an interior state of being and recognizes different possibilities within us. Being absorbed in a painting which is more than human scale is significant for me in that it helps me to re-order my internal life and share something of meaning and significance with the external world.

NY Glam: What art movement or artist would you say influences your work most?
Orphism tells us much about the nature of art in society in regard to the beginnings of abstraction and its key concerns being to raise consciousness. Highly influenced by science, technology, and literature, the Orphists dispensed with recognisable subject matter and relied on form and colour alone to communicate meaning. The Orphism movement marked the beginning of painting that was independent of any reference to the visible objective world. Their concerns with consciousness and curiosity with the unseen and the scientific, may explain as much about the function of art in the early twentieth century as it can today. It occurs to me how the influence of the new sciences and genomics is as key to situating my practice as the discovery of microbes, x-rays and unseen energies was for artists such as Odilon Redon and František Kupka.

NY Glam: As a filmmaker, what is the most important aspect of building a movie?
Having a really good narrative.

NY Glam: What are your ambitions for your filmmaking career?
Much as I enjoyed the time that I spent working with Fact Not Fiction Films, since featuring in The Residency documentary, most of my work with film now is related to teaching. Becoming an ambassador for da Vinci Artist's Brushes and working with Schmincke has brought opportunities to share oil painting tips with other artists and highlight different ways of working.

NY Glam: Film or painting?
Much as I love film, painting will always be my passion in life. It's the inherent natural qualities in oil paint that enable painting to become a bodily experience which is so transformative.

NY Glam: What can we expect from you this year?
I'm in the process of creating works for my next solo show. When I first showed the Viral Sublime series in my solo show in London in 2017, the chaos that viruses wreak on human welfare was not widely thought about. The work of scientists has become part of everyday news over the past year. Post the global pandemic I'm interested to see the response to my paintings in a different context now that we are having to learn to live with awareness of SARS-CoV-2 and the potential for new variants. I'm also excited to be working towards a collaboration with Armenian dancer, poet, writer and educator, Celeste Snowber, PhD. Further updates and news of upcoming shows can be seen on my website at https://www.suzimorrisart.com/ and on Instagram @suzimorrisart