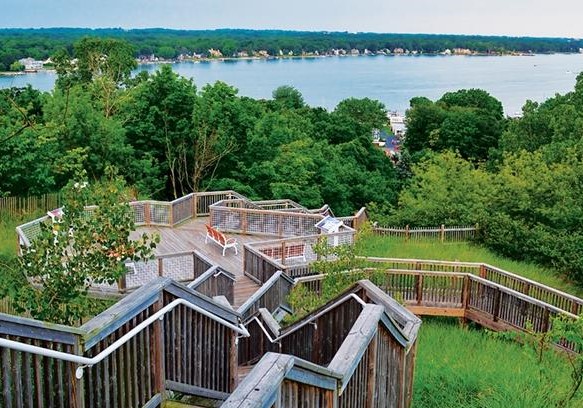 Nestled in the northern hills of Pennsylvania, Mt. Pisgah State Park is a natural paradise that boasts a breathtaking landscape, rich biodiversity, and a wide range of recreational activities. With over 1,300 acres of pristine wilderness, this park is a popular destination for nature lovers, hikers, campers, and outdoor enthusiasts of all kinds.
The park is located in Troy, Pennsylvania, and is easily accessible from the nearby towns of Elmira and Williamsport. Visitors to Mt. Pisgah State Park can enjoy a variety of activities, including hiking, fishing, boating, camping, picnicking, and wildlife viewing. The park's extensive network of trails offers hikers and nature enthusiasts a chance to explore the park's diverse habitats, which include forests, meadows, wetlands, and streams.
One of the most popular trails in the park is the Mt. Pisgah Trail, which leads to the summit of the mountain and offers stunning panoramic views of the surrounding landscape. This trail is moderately difficult and is approximately two miles long. The park also has several other trails of varying difficulty, including the Lake Trail, which is a one-mile loop around the park's lake.
For fishing enthusiasts, the park's lake is stocked with trout and is a popular spot for anglers. Boats are available for rent, and there are several launch sites around the lake. The park's wetlands are also a popular destination for birdwatchers and wildlife enthusiasts, as they are home to a variety of waterfowl, including ducks, geese, and herons.
The park's camping facilities are also popular, with over 100 campsites available, including both tent and RV sites. The campsites are located in scenic areas throughout the park and offer a range of amenities, including picnic tables, fire rings, and nearby shower facilities. The park also has several picnic areas, which offer stunning views of the lake and surrounding hills.
In addition to its natural beauty, Mt. Pisgah State Park also has a rich cultural history. The park is named after the biblical Mt. Pisgah, and the area was once home to the Iroquois and Susquehannock tribes. The park's Visitor Center has exhibits on the history and culture of the area, as well as information on the park's flora and fauna.
Overall, Mt. Pisgah State Park is a must-visit destination for anyone who loves the great outdoors. With its stunning scenery, rich biodiversity, and range of recreational activities, this park is a true gem in the heart of Pennsylvania. Whether you're hiking to the summit of Mt. Pisgah or relaxing by the lake, you're sure to be awed by the park's natural beauty and rich cultural history.