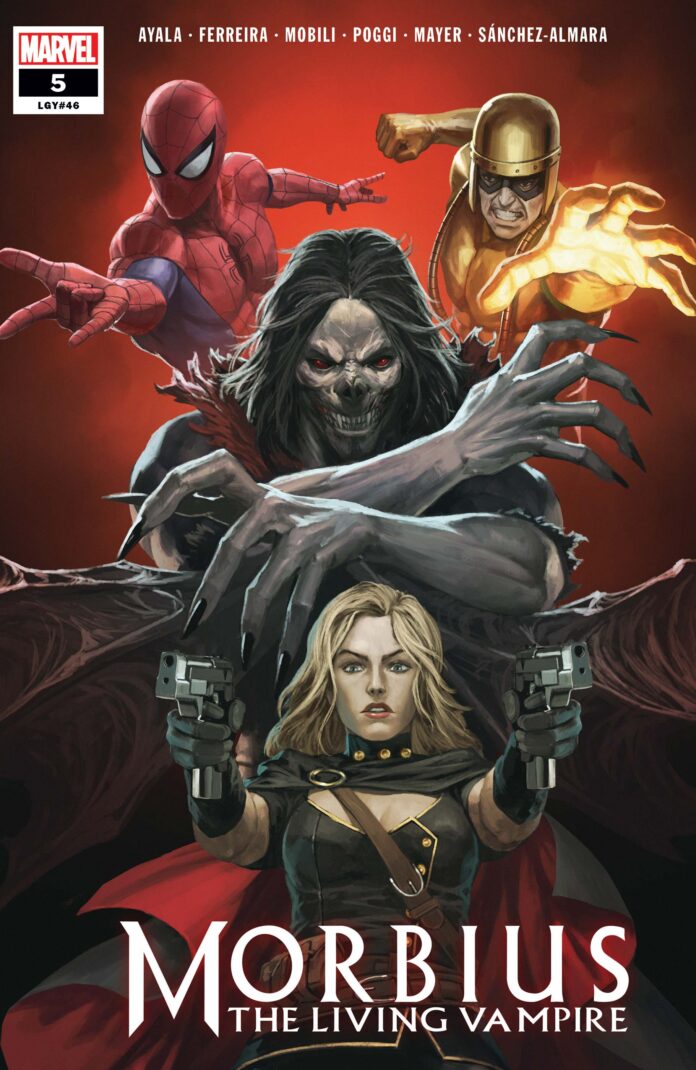 Morbius is an upcoming American superhero film based on the Marvel Comics character Morbius, the Living Vampire, produced by Columbia Pictures in association with Marvel. It is intended to be the third film in Sony's Spider-Man Universe, and is being directed by Daniel Espinosa and written by Matt Sazama and Burk Sharpless, starring Jared Leto as Michael Morbius, alongside Matt Smith, Adria Arjona, Jared Harris, Al Madrigal, and Tyrese Gibson. The film follows the title character as he becomes a vampire after attempting to cure himself of a rare blood disease. After announcing plans for a new shared universe of films inspired by Spider-Man characters beginning with Venom (2018), Sony began developing a film based on Morbius. Sazama and Sharpless had written a script by November 2017, and Leto and Espinosa officially joined in June 2018. Work began in earnest at the end of the year with further casting, ahead of production starting in London in February 2019. Filming was confirmed to have been completed by June 2019. Morbius is scheduled to be released in the United States on January 28, 2022, having been delayed from its initial July 2020 date due to the COVID-19 pandemic.
Jared Leto as Michael Morbius: A scientist suffering from a rare blood disease whose attempts to cure himself afflict him with a form of vampirism, gaining superhuman abilities but none of the superstitious weaknesses associated with vampires. Leto was drawn to the character's struggle with his disease and the moral implications of a hero who has a thirst for blood. Matt Smith as Loxias Crown: Morbius' friend who suffers from the same rare blood disease. After previously turning down other superhero film roles, Smith joined the film due to director Daniel Espinosa's involvement and encouragement from Karen Gillan, who portrays Nebula in the Marvel Cinematic Universe (MCU) and who previously worked with Smith on Doctor Who. Joseph Esson portrays a young Loxias Crown. Adria Arjona as Martine Bancroft: Morbius' fiancée. Jared Harris as Morbius' mentor. Al Madrigal as Alberto Rodriguez: An FBI agent hunting Morbius.Tyrese Gibson as Simon Stroud: An FBI agent hunting Morbius. Gibson noted that the character is white in the comic books, and the producers "made him black" to cast the actor. Stroud has a "hi-tech weapons-grade arm" in the film, and Gibson described him as a superhero. Gibson signed a three-picture deal when he joined the film.
Morbius is scheduled to be released in the United States on January 28, 2022, in IMAX. It was originally set for release on July 10, 2020, before moving three weeks later to July 31, 2020.The film was then delayed due to the COVID-19 pandemic, firstly to March 19, 2021, then to October 8, 2021, and to January 21, 2022, before moving to the January 28 date.