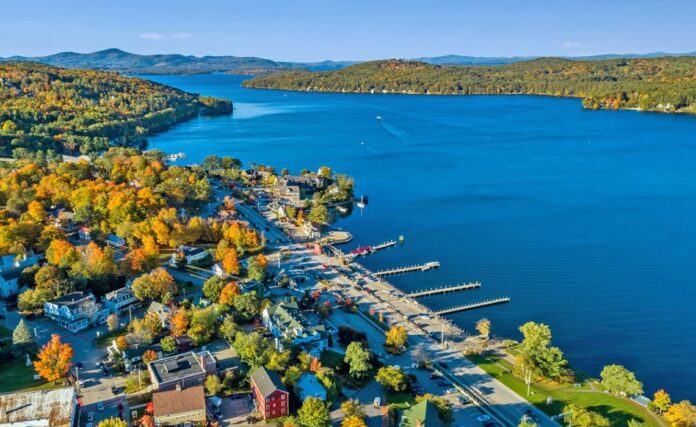 Nestled in the heart of the Lakes Region of New Hampshire, Lake Winnipesaukee is the largest lake in the state and a popular destination for nature enthusiasts. With its crystal clear waters, surrounded by towering mountains and lush forests, this pristine lake offers a plethora of outdoor recreational activities all year round.
The name "Winnipesaukee" is derived from the Native American language and means "beautiful water in a high place." And it's not hard to see why. The lake is over 20 miles long and 9 miles wide, with 72 square miles of surface area and 244 miles of shoreline. It has several islands, including the largest one, called "Long Island," which is approximately 1.5 miles long.
Summer is the busiest season at Lake Winnipesaukee, as visitors come from all over to enjoy its many water-based activities. From swimming, boating, fishing, and kayaking to water skiing and wakeboarding, the lake has something for everyone. There are several public beaches and boat launches around the lake, as well as marinas where you can rent boats or jet skis.
For those who prefer to stay on land, Lake Winnipesaukee also offers hiking, biking, and horseback riding trails. The surrounding mountains provide some of the most breathtaking views in New England, and the trails vary in difficulty, making them accessible to hikers of all levels.
Fall is a popular time to visit Lake Winnipesaukee as well, as the foliage around the lake explodes into vibrant colors. Visitors can take scenic drives, hike or bike through the forest, or take a leisurely cruise on the lake to experience the beauty of the autumn foliage.
Winter brings a whole new set of activities to Lake Winnipesaukee, including ice fishing, snowmobiling, ice skating, and skiing. The lake often freezes over, creating a vast expanse of ice that provides endless opportunities for winter sports.
Lake Winnipesaukee is also home to several charming towns, each with its own unique character and attractions. Wolfeboro, the oldest summer resort in America, is located on the eastern shore of the lake and is known for its quaint downtown area and historic buildings. Meredith, on the western shore, is another popular destination, with a bustling Main Street and a picturesque harbor.
Lake Winnipesaukee, New Hampshire, is a stunning destination that offers a wide variety of outdoor activities all year round. With its clear waters, mountain vistas, and charming towns, it's no wonder why so many people flock to this natural wonderland. Whether you're a water lover, hiker, or just looking for a peaceful retreat, Lake Winnipesaukee is a must-visit destination in New England.