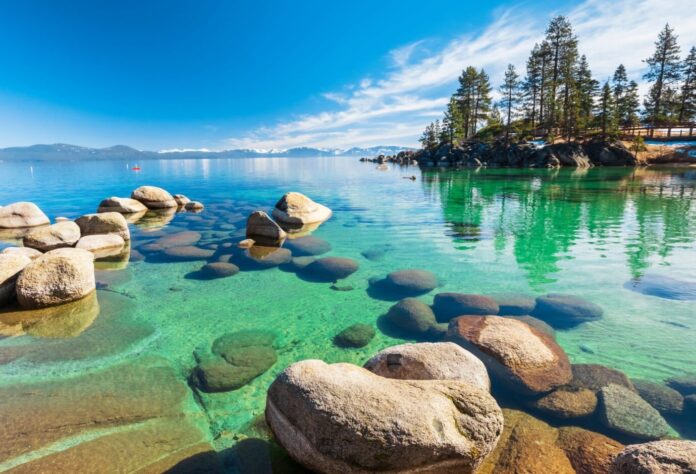 Nestled in the Sierra Nevada mountain range, straddling the border between California and Nevada, lies Lake Tahoe – a natural wonder that attracts millions of visitors every year. Lake Tahoe is the largest alpine lake in North America, and its crystal-clear waters and stunning surroundings make it a popular destination for outdoor enthusiasts and nature lovers.
The lake is approximately 22 miles long and 12 miles wide, with a maximum depth of 1,645 feet. The water in Lake Tahoe is renowned for its clarity and deep blue color, which is a result of its high elevation and the lack of algae and other particles in the water. The surrounding landscape is equally impressive, with towering peaks and forests that stretch as far as the eye can see.
One of the most popular activities at Lake Tahoe is hiking. There are countless trails in the area that offer stunning views of the lake and the surrounding mountains. The Tahoe Rim Trail is a 165-mile loop that circumnavigates the lake and is a popular choice for backpackers and hikers. Other popular hikes in the area include the Mount Tallac Trail, the Eagle Falls Trail, and the Rubicon Trail.
In the winter, Lake Tahoe transforms into a winter wonderland, with world-class ski resorts that offer some of the best skiing and snowboarding in the country. Squaw Valley, Northstar, and Heavenly are just a few of the resorts that draw skiers and snowboarders from around the world. In addition to skiing and snowboarding, visitors can also enjoy snowshoeing, ice skating, and even dog sledding.
In the summer, Lake Tahoe is a popular destination for water sports, including boating, fishing, kayaking, and paddleboarding. The crystal-clear water is perfect for swimming, and there are countless beaches around the lake where visitors can relax and soak up the sun.
Aside from the natural beauty, Lake Tahoe is also home to a vibrant culture and history. The area was originally inhabited by the Washoe Tribe, and evidence of their presence can still be found in the form of petroglyphs and other artifacts. In the late 19th century, the area became a popular destination for wealthy San Franciscans, who built grand estates along the lake. Today, many of these historic homes have been converted into museums and cultural centers that offer a glimpse into the area's rich history.
Lake Tahoe, California and Nevada is a natural wonder that offers something for everyone. Whether you're a nature lover, an outdoor enthusiast, or a history buff, you'll find plenty to do and see in this breathtakingly beautiful region. So, pack your bags, grab your hiking boots, and come experience the wonder of Lake Tahoe for yourself.