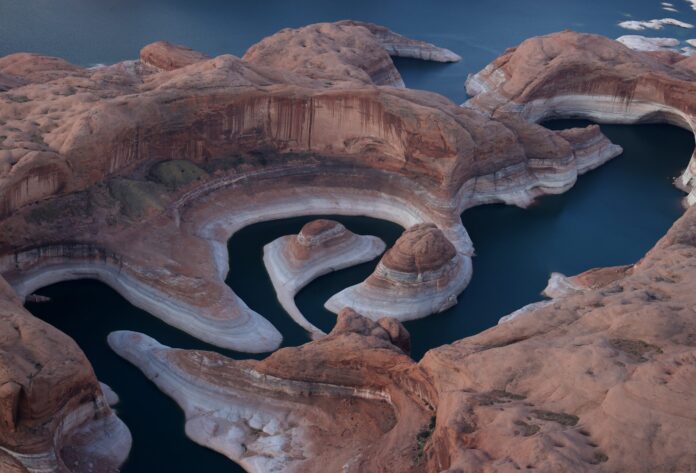 Nestled in the heart of the American Southwest, Lake Powell is a majestic oasis surrounded by dramatic red rock cliffs and canyons. This stunning body of water spans the border between Arizona and Utah and is a popular destination for boaters, hikers, and nature enthusiasts.
Lake Powell was created in 1963 with the completion of the Glen Canyon Dam on the Colorado River, which resulted in the flooding of Glen Canyon and the formation of a massive reservoir. Today, the lake has become a recreational playground, offering visitors endless opportunities for fun and adventure.
Boating is perhaps the most popular activity on Lake Powell, and for good reason. With over 2,000 miles of shoreline and countless hidden coves and beaches to explore, boaters can spend days cruising the lake and discovering new wonders. The lake is also home to several marinas where visitors can rent boats, jet skis, and other watercraft.
For those who prefer to stay on land, Lake Powell has plenty to offer as well. Hiking is a popular activity, with numerous trails offering breathtaking views of the surrounding landscape. The Hanging Garden Trail, for example, takes hikers through a stunning desert oasis filled with lush vegetation and waterfalls.
Fishing is also a favorite pastime on Lake Powell, with anglers coming from all over the world to catch the lake's abundant populations of bass, catfish, and other fish. The lake is also home to several species of endangered fish, including the humpback chub and razorback sucker, making it an important destination for conservationists and wildlife enthusiasts.
Of course, no trip to Lake Powell would be complete without taking in the stunning natural beauty of the area. The lake is surrounded by towering red rock cliffs and canyons, many of which are accessible by boat or on foot. Some of the most popular sites include Rainbow Bridge National Monument, Antelope Canyon, and Horseshoe Bend.
Whether you're looking for an action-packed adventure or a peaceful retreat in nature, Lake Powell has something for everyone. With its stunning scenery and endless opportunities for fun, it's no wonder that it has become one of the most beloved destinations in the American Southwest.