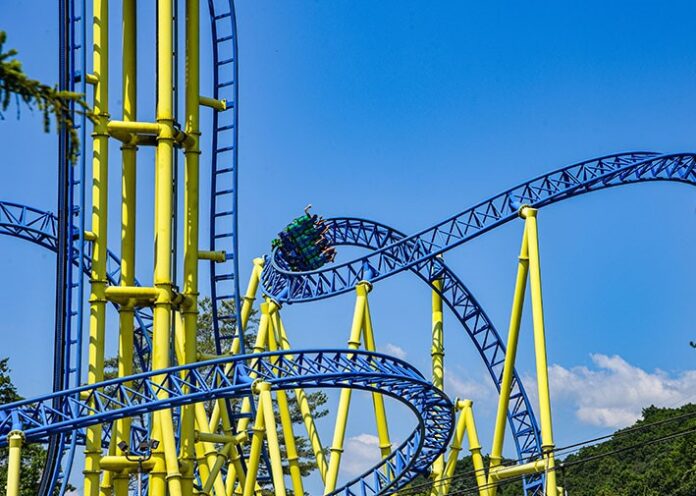 Nestled in the heart of Pennsylvania's coal region, Knoebels Amusement Resort is a beloved family-owned and operated theme park that has been entertaining guests for over 95 years. Known for its unique blend of classic rides, modern attractions, and a laid-back atmosphere, Knoebels is a one-of-a-kind destination that offers something for everyone.
The park's history dates back to 1926, when two brothers, Henry and Phoenix Knoebel, opened a small swimming hole and picnic area in the woods near their family farm. Over time, they added a few rides and attractions, and the park grew in popularity. Today, Knoebels covers 450 acres and features over 60 rides, including classic wooden roller coasters, modern thrill rides, family-friendly attractions, and a water park.
One of the things that sets Knoebels apart from other theme parks is its pay-as-you-go system. Instead of buying an admission ticket that gives you access to all the rides, guests purchase tickets for individual attractions. This means that you only pay for the rides you want to go on, and you can spend as much or as little as you like. It also allows guests to experience the park at their own pace and take breaks to enjoy the park's other amenities, such as its many food stands, games, and shops.
Another unique aspect of Knoebels is its commitment to preserving the park's history and charm. Many of the park's rides are vintage pieces that have been restored and maintained over the years, such as the Grand Carousel, which was built in 1913 and features 63 hand-carved horses. Other notable attractions include the Phoenix, a wooden roller coaster that has been ranked as one of the best in the world, and the Haunted Mansion, a classic dark ride that has been thrilling guests for over 40 years.
Despite its focus on the past, Knoebels is also committed to innovation and keeping up with modern trends. In recent years, the park has added new attractions like the Impulse, a steel roller coaster with a vertical lift, and the Flying Turns, a modern version of a classic bobsled ride. The park also hosts special events throughout the year, including a popular Halloween celebration called Hallo-Fun Weekends, and a holiday light show in December.
Overall, Knoebels Amusement Resort is a unique and nostalgic experience that has been cherished by generations of families. Whether you're looking for classic thrills, modern excitement, or just a relaxing day in the park, Knoebels has something for everyone. So, if you're in the area, be sure to visit this timeless treasure and experience the magic for yourself.