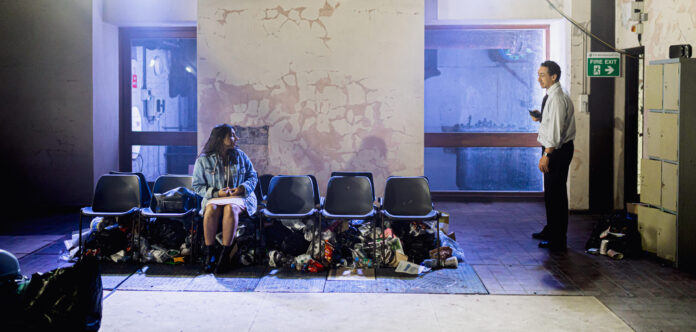 Exclusive Interview with Karen Johal – Actress
A British Native, Karen Johal was awarded a merit scholarship to attend The American Academy of dramatic arts in 2014. This huge achievement garnered the actor the opportunity to train in the US as the only British born South Asian Actor to graduate from the program. Since graduating in 2017 she has worked extensively in theatre, film and television both in the US and the UK, making her work internationally recognized in the industry. In 2016 she was cast in Julius Caesar for The public's Shakespeare in the park. The only British cast member, director Oskar Eustis described her work as "crucial, she (Karen Johal) added immeasurably to the great success of the show". Following this she was cast as the lead in the show Journey to America which was performed at the famous and reputable Carnegie Hall. At the age of 26 she received top billing as "Mistress of ceremony" the lead role for Orchestra Modernes debut show which was performed to an audience of 3,000 people. Karen's career has seen her play many lead roles in off Broadway productions including As you like it, She kills Monsters, Welcome to Thebes, Camel, Satisfaction, Truest, Me and the girls starring opposite Scottish actor Alan Cumming OBE. In 2017 in her first on screen role, she played the lead in The Somasundurums which premiered at the Chicago South Asian Festival and for NYWIFT as part of their Immigrant stories series. In 2018 Karen also starred as the lead role in Frank's Plan which is available to stream on Amazon Prime Video, a top streaming service with over 175 million users worldwide. In 2019 the film Man on the phone by Red bear films saw Karen's first film award for best short at the Canada short film awards. Starring as the female lead, Felicity Karen achieved great success in this thriller short which went on to win Audience choice at the Grove film festival.
Most recently Karen starred as the lead role in the much anticipated Christmas commercial for UK retailer TK Maxx, which saw great success this year amongst competing retailers including Marks and spencers who cast Tom Holland as the voice of Percy pig. Karen's career in the UK has seen a high level of accomplishment, even during a time where the industry has struggled in a post pandemic world, a testament to Karen's outstanding talent, which is rarely encountered in the industry. In 2021 working with Birmingham based director Iqbal Khan, Karen was cast as the lead in Mismatch, a newly developed play produced by Gus Khan and written by Ashfaq Gorsi. The show was performed as part of a comedy festival at the world renown Birmingham Rep in association with Sky Comedy. Director Iqbal Khan will later be directing the opening ceremony for the 2022 commonwealth games in Birmingham, England.
Karen, garnering much momentum was soon starring as the lead role of Prisha in the short film The high performer, produced by Tilt films and filmed in Kent in March 2022. As a distinguished thespian, Karen has worked in a variety of productions, working with many companies who have coveted her career and regarded her as a great talent with significant achievements, in 2020 she was the youngest actor to play the role of Una in Blackbird, a stage production by Let me in. The play was performed at the Sandfields water pumping station, a building with a long standing history with the West Midlands. The production was significant in its success to bring theatre audiences to a fresh and new space and the gargantuan task of producing a Tony award winning show like Blackbird for the first time in Lichfield, Staffordshire, England.
Regarded as a highly talented International artist, Karen has been cast in a brand new show for the BBC, starring as a lead role, the show will be released in 2023 with official announcements coming later this year. The show will be set and filmed in Coventry, a huge achievement in the BBC's expansion of West Midlands based productions with a diverse and representative cast. A highly commendable accolade, Karen will be simultaneously filming later this year for the thriller feature Victimhood by Kill the Lion and has been cast as the lead role in a film adaptation of Twelfth night by The Mechanicals.
As a British South Asian actor with credits and accolades to her name, she is regarded as an actor with immense talent. Working internationally in the industry over a wide range of productions she is an irreplaceable talent with many years ahead of great success.
Karen is represented by Shack artists.
NY Glam: Tell us a little about yourself, growing up and your passions.
So I am British and South Asian, I am originally from Birmingham which most people know as the city where Peaky Blinders is based. It's a great place to be from despite what people think about the accent! I grew up always wanting to be involved in the creative arts in some way and when I turned 18 I started to audition for Drama schools while I was working in Birmingham at the Hippodrome Theatre. When I was 23 I got accepted into The American Academy of Dramatic Arts which is in New York. After graduating from the three year program, I started working pretty quickly and have been working internationally ever since. The experience of living in New York has been life changing and I think my passion for acting is what got me here. I have achieved a lot in my career so far, so I am grateful to still be doing what I love and to have a strong foundation and a support system that have been there along the way.
NY Glam: What are you currently working on?
I am currently filming a new television series for the BBC called Phoenix Rise. I play Noreen, a lead role, it's a huge cast and set in the West midlands in the UK. I am on set filming at the moment about twenty minutes from where I grew up.
NY Glam: What made you take this role?
I took the role initially because the show is produced by the BBC, our national broadcaster. Working with the BBC has been on my career goals list for a long time so I am excited to finally be a part of something that has been created by such a reputable company. The role is a new challenge for me and I can't say too much without spoiling it but I am a part of something that is a fully fleshed out story with characters who I think UK audiences are going to relate to.
NY Glam: What journey does your character go on in the course of the monologues?
We are in the middle of production so there is still so much to discover about my character and her journey. I have been working on how to get from scene to scene emotionally and authentically, which in television can be difficult but I am hoping I can convey that journey from an honest place as we go on.
NY Glam: Tell us a little bit more about this film, what is it about, who else are you working with, and who is the director, producer, writer?
Phoenix Rise is a high school drama which follows a group of students who are taking their first steps back into mainstream education after being expelled. They are a group of teenagers dealing with a lot and the main focus is on how they connect to each other and form a sort of tribe. I'd say it's a combination of Waterloo Rd (UK) and The Breakfast Club. It's written and produced by Matt Evans and Perrie Balthazar and directed by Clair Tailyour. I am starring alongside Paul Nicholls, Tyler Fayose and Zita Sattar. The cast is huge and representative of Coventry, where it is based so I am excited to see how people will respond, when it airs next year.
NY Glam: What is the most challenging role you have played and why?
In 2021, one of my first roles out of the pandemic was playing Una in Blackbird. It's the lead role in a play that deals with child sexual abuse and abandonment. The playwright David Harrower has described it as a love story which made it very complex to get into as an actor. The role has been played by some super talented actresses like Michelle Williams and Rooney Mara and was on Broadway in 2016 so as a production, it was intimidating in the beginning. It was the first time where I found the content of the play to really affect me personally, I had never had any similar experiences to my character but I found myself attached to her and becoming protective of her. The language in the play is so raw that even learning lines was a struggle because a lot of what I was saying was so dark, that it started to take a toll on me. I came to this realisation about the after effect when the run ended because I had a hard time shaking it off.
There are two main characters in the play and my co-star and I had a relatively short time to create a relationship with one another so that we could trust each other with the work we had to do. Every night after the show we were exhausted but we were ready to do it all over again and I think it was because of how important the story was to us. As a character she was full of rage but had a softness to her that was childlike and I wanted to play this complex character authentically. I ended up loving every part of the process, discovering new things and not being able to figure it all out right away. In spite of all the challenges I was very proud of the work we did and what we created, I don't know if I will ever play a role like that again, so I am grateful I had that chance. It was easily the hardest role I have played and a gargantuan task physically and mentally but I would do it again in a heartbeat.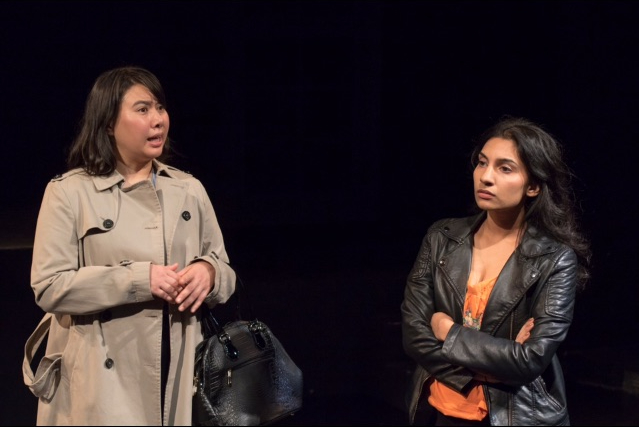 NY Glam: And the most fun one?
On a very lighter project in a national commercial for TK Maxx, it was called Christmas to the Maxx and it was their official Christmas advert for 2021. I love Christmas, I think December is one of the most magical times of year so I was just so happy to be on set. We filmed in September ahead of time, in the back of an old church which had been decorated with tinsel and Christmas trees and even had a full buffet table with fake Christmas themed food. The commercial was about a Christmas school talent show (Think Love Actually) so there were over 300 extras all dressed in winter clothes. There were some really amazing props and set pieces, even a snow machine that was set up outside the entrance, it was like walking into a snowglobe. On top of all that we did a choreographed dance and I was dressed in the most stylish outfit. Anyone who knows me knows I had the time of my life!
NY Glam: Describe your biggest accomplishment to date?
In 2016 I worked with Alan Cumming on a new musical called Me and the girls, which was a huge deal for me, he is a world famous actor and I was just starting out in professional shows. The show was featured in Playbill.com and Broadwayworld as it was the world premiere. It was written by Douglas Carter Beane who ended up writing the role I played, Nasim. So I ended up originating a role for a Tony Nominated Playwright opposite a Tony award winning actor. If the musical is revived I know my name will be in the playbill with an asterisk "as originated by" which is huge! I have worked quite a bit since first starting out and I am equally proud of all my accomplishments. In 2018 a film I starred in called Frank's Plan was picked up by Amazon Prime and it was the first time I was able to show my family and friends back home in the UK some of the work I had been doing. Amazon Prime is one of the world's leading streaming platforms so it felt good to be able to have my name in the credits on a worldwide streaming service.
I haven't reached that level of satisfaction yet to say with one hundred percent confidence that either of those things are the biggest accomplishments because I still feel like there is so much more I want to be doing and I hope I don't lose that ambition to do more.
NY Glam: What other hobbies do you have? Have you ever considered branching out into directing or screenwriting?
I have a lot of hobbies and things I do that I am passionate about outside of acting. It is so important to do things that bring you joy that are not connected to work. I am a super nerd about Birthdays, Christmas and my dog if that counts? I try to see my friends often and check in on them. I love catching up and having conversations with them. Can you say talking is a hobby? I like to go on trips as much as I can, I absolutely love going on holiday. I like to draw and I like to cook and I love clothes and watching television! I could go on! I have ideas about writing and directing a long way down the road, nothing that is anything close to a plan but I have considered what that would look like for me. In this industry you have to try your hand at it all, if the roles aren't out there for you then of course why not write them yourself.
NY Glam: Where have you played a lead role? What was the character about?
I have been quite lucky that most of my credits have been leading roles, it's important to have a mix and to understand what it is like to be a part of a strong cast as an ensemble but leading a production requires a certain energy and commitment. My first short film The Somasundurums, I was cast as the lead role. I played Shanti, the film was about a newlywed couple who have to attend a green card application interview. It was a very sweet look at two people who don't know each other very well and come from very different backgrounds but are sort of thrown into a very serious procedure and how they kind of begin to fall in love out of that experience. The film was received really well and was selected by the Chicago South Asian Film festival and premiered at NYWIFT as part of their immigration stories series. I was really proud of the film and the recognition it garnered because I come from a South Asian background and it is very rare to see films that tackle subject matters that really show the diaspora of the immigrant experience. It has been really important to me to continue to work on things that I have a connection with where I can. I developed a great relationship with the director Amrita Singh, who then cast me in her next film the following year called Teething which was about two sisters dealing with their sexuality growing up in a strict South Asian household.
NY Glam: If you weren't acting what would you be doing?
I know every artist says that they would still be doing something creative, so I will give two answers. I can't imagine doing anything not in the arts because all the things that I consider myself skilled at are creative. When I was in primary school I used to sketch drawings of clothes and outfits and designed my own fashion line on paper. I started a club in the playground with a few of my friends and we just used to sit for an hour at lunch with a pack of pencils between us and draw. So I would have loved to have been a fashion designer. If I could pick something that I am not very good at, I would like to play a sport professionally. I think it would be fun to be an athlete for a day. I played sports as a child but was never super good at anything and I don't really have a competitive spirit so if I could fantasise for a minute I would love to be like a tennis or a football player. I am interested in that person's life because it is the opposite to mine but then that's why I am an actor. I could hopefully play the role of an olympian one day.
NY Glam: What's your goal for this year?
I have a lot of exciting projects that I am working on until the end of the year, so my goal is just to do my best to concentrate on those. I have been cast in a production of Twelfth Night which will start production very soon with The Mechanicals Theater Company who are based in New York. I have worked with them before so I am excited to get back to the US and begin work on that. I am also in pre-production on a film called Victimhood where I play the lead role. It is a psychological thriller feature film about six strangers who are locked in a room together and they have to decide which person gets to leave based on their life experiences. I have a very good feeling about how the year is going to end for me so I am laser focused on staying the course and divorcing anything that takes me away from that path. My goals have been on my career this year so I definitely want to continue that theme for the rest of the year and get ready for what's to come in 2023.
NY Glam: What is your advice for aspiring actors?
To give one hundred percent of yourself to the pursuit of this career, whatever that means for you. When I was first starting out and even looking at schools I was met with a lot of doubts and people saying that it was not going to work and what a waste of time it would be. I stayed the course and gave my best to whatever opportunity I had, overtime you build up resilience to the rejections and the doubts, even when they are your own. It is so important to first get your mind right and then get a game plan together. The world is so different now so there are so many different ways to pursue acting professionally. Get a plan together, look at schools or classes and try to put yourself in the right places and you will find the right community to help you along the way. If you know in your heart that this is your purpose and you put everything you can into it, eventually you will book the jobs and you will  be in the right place at the right time and there is nothing more satisfying than to look back and say "I gave this absolutely everything even when I was struggling, I did not give up and look how far I have come". Half of the battle is inside your mind but if it is meant to be it will work out. You have to commit to the work and give as much of your energy as you can no matter what the outcome will be.