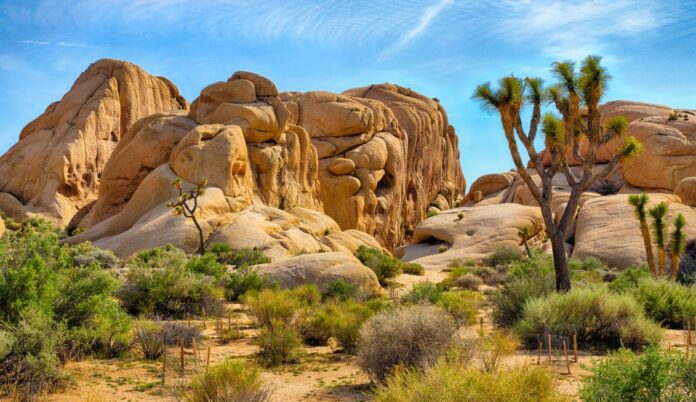 Joshua Tree National Park, located in Southern California, is a place of extraordinary beauty and wonder. It is named after the iconic Joshua tree, which is found abundantly throughout the park and is a symbol of the Mojave Desert. The park covers over 792,000 acres and is home to a diverse range of flora and fauna, including desert tortoises, bighorn sheep, and a variety of birds.
The park is divided into two distinct desert ecosystems: the Mojave Desert and the Colorado Desert. The Mojave Desert is characterized by its higher elevation and cooler temperatures, which support the growth of Joshua trees and other unique plant species. The Colorado Desert, on the other hand, is characterized by its lower elevation and hotter temperatures, which support a different array of plant and animal life.
One of the most popular activities in Joshua Tree National Park is hiking. The park has over 300 miles of hiking trails that range from easy nature walks to challenging backcountry treks. Some of the most popular hiking trails include the Hidden Valley Trail, the Lost Horse Mine Trail, and the Ryan Mountain Trail, which provides panoramic views of the surrounding desert landscape.
Rock climbing is another popular activity in the park, with over 8,000 climbing routes to choose from. The park is a world-renowned destination for rock climbers, offering a unique and challenging climbing experience in a breathtaking desert setting.
For those who prefer a more leisurely visit, Joshua Tree National Park offers plenty of opportunities to explore the natural beauty of the park from the comfort of a car. The park has several scenic drives, including the Keys View Drive, which offers panoramic views of the Coachella Valley, and the Pinto Basin Road, which passes through a dramatic landscape of sand dunes and Joshua trees.
Visitors to Joshua Tree National Park can also explore the park's rich cultural history. The park is home to several historic sites, including the Keys Ranch, a homestead that provides a glimpse into the lives of early settlers in the area.
Overall, Joshua Tree National Park is a unique and beautiful destination that offers something for everyone. Whether you're a hiker, a rock climber, or just someone who loves to explore the natural world, this desert wonderland is sure to leave a lasting impression.