Exclusive Interview with Jaroslaw Gogolin -Writer/Director
Jaroslaw Gogolin started his film adventure eight years ago as a 42-year-old. Today, his productions win awards at festivals, are appreciated by critics and viewers.
Every day he is an electrician. He runs his own small business, which allows for flexible time management, thanks to which his professional career can be reconciled with film passion. He dreams of the day when he will be able to devote himself 100%. Each new project is a good opportunity to polish up an artistic workshop. He learns from mistakes, draws conclusions and gains experience. He finds a lot of inspiration in interviews with recognized directors, cameramen and screenwriters.
At the start he joined the group "Let's Make a Scene", which deals in making short etudes, bringing together beginners and those with more experience, whose common denominator was the desire to develop as operators, directors, actors.
He has written eight feature screenplays so far, the last one (Black Forest Mystery – fantasy) during the Nostos Screenwriters' retreat (https://www.nostosscreenwritingretreats.com/) in Tuscany Sep./Oct. 2021.
NY Glam: What projects are you currently working on?
Between successive waves of the pandemic, together with Magda Kowalczyk (cinematographer), we managed to record my next film "Lost Dolls", a feature film in which the main roles, and actually the only ones, are played by porcelain dolls. Now it's time to edit the material.
Also I've just finished work on my newest script, "Black Forest Mystery" – a fantasy story.
Apart from that, new stories have been developing in my head. Some of them are a continuation of the stories I wrote earlier.
NY Glam: What makes a film great for you? Are there certain qualities that make a film better for you?
I love the stories told by the picture and sound, because it speaks deeper and more explicitly than dialogues. I am most attracted to the mysteriousness, grandeur and mystery of the universe and our place in it. The contact of a real being with a mystical and spiritual one, reaction and transformation of a person during the experience of the sacred, and also myths, dreams, visualization of various behaviours.
There are many films that I am impressed with some of them are: "The Thing", "Blade Runner", "Once upon a time in the West" , "Apocalipto" etc.
I love the films which are timeless, with perfectly refined trinkets and an original story. The films which transform you trigger thinking/feeling, leave you changed even long after viewing them.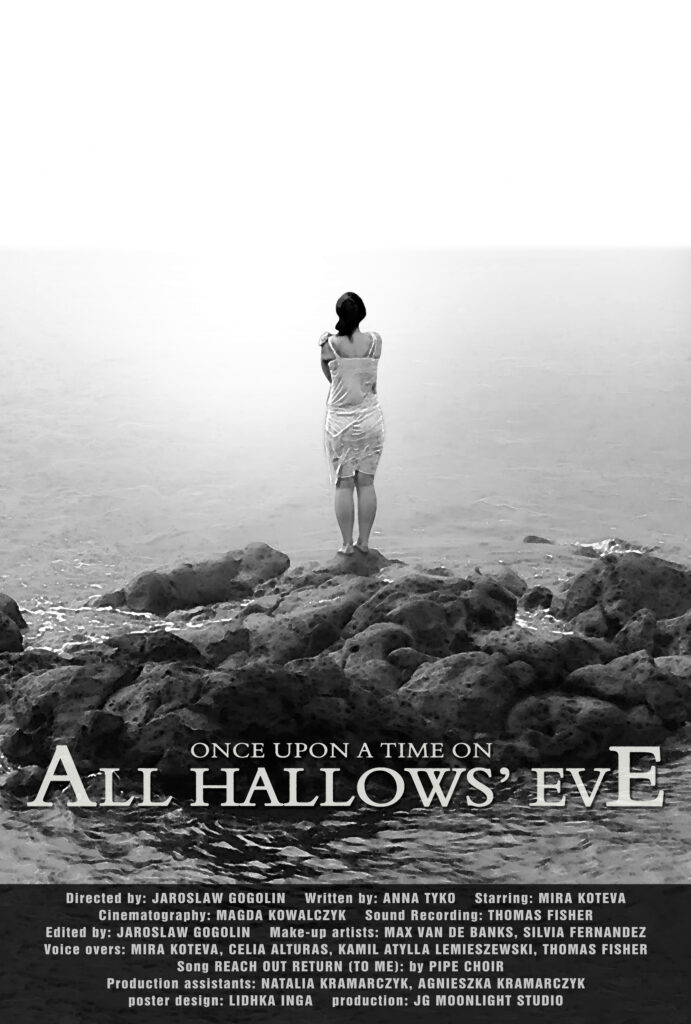 NY Glam: As a screenwriter, what is the most important aspect of building a character?
It will probably sound a little weird (though some writers knows what I am talking about) but I don't create characters or stories, I watch them revealing themselves.
It is still a great mystery for me HOW it happens.
I can navigate in this process of revealing, I know what helps and what is harmful to move through, but still the source of all these stories is unknown to me. Perhaps I will get to know this source one day.
I know how to use this source and I can do it better and more effectively with each subsequent screenplay. It is like driving a car, you don't have to know how engine, gear box, electric work but you can still drive it.
It seems to me that there are at least three main ways of writing, the first one I call "recycling" (you will base on stories already written earlier, an important element here is sticking, focusing on templates), the second method is to use your imagination (that includes knowledge, skills, etc.), the last method is to let the story and characters unfold by themselves, without a writer's intervention – by revelation itself.
I wouldn't want to get too deep into the subject because it would take too long.
This process of allowing the story to unfold before one eyes is also described by
Stephen King explain it better than I can in many of his interviews like this one: https://www.youtube.com/watch?v=gNvw0BcO_FM
also similar way speaks Guillermo Del Toro: "I am not interested in a plot only in Who? What? And Where?"
So I cannot say "I build the character or events" all those are reveals themselves to me when I am in the right state – readiness to listen. I know it might sound crazy but this is how it works…and I know I am not the only one working this way.
Writing the script takes me little time, about a week of intensive work, but before that I have the whole story in my head. Refining the details takes several months, during which I let stories unfold, show images, scenes, interactions between characters.
It all starts with a single image, event, scene and I have no more information about what will happen next. The picture can be seen from the outside (painting, photo etc.) or the picture or scene only appears in the mind, I call it the process of "sowing", "planting", then there is the process of "incubation", "growth" individual elements of the story emerge, more and more more details are revealed. Music is an important element both in the process of "seeding" and "incubation".
The process of "incubation" of history, in my case, lasts from a few months to even a year … it took a year the longest. Then the story is complete and I can sit down to write, this element (of physical writing) is the least pleasant for me.
All starts with a single picture and when everything is crystallized thoroughly. I keep saying: "I am just the first one who watched THE story…then I write it down".
It's like reading a really addictive book, or watching an interesting movie for the first time, the same impression I get when the story and characters emerge as if out of a fog.
Of course, I can create stories using my imagination, and I have to admit that my imagination is quite vivid, but it is more fun to rely on the "method" of revealing a story or characters. I prefer to go to the "library" or "cinema" and be seduced by what she receives, rather than rely on my own imagination.
In conclusion, I would only add that the last method gives the most joy, during this process of revealing the story and characters, I am constantly surprised … this cannot be compared with the satisfaction of using "only" your own imagination in creating.
NY Glam: How important is for you being a finalist at International Screenwriting Competition –ISC?
"Superior Being: Smokles Fire" being a finalist is my fourth script and the third one in the Superior Being series (there are already five parts of the series)
Each distinction, each selection or award is a great joy for me. At least for me personally, it is confirmation that I am on the right track in sory telling.
For me, personally writing a story or filming a movie is an artistic, spiritual event, certainly for most filmmakers. I don't think there were many actors, writers, directors, and cameramen who would be passionate about film for money.
NY Glam: Top 3 favorite projects that you have been involved in?
One of my screenplay "Light Years" was awarded with the opportunity for me to go to Nostos Screenwriting Retreat to Tuscany for three weeks.
The three-week stay at the turn of September and October 2021 was of great importance to me. It was not only an award for the script but, and perhaps most of all, an opportunity to meet talented writers from all over the world. This meeting and collaborative work is definitely a milestone for me as a filmmaker.
Besides, I'm happy that the footage for "Lost Dolls" have been finalized. Now it's time to edit.
NY Glam: Do you express yourself creatively in any other ways?
I paint a little. I have always been fascinated by surrealism, and my greatest painter is Zdzisław Beksinki, unfortunately he died tragically.
NY Glam: What advice would you give to someone who wants to have a career in filmmaking?
Follow other filmmakers' advices given in so many interviews. I have been doing this from the start.
Make – Learn – Never give up!
I have found a lot of information, very useful to me, in many interviews with recognized directors, cameramen and screenwriters, mostly via You Tube channel, programs like "The Hollywood Reporter Roundtable","Directors Guild of America" and others.
NY Glam: What can we expect from you in this actual year?
I will continue my filmmaking path, first of all, the film editing, and also continuation of writing.
I hope that this year I will be able to meet an investor / producer interested in filming one of my scripts.
NY Glam: Where can everyone keep up with you to learn more? …social media…website
I do not have a website, so I treat my Facebook page as the main window to the world, at least for social interactions. Jaroslaw Gogolin at https://www.facebook.com/profile.php?id=100007507006534