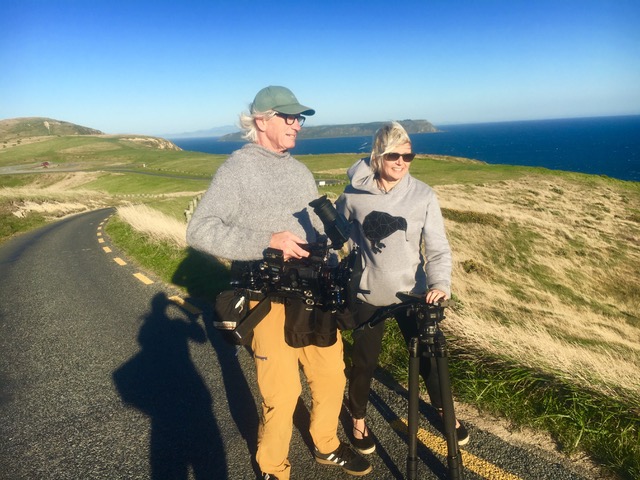 Lisa's worked in the film and television industry for the past 18 years. She started out as Camera/Director (one person crew) and now works as Director / Producer. Her specialty has been factual observational and reality TV shows such as 'Life Flight' (emergency TV show), film research projects for Nga Pae o Te Maramatanga for the University of Auckland through to Qantas Award-winning 'Best Informative Show' "Pepi" for Maori Television. She also worked on the 'Real Housewives of Auckland' as a casting and field producer. She has created three independent,award winning documentaries, "Changing Gear" (2005), "Monterey" (2016) and most recently "Let's Talk About Sex" (2018). She is currently working on a new formatted reality show that she has co-created, a new arts, food and Maori culture series and the amazing new documentary "Fight for Time".
Exclusive Interview with Filmmaker Lisa Burd
NY Glam: Congratulations on being accepted at the prestigious International Filmmaker Festival of New York. Can you tell us about the film and the process of making it?
Thank-you! We are excited to be included. "Let's Talk About Sex" is an independent documentary directed by myself and hosted by Julia Sloane, one of the New Zealand "Real Housewives of Auckland". Together we hope "Let's Talk About Sex" encourages conversation about sexuality and increasing acceptance around gender and sexual diversity. Julia talks to porn and sex experts, sex industry participants and people on the street about sex and sexuality. It's at times humourous, sad and educational. The adventure takes you through dominatrix dungeons, virtual reality porn, transgender issues and more.
NY Glam: How did you go about casting for the film?
It was interesting how we got host Julia Sloane on board. I first met Julia when I was 1 of the casting directors on the "Real Housewives of Auckland". That show was an interesting experience, quite unlike anything I'd ever worked on. After the filming finished we were talking about the episode where Julia brought out some sex toys and how the viewers and other cast mates reactions to it were rather prudish. I then decided it could be interesting to see how New Zealanders in general reacted to sex and sexuality and then it began, evolved and built into the documentary you see today. Julia and I interviewed on camera around 30 people that we whittled down to 8 to fit into the time frame. From doing a lot of casting over the years I have a little black book so I picked up the phone and started calling people. Someone always knows someone that knows someone! When I take on a project I become immersed in that project. When I'm going about my day to day stuff, I'm looking at everyone as potential talent and when I think they have something I just ask them. I got a lot of the talent this way. Julia had friends in the sex industry that we were able to get an 'in' with as they are quite a closed community. Not only was Julia a great host but she was an amazing researcher. She was so good that we met with an incredible number of amazing people who were keen to share their story. We really feel that they are worthy of a series.
NY Glam: What is the story about and how did you achieve it cinematically?
We start off with Julia visiting her parents in a small provincial town in New Zealand and realised how discriminatory the views were 50 years ago and how sex and sexuality was just never discussed. Then Julia starts speaking with sex experts, sex industry participants and people on the street about sex and sexuality. She gains a lot of knowledge and it changes her own views and feelings toward sex and sexuality. It was an amazing experience for both of us. When we showed it at the DocEdge NZ International Film festival and then at a private viewing at the film school, we had many people thanking us for uncovering myths and increasing awareness. Cinematically we were lucky to have on board one of New Zealand's pre-eminent Directors of Photography, Rhys Duncan. Rhys will possibly be best recognised by Americans for his work on cameras for Peter Jackson's rendition of King Kong. Rhys and I worked together on different shows over time. Rhys is a natural at capturing the moment in the moment. Often stories about sex are shown to be seedy and grainy and I wanted to do exactly the opposite. And we did film it in a beautful way capturing the essence of the people through the images we shot.
NY Glam: Will you be attending the IFFNY festival in New York in May?
Yes, we are hoping to.
NY Glam: How long have you been making films and videos?
I started making films whilst still at film school so that makes it 18 years.
NY Glam: What film was your directorial debut?
That was "Changing Gear", the documentary that I made about a group of women over 50 cycling across the Southern States of America raising money for Breast Cancer Awareness.
NY Glam: What was the most important lesson you had to learn that has had a positive effect on your film? How did that lesson happen?
For all my films it is without a doubt keeping my mind open, not being judgemental – which gives our subjects room to believe that their story would be told without unfair editing or a negative spin on it.
For example for "Let's Talk About Sex" I remember all too well the vulnerable stories a young woman told us about her work as a prostitute earlier in her life and just knew that she was sharing too much. My judgement was that she was in a vulnerable state at the time of filming and as much as it would have made amazing viewing I just sensed that she would have lived to regret that being told. She came to us after the film was shown and thanked us for not using her story, realising that perhaps she'd gone too far. I always feel its important to listen to my gut feeling.
NY Glam: Is it harder to get started or to keep going? What was the particular thing that you had to conquer to do either?
It's always hard to get started and sex is a big subject so where do you start? And it started with the first phone call and then there's a meeting and you just go on from there. It's certainly not easy to pick up the phone and say to someone you don't know yet "tell me about your sex life", or "how did you get into virtual reality sex". But so many of those people were so wonderful at sharing their stories with me and I've made friends from it.
NY Glam: How has your style evolved?
My first documentary was just me, my camera and radio mikes. There is something really intimate about being a one person crew when doing these stories which I do like to do with all my documentaries as there is a level of trust you get when it's just you. With time passing it's been lovely to be able to bring in specialised people such as sound recordists, DOPs and co-producers. I've been lucky to have found people that share the same mindset because I do believe that if you have a good collaberative team it will show in the end product.
NY Glam: What has been your personal key to success?
My personal key to success is that I've been able to interview and film at the same time. The gold often comes from being able to be there in the moment, at one with the talent. And often the talent forgets the camera is there. So a small and caring crew is the key to success. Which is what we had for "Let's talk about Sex". Julia built a great rapport with her talent while interviewing for "Let's talk about Sex".
NY Glam: What are you thinking about doing next?
I am working on a lot right now. In film and TV it's essential to have irons in the fire. With John Davies, my co-producer, I have two TV series looking for homes first on New Zealand TV and then hopefully formats that can work on a greater world scale, and another passion project film "Fight For Time", an amazing story following the ups and downs of the teams competing in the dragon boating season. It's a mission to film but is looking amazing so far. Of course, it would be wonderful to make a series out of the Documentary "Lets talk about sex" also.
NY Glam: Where does your studio want to go from here?
I want myself and the team to be known for being a safe vehicle for people to tell their stories. The ultimate mission is to make a difference in this world and to learn from other people's stories.