Exclusive Interview with Kevin Howard – Author & Screenwriter
Kevin J. Howard is a world-renowned author/screenwriter with twelve award-winning screenplays. Kevin's screenplays have been selected in Amsterdam, Athens, Bucharest, Calcutta, Florence, Glasgow, Istanbul, Jaipur, Kosice, London, Los Angeles, Mallorca, Moscow, New York, Oaxaca, Paris, Pattaya, Prague, Rome, Singapore, Sydney, Tokyo, Toronto, Venice, Vienna and Warsaw. He won the Vitruvian Award at the Da Vinci International Film Festival. He has been a semi-finalist in two Academy Award and BAFTA Qualifying events. Kevin J. Howard has received excellent coverage from the Atlanta Screenplay Awards, the Chicago Screenplay Awards, the New York Screenplay Awards and the San Francisco Independent Film Festival and Screenplay Competition. Kevin J. Howard has received 200+ film festival placements in 30 countries across Asia, Australia, Europe and South America.
NY Glam: What projects are you currently working on?
I'm adapting my award-winning feature, "Protector of the Emerald City", into an hour-long series called "The Protector". I have completed the first season, which currently has five, hour-long episodes already completed. Season two is being outlined and should have ten to twelve episodes. I'm also finishing up a science fiction feature and two horror features.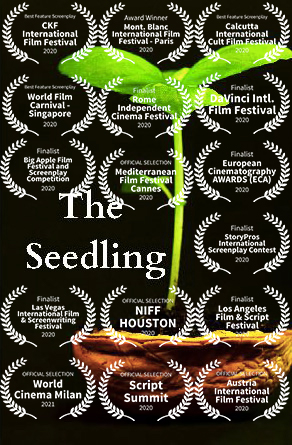 NY Glam: What makes a film great for you? Are there certain qualities that make a film better for you?
A film is great when it sticks with me long after watching it. When it stands out from other films, perhaps showing you something in a new way, it makes you shiver.
NY Glam: As a screenwriter, what is the most important aspect of building a character?
Staying true to the character and not curbing their behavior to smooth out the story. When I wrote my latest comedy screenplay, "The Moron", the main character was utterly deplorable. As a decent person, I hated his every behavior. But, as a writer, I had to maintain his behavior throughout. If you give life to a character, their actions need to be out of logical progression, not convenient script editing. If that makes any sense. Ultimately, I just want believability.
NY Glam: Top 3 favorite projects that you have been involved in?
"Faithful Shadow", "The Celestial Highway" and "The Moron".
"Faithful Shadow" (Horror Feature) – When an unknown creature takes up residence in the Old Faithful Inn during Yellowstone Park's largest forest fire, a group of rangers and firemen fake an evacuation to close the Inn and hunt the creature. Set within 1988 and based on the actual evacuation of the Old Faithful Inn.
"The Celestial Highway" (Science Fiction Feature) – While leading a scientific expedition, a mother must race across the unstable surface of Europa to save her daughter from the catastrophic repercussions of a profound discovery.
"The Moron" (Comedy Horror Feature) – When an ancient evil returns, the fate of humanity is decided by the actions of a moron.
I'm honored to say that all three screenplays are award-winning across the globe!
NY Glam: Do you express yourself creatively in any other ways?
I would like to think that everything I do reflects a little bit of creativity, from the humorous shirts I wear to the music I sing along with in the car. Music is an incredibly important part of my life. I taught myself how to play the French horn in the 7th grade, playing through my senior year of high school. I was in so many music classes, that I actually earned my high school letter in Music my freshman year. Listening to music is part of my writing routine.
NY Glam: What advice would you give to someone who wants to have a career in filmmaking?
Never give up! That's the only advice that really matters, because in this industry, you have no idea when your moment will come.
NY Glam: What can we expect from you in this actual year?
I finished re-writing a suspense thriller that has an incredible twist ending, as well as two addition streaming shows I'm writing. By the end of this year, I'll have three additional features that have been completely outlined.
NY Glam: Where can everyone keep up with you to learn more? …social media…website
My personal website: https://www.authorkevinhoward.com/
Facebook: https://www.facebook.com/kevin.howard.37266136/
Linkedin: www.linkedin.com/in/kevin-j-howard-b7a430114
Twitter: https://twitter.com/KevinJHoward2
Amazon: https://www.amazon.com/Kevin-Howard/e/B008YXVR7U/ref=ntt_dp_epwbk_0