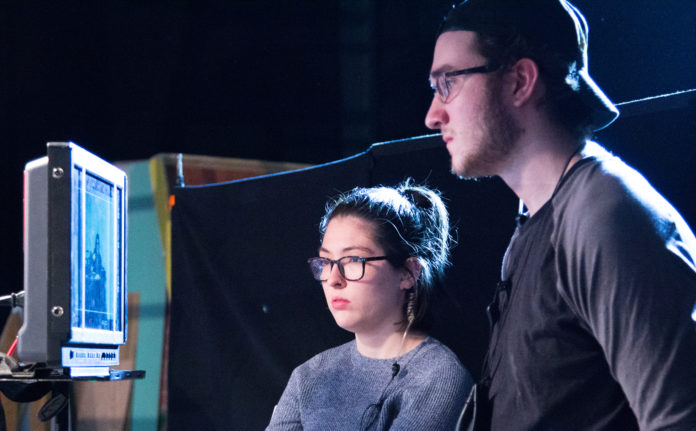 Exclusive interview with Darcy Thompson – Film Director
In his own body of work, Darcy has focused mostly on creating short films that speak to what it means to grow up, be a hero, and fall in love. He hopes to bolster his storytelling tool belt.
Darcy Thompson was born in New York City, in 1997, to an actor and a social worker. He grew up in a quiet New Jersey town and has now moved back to New York in his 20s pursuing film. In his free time, he plays D&D, records audiobooks, and makes cocktails for friends.
He also enjoys working with small brands to develop unique and professional video content to help communicate with their customers.
Darcy works as an editor, key production assistant, and assistant director.
NY Glam: How long have you been making films and videos?
I've been making films since I was around 12 just playing with the family video camera.
NY Glam: What film was your directorial debut?
My first full short I directed and sent to festivals was at the end of high school I made a project called The Presenter. However, I'd say that Jack Turbo is my first foray into the professional festival circuit as a director.
NY Glam: What is your recent film about?
Jack Turbo is about a young child who inserts herself into the life of an elderly man who was once a famous TV action star.
NY Glam: How did you go about casting for the film?
We used primarily Backstage though some talent were people I'd worked with before. Finding our leads was a challenge but as soon as I saw Bradley and Izzy's audition tapes I knew we'd found them. Instead of sides from our film which has so little dialogue, I sent them sides from Pixar's UP to capture the dynamic of the old curmudgeon and hopeful youngster.
NY Glam: What was the most important lesson you had to learn that has had a positive effect on your film? How did that lesson happen?
I think ultimately the film's creation was a study of my own challenges. I think in so many scenarios I've been John. I've been that person who doesn't want to accept help to accept change. To see my coping mechanisms as the destination, rather than the step on the journey. It takes truly opening up and accepting you need help that allows change. Especially for men, who are told from childhood to be more insular and reserved with sadness, loss, and defeat, that recognition is important. Without it, we can solely express ourselves with anger which just pushes others away even faster. We'd all be lucky to welcome that company into our lives that will let us know we're not alone. That we don't have to get better alone.
NY Glam: Tell us a bit about the other films you've made and your other projects.
I've lived a lot in the world of speculative genre film. I love science fiction and fantasy and I love how those genres can create these fun and engaging worlds that still speak to those core feelings of what it is to be human. Also, I just love making things for fellow nerds out there and Jack Turbo is truly a love letter to other genre works that inspired me.
I also have a webseries that I just wrapped season one of, wherein I make a new cocktail every week with a novice to alcohol, my friend Carson. It's on YouTube called A Tall Order.
NY Glam: What role have film festivals played in your life so far?
Festivals have been a great place to go even when I wasn't in the fest itself to meet fellow filmmakers and learn the craft from them. It's vital to get out there and build a network and have people because who knows what opportunities are out there to tell stories.
NY Glam: Is it harder to get started or to keep going? What was the particular thing that you had to conquer to do either?
I think for me, especially as someone with ADHD, it's a lot easier to work on something once I'm already in it. I have a tendency to hyperfocus on something in a super productive manner. However, I need to get started first and that's a challenge. I've found one thing that helps is just making sure the work space I'm in is clean and that I feel refreshed. It's hard to focus when you feel sweaty or your hands can't reach your keyboard.
NY Glam: How has your style evolved?
I think a lot of my early work was geared to recreating the feelings of the things I admired in media. It was very aesthetic and concept driven. It lacked true human characters at their core. So I'm proud of the growth therein where my characters have become more human. The style I have now, which isn't set in stone yet, is telling stories about little human things made grand. A man in an office building who believes he's the king of the world. A woman lost on her journey to the store like a cartographer lost on his first journey to a jungle. The young child who finds a kinship with an old action hero. I think it's the little parts of our lives that make us truly human and making those small moments part of the biggest stories is all I want to do.
NY Glam: What has been your personal key to success?
I think if my idea of success is telling stories that matter to people? Just being honest. Anyone, even a child, can tell when something was made to please specific people rather than truly by the creator for the creator. If the art you make is genuine, then people can tell. There's truly no cheat or way to phone it in.
NY Glam: What are you thinking about doing next?
I have several scripts I've been knocking around. As soon as pall of Coronavirus is no longer shackling us I would love to put a few of them into production. My personal favorite is one about a brother and sister on the run from an unseen force that haunts them from highway to highway. I'd also love to do a second and more robust season of A Tall Order. Bringing in experts and guests as well as going to distilleries and bars to learn more about the craft for our viewers.
NY Glam: Where does your studio want to go from here?
I'm not currently represented by anyone or with a studio but would love to be certainly.