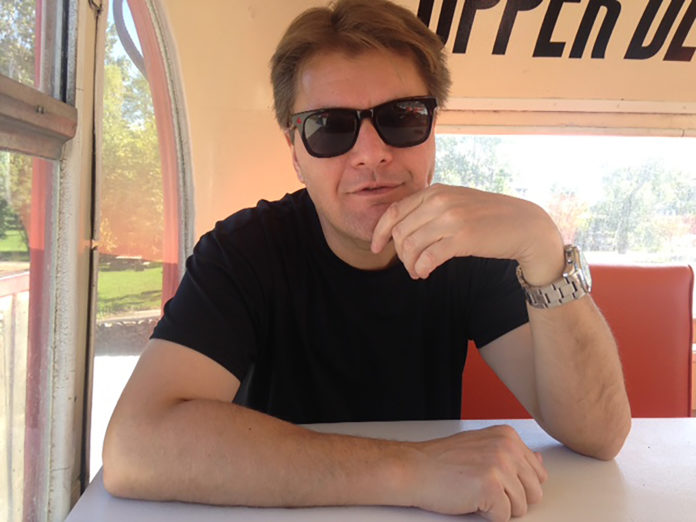 Dennis Mohr is an award-winning documentary film producer and director, and founder of Public Pictures. His documentary, MUGSHOT, premiered at Hot Docs in 2014, was nominated for a Canadian Screen Award for Best Writing in a Documentary Program or Series, and received a
Yorkton Film Festival, Golden Sheaf award for Best Arts and Culture Documentary. Mohr produced the acclaimed feature documentary Remembering Arthur about filmmaker Arthur Lipsett, which premiered at the Toronto International Film Festival in 2006, and the Museum of
Modern Art in New York in 2007. In 2011 Dennis produced Disfarmer: A Portrait of America, about the life and work of eccentric Arkansas portrait photographer, Mike Disfarmer. The Ravenite, co-produced and co-directed by Mohr, received the Best Mid Length Documentary
award at DOC LA.
Exclusive Interview with Dennis Mohr -Producer & Director
NY Glam: How long have you been making films and videos?
I've been making films & videos for over 25 years beginning in public school working with Super-8 film.
NY Glam: What film was your directorial debut?
My directorial debut for international public broadcast television was a film entitled, MUGSHOT in 2014 – a documentary investigating the cultural significance of the mug shot. The film premiered at Hot Docs in Toronto in 2014 and won a Best Arts &
Culture Documentary at the Yorkton Film Festival, 2014. In 2015, MUGSHOT was nominated for Best Documentary Screenwriting at the Canadian Screen Awards.
NY Glam: What is your recent film about?
The Ravenite and The London Monster are my most recent films and my first attempts at making short-form documentaries. 1980s New York was a very different place to the bustling cosmopolitan tourist magnet we know now, and the neighborhood that housed the Ravenite Social Club was a far cry from the gentrified boutique strip that exists today. Yet this series of interviews with the then-young artist clique who lived alongside one of the most prolific mafia networks offers a vivid insight into a city's colorful past. The London Monster documents the story of the hunt for an eighteenth-century sexual psychopath that created one of the first media celebrities. The story has remarkable parallels to our own time: a police force unable to find their man, a tabloid press frenzy that generated a climate of fear, and a need to convict someone at all costs.
NY Glam: How did you go about casting for the film?
Traditional casting doesn't really apply to documentaries. However, after a long period of research and getting to know the potential interview subjects, I select who would be best suited to tell the story according to their direct experience and screen presence.
NY Glam: What was the most important lesson you had to learn that has had a positive effect on your film? How did that lesson happen?
The most important lesson I've learned about documentary filmmaking is the importance of maintaining trust with my subjects throughout all aspects of research, pre-production, production, post-production and release.
NY Glam: Tell us a bit about the other films you've made and your other projects.
My other films explore arts & culture and the humanities and are usually about photography related subjects, Art and artists. Recently, I have been developing films about historical true crime.
NY Glam: What role have film festivals played in your life so far?
Film Festivals have provided me with funding opportunities for new projects through networking as well as an avenue for distribution and marketing opportunities for finished films. They are also a lot of fun to celebrate your accomplishments with team members
while meeting new people and filmmakers.
NY Glam: Is it harder to get started or to keep going? What was the particular thing that you had to conquer to do either?
It's been said that it's easy to make a first film, but much harder to make a second film. I believe that! And, that's been my experience. I'm proud to have made 3 successful films for international public television as well as a few shorts that are gaining
international recognition. Perseverance, great personnel and money are key!
NY Glam: How has your style evolved?
My style is my own. It has evolved in the sense that I am only good at making films about subject matter that interests me. So, I tell stories about offbeat subject matter and oddball characters.
NY Glam: What has been your personal key to success?
I wouldn't be good at working beyond my personal interests, so this limits me to what I can produce for mainstream media. I've never sought a full-time career as a documentary filmmaker. I've always maintained a full-time career and salary as a broadcast technician and specialist while developing documentary films on the side as an elaborate hobby. This is why I've been successful. Lol!
NY Glam: What are you thinking about doing next?
My immediate goal is to complete a documentary about my friend – a NYC Lower East Side pigeon-keeper and artist, Anton van Dalen; his life and work. This film is produced with my friends and colleagues from The Ravenite – Katy Swailes, Morgan Schmidt-Feng and Will Nold.
NY Glam: Where does your studio want to go from here?
In the near future, I will return to my filmmaking roots and produce purely experimental and abstract Art films.