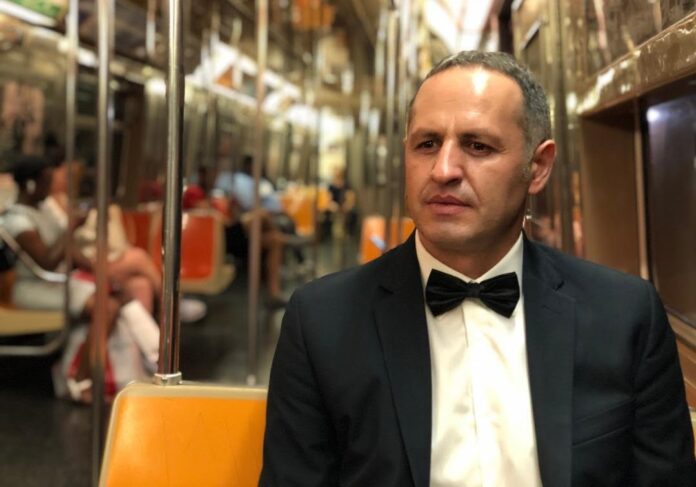 Exclusive Interview with Arbër Krasniqi – Filmmaker
NY Glam: How long have you been making films and videos?
Arbër Krasniqi was only 7 years old, when he was projecting family movies to his fellow friends in Brezna, Republic of Kosovo. He grew up falling in love with photography, camera and projector light from his early days. Arbër Krasniqi still remembers the trouble he got in for ruining the last shot of his father's Kodak instant photo camera, just to make his first selfie in year 1982 (see PIC-1). It was his parents' wedding documentary that made him fall in love with moving pictures. "I remember watching over and over again the music, dance, smiles in each individual photogram of the wheel. But all that emotion, all that love and happiness was tenfold stronger when I would project it on an old piece of white cloth. That's how I fell in love with moving pictures. I remember the need to share those feelings with my fellow friends, and to us, it was a "special event". My father, my mother, my uncles and aunts were not less than any of Hollywood stars, not only to me, but to all of my friends as well. At that time, the only 8mm camera and projector in the entire region was in our house. I always felt luckier than all of my friends" – Arbër Krasniqi says.
As years went by, Arbër Krasniqi found himself graduating in Economy studies in 2006, with highest grades as Bachelor on Management. It did take some time for him to find his way back to cinematography studies in year 2009. During his time in BA and MA studies in Academy of Arts of University of Prishtina in Kosovo, in the class of Ismet Sijarina, Arbër Krasniqi directed eight short movies: "Rrjeta" (the Net), "Rruga" (the Road), "Shpikësi" (the Inventor), "Para derës" (in Front of the Door), "Taksi" (the Taxi), "Heroi im" (My Hero), "Smog" (the Smog), "Tregimi i pathënë" (Untold Story) and co-directed one full feature movie called "Kësulat" (the Hats). His last work is a short movie he produced, directed, scripted and acted in, called "Kthimi n'Shpi" (Back Home). "Back Home" can be considered as a complete authorial work of Arbër Krasniqi.
NY Glam: What film was your directorial debut?
In year 2009, Arbër Krasniqi debuted with his first short movie called "Rruga" (the Road). Post-war Kosovo was still coping to build its infrastructure. The main character of this short movie was an 8-year old, who managed to build a small electricity plant from old bicycle parts, so he could manage to finish his home-work for school. Arbër Krasniqi was struggling with the fact that years after the NATO bombing and liberation of Kosovo from Serbia, there were still parts of Kosovo with elementary life problems, like proper electricity.
Social injustice, humanism, solidarity and the love for others is an ongoing theme for Arbër Krasniqi. "My Hero", another of Arbër Krasniqi's early works, perfectly reflects a short episode (a tru story) from the last war in Kosovo, on the sacrifice of a friend for his fellow. Arbër Krasniqi is currently working on a new version of this script for a full feature movie.
NY Glam: What is your recent film about?
It was the story of a Dubrava prison massacre survivor that triggered Arbër Krasniqi to produce his last short movie "Back Home". Approximately 1,000 Kosovo Albanian political prisoners were lined by Serbian forces for execution, as retaliation against NATO bombings. One of these survivors ended up in US, after ICRC MedeVac due to heavy amnesia. He returns home to his wife and daughter – who were also killed and massacred by Serbian forces.
Although even today there are MP in Kosovo's Parliament who are survivors of the Dubrava prison massacre, Arbër Krasniqidecided to tell this story as a complete author of this short. Other than writing the script, producing and directing the short movie, Arbër Krasniqi acts as the main character. "The story, the stories and the whole Dubrava prison massacre were so strong, that I was unable to sleep for months. It took my entire mind and body. I had to get this story out! I had to tell the world how a decent husband, a decent father, a decent patriot, after forgetting his entire world, comes back to his existence – to his HOME!" – Arbër Krasniqi says.
NY Glam: How did you go about casting for the film?
"It is not a tale! It is not science-fiction. It is a personal story. A very VERY personal story of many individuals, not only in Kosovo. That is why I had to PERSONALLY tell this story"- Arbër Krasniqi says. The entire budget for production of "Back Home" has less than four zeros, and the first number is not bigger than one. That is in US dollars! The real cost of writing and producing this short movie is the emotional gain and pain not only for Arbër Krasniqi, not only for the real people that inspired this movie, but for all those who found themselves coming back to their roots, to face the horror of the human nature, just to reply with love and hope for the future.
NY Glam: What was the most important lesson you had to learn that has had a positive effect on your film? How did that lesson happen?
"I'm still in the agony of learning that lesson! However, now that the movie is out, I feel empowered that I will have others that will help me learn and understand this lesson, whatever that lesions is"- Arbër Krasniqi says.
NY Glam: Tell us a bit about the other films you've made and your other projects.
One of other short movies that caught the eye of the public, was Arbër Krasniqi's short movie "Para derës" (in Front of the Door). It features an old man, that finally achieves to purchase the remaining's bones of his son, and burying them in front of the entrance to his house, along three other not so old graves.
Kosovo and Albanians are known to be a safe haven for Jews during holocaust years during 2nd World War. Arbër Krasniqi featured a controversial story of endeavors of an old man, to connect the present, represented in his now emptied home, with the future – albeit through the path of the past, his now completed graveyard.
This, in first sight dark story, was received as the need of a person to pave the future by remembrance, as an individual achievement of each of us. As the Jewish and Albanian national experience is so similar, Arbër Krasniqi brought to light the story of such a close connection of emotional institutions as the house, the grave and everything else, represented by an old person, in a linear line connected to a never-ending cycle of existence – always in search of ones' inner peace.
NY Glam: What role have film festivals played in your life so far?
Cinematographic works of Arbër Krasniqi were represented in Berlinale Claud, Short Film Cannes Corner, India Film Fest and numerous other local and regional film festivals. "Every time when my moving pictures would initiate debate, need for conversation, need for finding the common ground – I feel completed" – Arbër Krasniqi says about attending festivals and film reviews.
NY Glam: Is it harder to get started or to keep going? What was the particular thing that you had to conquer to do either?
"One does not make the first step intentionally. She or he does it almost as a reflex response of the soul, controlling the mind and the body. Maintaining that pace, that rhythm, that direction is a challenge!"- Arbër Krasniqi says. His greatest achievement, according to him, is trusting his own insecurities, when taking this trip.
NY Glam: How has your style evolved?
Deep sea diving, ice diving, paragliding, parachuting, cross country motorcycling are Arbër Krasniqi's connection to the elements of the earth. "I would be the fire in this picture, making a complete circle of existence" – says Arbër Krasniqi, refusing to talk further about metal, since it reminds him of his war times.
NY Glam: What has been your personal key to success?
"My wife, my children, my debt to my parents and to my nation, are my driving forces to connect and to talk to every being on this earth"- says Arbër Krasniqi. He refuses to call his life and his work a success. "It is more of an work in progress"- he says.
NY Glam: What are you thinking about doing next?
"I've fought and won the war against COVID-19. I see the consequences to the human society, to each family, to each individual caused by this new challenge. We are entering a new era, as a globe, as a civilization, not as individual, not as nations, but as an entire form of life. And we need to win this war as well." – says Arbër Krasniqi. It seems, that this will be his new project, although he is in search of the angle and the pictures to tell this story.
NY Glam: Where does your studio want to go from here?
Arbër Krasniqi remains open to working with studios, as a script-writer, director and producer. He says that he will continue his work, his way of storytelling through moving pictures and sound, fulfilling himself. "I insist on being able tocontinue being able to loving my family, be true to my friends and make my parents and my country proud of me" – ArbërKrasniqi says.