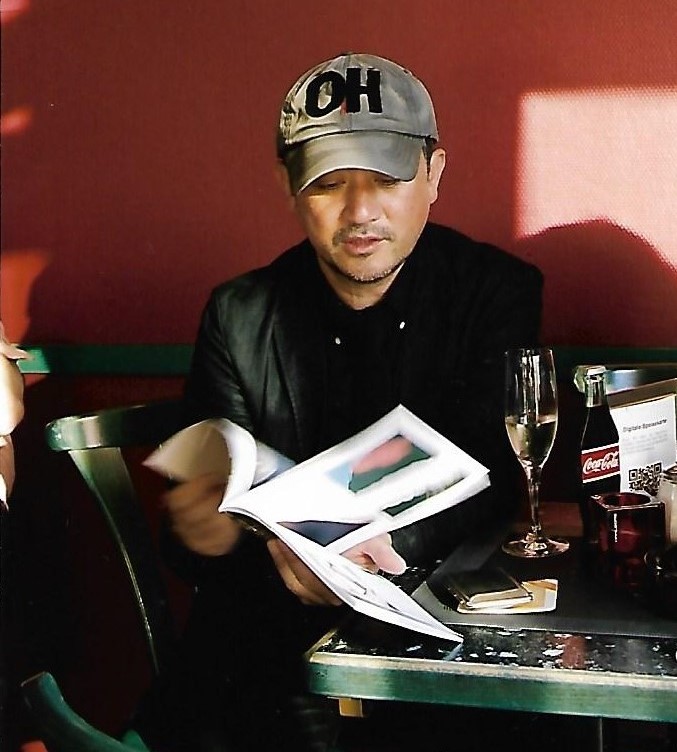 Eclusive interview with Gilbert Gilbert Brüning – Filmmaker & Artist
Gilbert Brüning was born on 13.10.1973 in Berlin-Kaulsdorf. His father was a pastor in the village church in Berlin-Kaulsdorf. His mother worked for years as an artist for the church community of Berlin-Kaulsdorf. She designed posters for the parish. In 1995 he graduated from Max-Reinhardt Gymnasium in Berlin-Hellersdorf. In the same year he began cultural
studies at the University of Viadrina in Frankfurt/Oder (Germany).
From 1998-99 he studied political science at the Jagiellonen University in Krakow from 1999- 2000 communication sciences at the University of Buenos Aires. In 2003 he graduated from Viadrina with a degree in cultural studies. From 2003-2004 he travelled through Southeast Asia. Many of his artistic inspirations have been inspired by these important experiences
in foreign countries.
NY Glam: How long have you been making films?
As early as 1994 at my high school we were allowed to produce a professional short film about the Hellersdorf district where our grammar school was at that time – the Max Reinhardt grammar school, as far as I know the film was called, "Impressions from the ass of the world" It was shown at some places in the city district with some applause. Little did I know that I would one day make real films. In 1995 I began to study cultural studies at the European University Viadrina in Frankfurt / Oder. During this time I also studied and worked in England for a few years and my studies mainly dealt with the intercultural exchange between Germany and Poland. In 2006, after successfully completing my diploma, I made a feature documentary about the magic of the Polish city of Krakow. In the film I try to bring my practical knowledge to the German-Polish cultural exchange and to process and to integrate in into my artistry.
NY Glam: What film was your directorial debut?
My film about Krakow was my directorial debut. The film is called "Krakow – Magic of a City". I received the Palme d'Or at the Mexico International Film Festival 2009 and the Honorable Mention Award at the Los Angeles Reel Film Festival 2009. In my logline for this film it says: Krakow is a medieval Polish city with a magical mythology that surrounds it and lives in the hearts of its people. A young German man seeks this magic by talking to the people of Krakow. Through his eyes, the enchantment of Krakow is both visible and invisible simultaneously.
NY Glam: What is your recent film about?
The film is about the artist group "BrückenKunst". "Brückenkunst" is a group of unknown artists who have been trying to gain a greater acceptance in society for 7 years with small, inexpensive exhibitions, and art stands. I' ve been trying in vain for years as an abstract painter to be accepted by society through my art and film work. For me making films is the most important part of my art work. I myself have been a member of the group since 2013. After joining the group I have made a short film every year about the work and annual exhibitions of our group, some of which were then shown at a few selected film festivals.
NY Glam: How did you go about casting for the film?
For now I only do documentaries; that's why I don't do auditions. However, I also often look for interesting interview partners and that is often not so easy. Moreover, I accompany the artist group in their work with the camera, and then I film the construction and dismantling of the exhibitions. Sometimes I film the painting exhibitions and anything interesting that is happening there while we are opening the exhibitions. Last year on the day our exhibition opened, the miners' festival in Rüdersdorf took place at the same time, which of course I filmed. The exhibition was held in the attic of a building called & quote; Bollenbinderhaus", in which our exhibition of "BrückenKunst 2019" was shown on the roof, it was originally the home of a miner. The miner himself lived one floor below this attic. So chance also plays a very important role in my films. I spontaneously film what is happening in life, and then cut the right film at the end.
NY Glam: What was the most important lesson you had to learn that has had a positive effect on your film? How did that lesson happen?
For the unrecognized artists, simple art has now become a struggle of pure existence, because the unknown artists are hardly, or even not at all accepted by society. The art of unknown artists is shown little, maybe no respect at all. Confronted with this harsh reality, the non- acceptance of our art is the first painful insight and the most important lesson I have gained through my artistic work and through making my films about this group, "BrückenKunst". In my films I try to show about how it feels to be an unknown artist in such an industrialized society. This is a very important aspect that makes my film about "BrückenKunst 2019" sovaluable and really interesting.
NY Glam: What role have Filmfestivals played in your life so far?
My first film about Krakow received two film awards. I am of course very grateful for that. Many of my films, especially my short films, have since been shown at film festivals around the world. In the past I often went to some festivals in person. The short film corner at the Cannes Film Festival has shown my films 6 times so far. Unfortunately, I haven' t really made any new contacts that have helped me in my work so far.
NY Glam: Is it harder to get started or to keep going?
For me I find it harder to keep going, but I want to finish a thing that I have started. Starting something without finishing it is just not good. Sometimes it can happen that circumstances force you to leave something that has already started, but it also feels bad to finish a film and also realize that it will unfortunately not make it to a wider audience.
NY Glam: What was the particular thing that you had to conquer to do either?
It is very difficult to endure the marginalization of our art in today's modern and industrialized society. It is a damn hard experience to endure the lack of social acceptance by an arrogant, pretentious society towards the unrecognized and poor artists. But first you must endure this in order to overcome it. Society laughs at an unrecognized artist who is then deliberately misunderstood and ridiculed because the industrialized society has other interests and also refuses to support an unknown artist.
NY Glam: Tell us a bit about the other films you´ve made and your other projects?
In the last few years since my film about Krakow, I made short documentaries. Because I lived in Thailand for a year from 2003-2004, I also made a short film in 2009 about a Thai Buddhist temple "Wat Buddhavihara" in Berlin. In this film I tried to convey a little bit of the Thai-Buddhist way of life and also something about the perspective of a Thai living in Berlin. My films reflect my university studies which had to do with cultural influences and the different views that people have when they´re from another country other than your own. In addition I have an 80-minute concert film made about the violinist Olga Pak; and I made also
a film about the visit of & quot; the little giantess & quot; to Berlin in 2010. These were giant, handmade puppets which seemed to be walking through Berlin.
NY Glam: What are you thinking about doing next?
"Bésame Mucho & the East Side Gallery Berlin" is a short Music Documentary film which shows the fascination of tourists in front of the art work at the East Side Gallery in Berlin. Now I am planning to make a longer documentary film about the East Side Gallery. This is going to be a real short. The only problem is, at the moment that because of the Corona situation there are no tourists any more in Berlin. So I don´t know yet what´s going to happen. Coincidence will be again very important. I hope that in summer there will be some tourists again in Berlin. Then I can make interviews with them and ask them about art and the broken Berlin Wall.
NY Glam: How has your style evolved?
The first films I made were very slow and rather contemplative. They were thoughtful and not very action-packed. That was the way at the beginning I wanted to make films, because this form seemed to me to be the most sensible way of thinking about cultural, social or political differences. However, this also earned me a lot of criticism. Often I heard that my films are not exciting and for this reason they are not real films. People also told me that there was no common thread running through the story from the beginning to the end of my films. So I've tried to improve that over the years and I've also made my films faster, incorporating faster cuts. I think this made my films better in some ways, but they are also a little less thoughtful and contemplative.


NY Glam: What has been your personal key to success?
I do not have a key to success. Why Festivals select my films and show them I cannot say. I think they like them because the directors of these festivals can see and feel that as a filmmaker I am seriously interested in showing some problems that rarely are seen in films. Perhaps they also can see that there is a red thread in the storyline of my films.
NY Glam: Where does your studio want to go from here?
I do not really have my own studio. I am a freelance independent filmmaker and a painter who produces documentary films on a very low-budget level. Normally all of my films are self-financed and I do not have any sponsor at all. My company is my one room Single apartment in Berlin – on Karl-Marx-Allee which I also use as a studio to make my paintings.