Exclusive Interview with JRN Artemis Biche- Abstract Painter
JRN Artemis Biche is an up-and-coming abstract painter from the United States with a background in theater costuming. Inspired by life and humanity, each painting explores the trials and tribulations of human existence, emotions, and the healing and acceptance of the aforementioned. Each painting is ripped and mended back together inspired by Japanese art of kintsugi, in an effort to transform the work into something new while also embracing and accepting its breaks. Most recently she has had pieces in the S.P.A.C.E. Gallery in Burlington,VT., Van Der Plas Gallery "Finding Water" exhibition in NYC, participated in Margin Alexander's piano and art collaboration "Lake Ohrid Muses", has a presence on the Tricera art market, and currently has pieces in the DE.MO Exhibit with M.A.D.S. Art Gallery in their Milan, Italy and Fuerteventura Spain locations.
NY Glam: Tell us a little about yourself and your career beginnings.
JRN Artemis Biche: I have always been creating since I was a kid and all throughout school. I pursued a degree in Theater Arts, mostly focusing on costuming and props. I always knew I really wanted to be a painter though, and this pandemic really brought me back to that passion.
NY Glam: What projects are you currently working on?
JRN Artemis Biche: I recently wrapped up a 24 piece collection of paintings called "Debellatio" and now I am starting to experiment with different size paintings and some new materials. I have been playing around with mirror paint, glass, and theater gels and trying to incorporate that into my kintsugi style work.
NY Glam: What art do you most identify with?
JRN Artemis Biche: I think I most identify with art that I can get lost in. Abstract and nonobjective art seem to really draw me in because I like to be able to see what emerges for me. However, some of the art I find most beautiful is art deco inspired, which I suppose you can also get lost in the geometric patterns and shapes of that style. I just really love art that I can meditate on and spend time looking at finding things.
NY Glam: What themes do you pursue?
JRN Artemis Biche: Much of my art centers around Japanese kintsugi philosophy specifically the ideas of acceptance and transformation. Painting is also a form of art therapy for me and I personally believe that we are all on our own spiritual journey of self-growth, so that is a big drive behind my work. I paint to try and work through the ups and downs of life.
NY Glam: What's your favorite art work?
JRN Artemis Biche: This is a hard one to answer because I find new favorites every day. I guess some notable ones would be "Starry Night on the Rhone" by Van Gogh but I also love quite a few Monet's. My current favorite artist is Robert Hoppe and his art deco inspired pieces, I could get lost in them for hours.
NY Glam: Tells us about some of your recent exhibitions. What memorable responses have you had to your work?
JRN Artemis Biche: My most recent exhibition is with M.A.D.S. Art Gallery and they do interactive exhibits with screens, projection, and touch screens. I am currently in their DE.MO exhibit which is simultaneously running along with Milan Design and Fashion week in Milan and then the Canary Islands. Which is super cool having a costuming background, I love fashion. I've also had work in the Van Der Plas Gallery in NYC and then the S.P.A.C.E. Gallery in Burlington, Vermont. The most memorable experience so far though has been when people find a piece they really love and want. I absolutely love seeing others connect with my art. I had someone purchase a piece recently and it was really exciting to see how much joy it brought him and learn a little about what drew him to that specific piece. Having those opportunities to see how my work impacts or touches another person is special and really the ultimate goal.
NY Glam: Tell us about one of your projects which you are very proud of.
JRN Artemis Biche: Really, I am most proud of the fact that I have come this far with my art. Every painting for me, whether good or bad, is a commitment to this journey and I am proud every day that I have finally given my passion a real chance and stuck with it.
NY Glam: What does "being creative" mean to you?
JRN Artemis Biche: To me it means following my heart and expressing myself. For me that falls mostly into the visual art and fashion world, but basically no matter what avenue it means expressing my emotions and experiences.
NY Glam: What are you trying to communicate with your art?
JRN Artemis Biche: My work is heavily inspired by Japanese kintsugi and the philosophies of that art. Humans and life are imperfect and what I am trying to communicate through my paintings are that having imperfections is OK. Flaws leave room to grow and transform into something more evolved.
NY Glam: What role does the Artist have in Society?
JRN Artemis Biche: Artists have a huge role in society. Every day we are encompassed with art whether it is music, clothes, visual fine arts, video games, movies and TV, books, etc. I think because art is such an integral part of daily life, we often overlook and undervalue the Artist in society. Art is always around in both good and bad times, and the Artist always stands the test of time helping to examine current events to try to make sense of it. Artists are necessary.
NY Glam: What are your thoughts on being an artist in today's world?
JRN Artemis Biche: I think it is an exciting time to be an artist. There are so many creative avenues to play in which makes the possibilities feel endless. With social media it is also really easy to spread your art world wide which is cool. Financially it can be difficult but I think economically a lot of jobs don't always provide quality income so I try not to let that influence me too much.
NY Glam: How has painting influenced your life?
JRN Artemis Biche: Painting has always been something I loved. This pandemic really brought me back to it though by providing me with a therapeutic outlet to deal with this last year and life in general.
NY Glam: What art movement or artist would you say influences your work most?
JRN Artemis Biche: I follow many other artists on instagram and seeing what everyone else is up to is really inspiring. Currently a Canadian artist named Callen Schaub has been influencing me to just go outside of the box and not care what others think is right or wrong in terms of art. Otherwise my favorite art movement was Art Deco. It is my absolute favorite style.
NY Glam: What can we expect from you this year?
JRN Artemis Biche: This year I am working on different size pieces and adding in other materials. I want to work toward larger scale pieces and I am experimenting with different textures and materials that I can integrate into my work. I also have some collaborations with other artists that will involve some film and dance, custom vinyl cupcake toy for charity, and a really cool fashion collab in the works.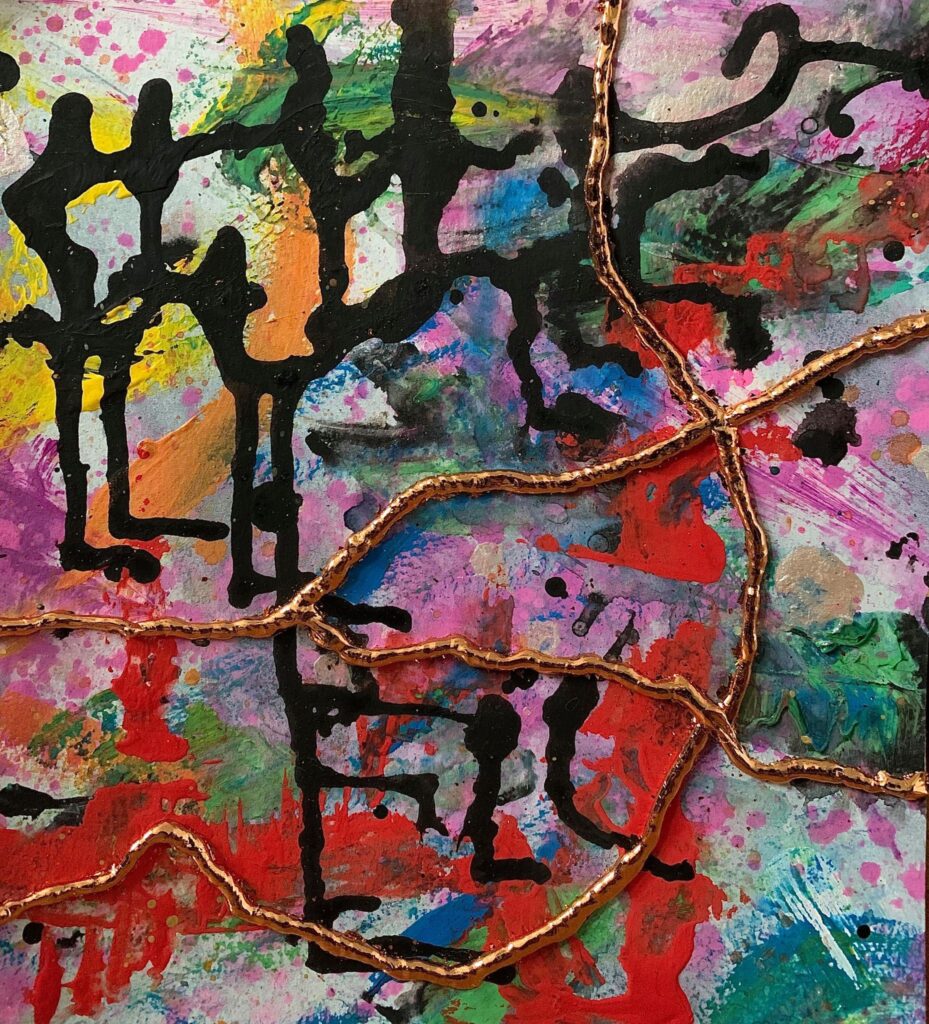 NY Glam: Can you share with us three favorite things about your city/culture?
JRN Artemis Biche: I live in Vermont and I would say my 3 favorite things are its mix of small city and country energy, the ability to spend time in nature, and that it's close enough to NYC and Boston that you can easily visit for more inspiration then come back to reflect and create.
NY Glam: Where can everyone keep up with you to learn more? …social media…website
JRN Artemis Biche: You can keep up with me on my instagram which is @artemisbiche . My facebook page JRN Artemis Biche, or my website www.jrnartemisbiche.com