Exclusive Interview with Wendy Lechuga – Actress
Wendy Lechuga is a multifaceted Mexican actress with experience on TV, Short Films, Theater, Commercial Voice Over and Animation.
Wendy was born and raised in Toluca, Mexico where she received her B.S. in Communications at Tecnológico de Monterrey. She worked simultaneously in theater for the recognized producer and comedian Jorge Ortiz de Pinedo, in shows like Burbujas and the Wizard of Oz, the tour of Tom Sawyer by Mark Twain,where she playing the role of Becky Thatcher, and in the play La Güera Rodriguez by Federico Schroeder Inclán.
After graduating, Wendy moved to Mexico City, where she started working for Televisa, acting for several well-known Mexican soap operas, such as Cuando me enamoro, La Rosa de Guadalupe, Corazón Salvaje, among others. She also danced for the music video El Baile de los Pobres, with the music group Calle 13, directed by the recognized actor and director Diego Luna.
Wendy also acted and danced with the internationally-renowned The Mexico City Philharmonic Orchestra, whose home venue is Silvestre Revueltas Hall at the Ollín Yoliztli Cultural Center. Her engagements included the world premiere of The Pied Piper of Hamelin and The Nightingale by Eduardo Angulo, Flute by Miguel Angel Villanueva and guest director, Jesús Medina.
In 2010, an unexpected audition led to a scholarship to study performing arts at the American Musical and Dramatic Academy in New York City. Since completing the program she has continued performing on the stages of the big apple. This includes performing at the historical Delacorte Theater for Shakespeare in the Parkwith the play The Winter's Tale by William Shakespeare, starring Christopher Fitzgerald and Tony winner Lindsay Mendez.
She also worked with the famous musician and comedian Weird Al Yankovic, acting and dancing for his Mandatory World Tour at the Proctors Theater,inSchenectady, New York.
Since 2014 she has been a member of General Mischief Dance Theatre, under the direction of Emily Smyth Vartanian. The company combines high-level storytelling with high-quality movement, to remind audiences that dance is as much visceral as it is visual. They are constantly performing throughout New York, Washington, D.C. and now virtually as well.
In the commercial realm, Wendy has worked for multiple brands such as Sabritas, MetLife, Spotify, Holiday Inn, TJ Maxx, One Drop, Enfamil, and Shoprite among others. She was part of the massive campaign by the New York Health department encouraging New Yorkers to get health coverage.
This year she expanded her voice acting career, giving voice to a classical Mexican character in the new animated TV Series Alma´s Way, produced by Fred Rogers Productions for PBS Kids, which will premiere in October; cast by Del Valle Casting and animated by Pipeline Studios. The series, created by Sonia Manzano, showcases different aspects of Latino cultures in each episode and is available to watch in both English and Spanish. The original theme song was written and produced by Lin-Manuel Miranda and Bill Sherman.
Recently Wendy played the role of Mrs. García in the short film, La Santera, written by Yerania del Orbe and produced by Latina Made Media. It has been included and won awards in multiple film festivals. La Santera was presented at the AMC Theaters in Times Square, Manhattanat Katra Film Series, winning best short film.
Wendy hopes to be an inspiration to other artists by encouraging them to express themselves in different ways, that art can be presented in multiple artistic languages and is as complex as human beings. To let your dreams bring you as far as you need to. She also pretends to encourage women to be who they have to be. She believes that a place, situation or gender doesn't define you, it's part of your context but that you have the power to write your own story and to create yourself by yourself, it's just a matter of choosing to have the right people beside you.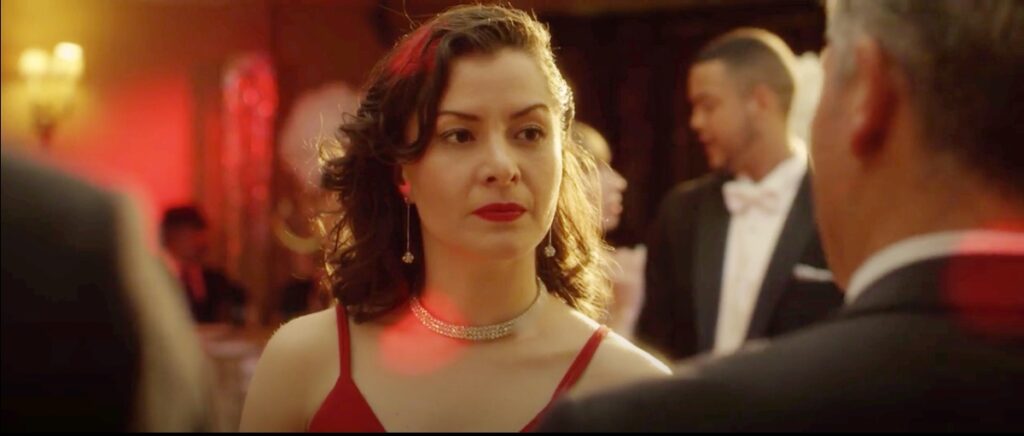 NY Glam: Tell us a little about yourself, growing up and your passions.
I grew up in Toluca, a small city in Mexico. I have always been very active and love learning so I was everywhere, from sports to artistic activities, taking all types of classes and involved in social causes. I did my B.S. in Communications and worked simultaneously in theater. I was thrilled to leave my hometown and go to Mexico City so I completed my bachelor's earlier than normal.
NY Glam: What are you currently working on?
I just recorded for the upcoming animation series, Alma's Way for PBS Kids that will premiere on October 4th, as well as some voice over commercials for Enfamil and One Drop. I'm rehearsing for our fall performance with General Mischief Dance Theatre and lots of auditions for TV, film and voice over now that the city is reopening.
NY Glam: What made you take this role?
There's one role I've been playing for a few years with the company General Mischief Dance Theatre. It all started as a choreography and developed so much that I ended up creating a character with very specific characteristics that reflect part of my own personal experiences. By doing it I can feel how people relate with the vulnerability of the role. Every time I play this character I find myself in a different moment in life but interpreting the same idea so it makes me realize where I was and where I'm going. It's as if the character evolves with me as a person and as an artist.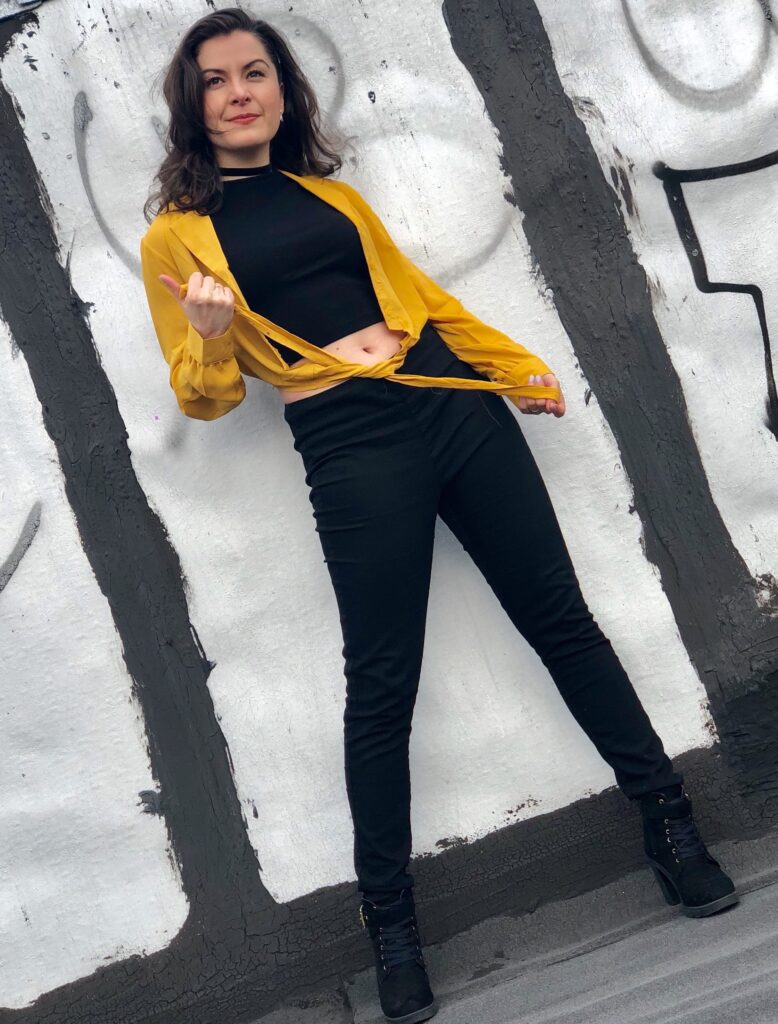 NY Glam: What journey does your character go on in the course of the monologues?
The journey my character takes is very interesting because we can see her entire life. Starts from being a little girl, feeling different, bullied and disappointed then she becomes a teenager not knowing her place in society, confused with all the possibilities life has to offer until she becomes a young adult facing the "requirements" life gives us such as finishing school, getting a job, a car, a partner, marriage, kids, better car, better house and the list goes on as a never ending circle. Until she chooses to be herself, to select the people around her and most of all to be proud of her own accomplishments.
NY Glam: Tell us a little bit more about this film, what is it about, who else are you working with, and who is the director, producer, and writer?
This role I'm referring to is a theatrical character for the piece Suite Shel, inspired by the poems of Shel Silverstein with General Mischief Dance Theatre, producer and director Emily Vartanian and resident guest choreographer Karen Gayle.
NY Glam: What is the most challenging role you have played and why?
Just had an audition for a TV series. I needed to workshop with my coach because the role is completely different to my personality, she is a murderer with a tough personality. It was a good challenge and helped me to find out many interesting things about myself as an actress. Still waiting to hear from that!
NY Glam: And the most fun one?
I played Becky Thatcher in The Adventures of Tom Sawyer. It was very fun because we did a season in Mexico City and a tour around Mexico, got lots of lovely experiences, made friends and visited beautiful places.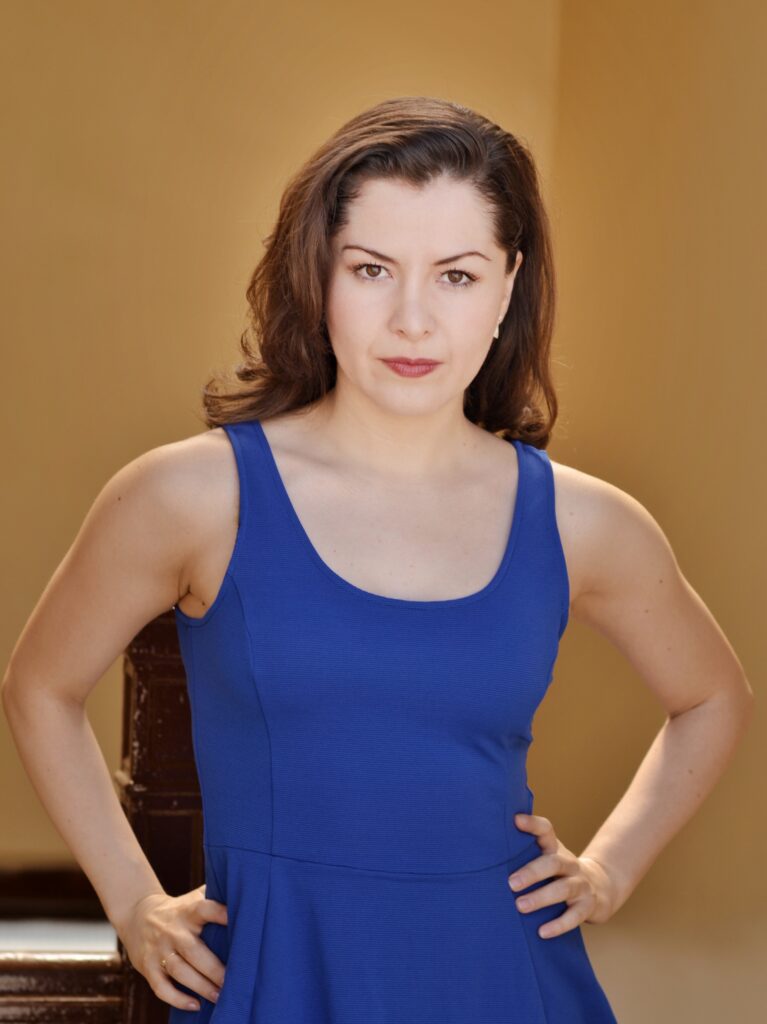 NY Glam: Describe your biggest accomplishment to date?
Definitely being a performer artist in New York City. First, I thought I was late in life to become an artist because growing up I didn't have the opportunity to educate myself. Second, when I got the scholarship that brought me to NYC I had everything against me but I still made it work and became a full time artist in the Big Apple.
NY Glam: What other hobbies do you have? Have you ever considered branching out into directing or screenwriting?
Totally! Having a B.S. in Communications has given me the opportunity to direct and work for production. I've already started writing a few things. I'd love to start producing my own stories, I find it very interesting and that's exactly the reason why I studied both careers.
NY Glam: Where have you played a lead role? What was the character about?
I've played several leading roles. One of them was for a short film called Polyoptics, produced by Tonedeff. My role was an immigrant woman, mom of 4 kids, trying to make it work in the USA with an abusive husband and alcoholic problems. It was tough but I think it's important for women to identify themselves with some characters or situations and hopefully open up different perspectives for them.
NY Glam: If you weren't acting what would you be doing?
I think I would be working for the UN or some other organization with a social cause helping kids and poor families. I still hope to do it in some way.
NY Glam: What's your goal for this year?
My goal is to focus my career on TV, film and voice over. Getting into producing/writing and learning more about investing, I find it very interesting and helpful.
NY Glam: What is your advice for aspiring actors?
I think talent is nothing else but love, when we love something or someone we would do anything to make it work. Fall in love with your craft, your instrument, your own journey and let life conspire with you. That's when magic happens! We choose and we are chosen by dreams and opportunities, stay true to yourself.
Share the gift you were given to the world, you are a unique piece needed in this puzzle.