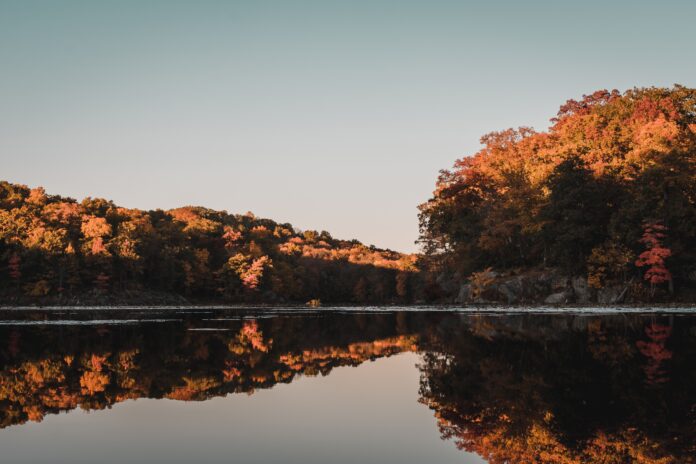 Harriman State Park is a hidden gem in the heart of New York's Hudson Valley region, spanning across over 47,527 acres of land. As the second-largest state park in New York, Harriman offers a vast range of outdoor activities and experiences. However, one of the most popular activities is hiking. With over 200 miles of hiking trails, ranging from easy to strenuous, the park is a paradise for hikers and nature enthusiasts.
One of the most rewarding hikes in Harriman State Park is the Bear Mountain Loop Trail. This 4.4-mile loop trail takes you through some of the park's most scenic and diverse landscapes, including stunning vistas, beautiful forests, and picturesque lakes. The trail's highlight is undoubtedly the Perkins Memorial Tower, a stone tower that offers breathtaking views of the Hudson River and the surrounding landscape from its 360-degree observation deck. The trail is considered moderate and is suitable for hikers of all levels, making it an ideal choice for families and groups.
Another popular hiking trail in Harriman is the Pine Meadow Trail. This 3.6-mile trail takes you through the park's beautiful hardwood forests, passing by tranquil streams, scenic overlooks, and rocky outcroppings. The trail is relatively easy, making it ideal for those looking for a leisurely hike.
For more experienced hikers, the Long Path is a challenging 357-mile hiking trail that runs through Harriman State Park. This trail is perfect for those looking for a multi-day adventure, as it offers stunning views and challenging terrain, including steep ascents and descents.
One of the great things about hiking in Harriman State Park is the park's diversity of flora and fauna. The park is home to an array of wildlife, including black bears, coyotes, bobcats, and numerous bird species. In the spring, hikers can enjoy the park's wildflowers, while in the fall, the park's foliage offers a colorful display of orange, red, and yellow leaves.
Before embarking on a hike in Harriman State Park, it's important to be prepared. Hikers should wear comfortable, sturdy shoes and bring plenty of water, snacks, and a map of the trails. It's also a good idea to check the weather forecast before heading out and to be aware of any potential hazards, such as steep cliffs or rocky terrain.
Harriman State Park is a hiker's paradise, offering a range of trails and experiences for all levels of hikers. Whether you're looking for a leisurely stroll or a challenging multi-day adventure, Harriman has something for everyone. So, pack your backpack and head out to explore the natural beauty of this stunning park.
Photo by Sekwang Chia on Unsplash