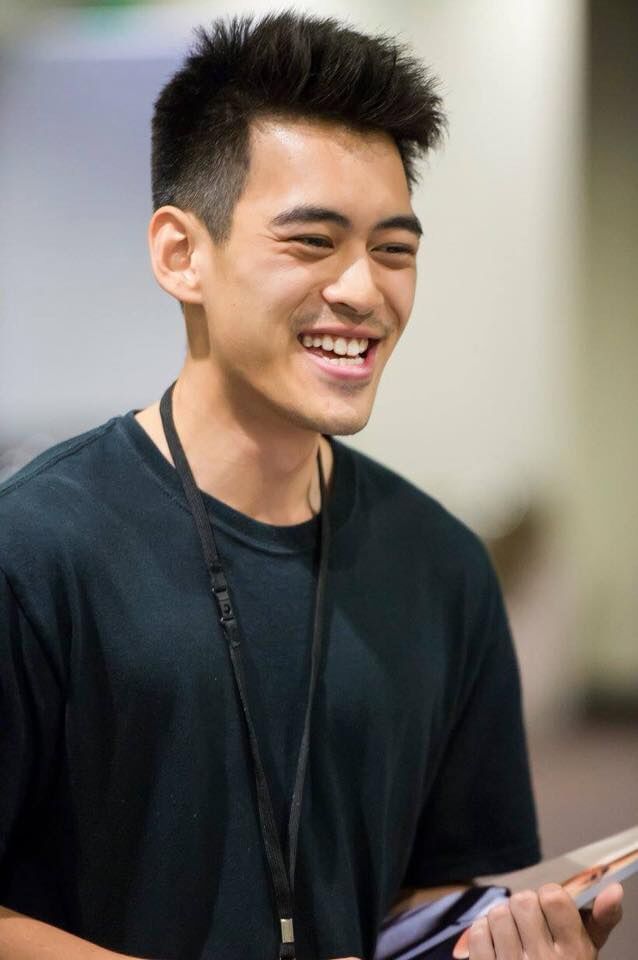 New York Glamour sat down with award-winning filmmaker, writer and actor Aaron Mak about his upcoming new horror film "The Seventh Month", starring Ashleigh Gray, Aurora Lee and Patrina Thi.
Director Aaron Mak won the Best Music Video Award at the LA Asians on Film Fest. His two other projects, "Cynation: Go Louie Go" and "Rise: From Independence to Immortality" will make their New York Premiere at the International Filmmaker Festival of New York (IFFNY) in May 2019.
Exclusive Interview with Award-Winning Director/Writer Aaron Mak
NY Glam: Your recent horror film "The Seventh Month" was inspired by Chinese Taoist cultural concepts and events. How did it move from concept to reality?
Aaron Mak: "The Seventh Month" began from an idea to bring Asian cultural sensibilities, particularly in Asian horror, into the Western setting. The inspiration was fuelled by an exploration into several classic Asian horror films that began surfacing in the early 2000s such as The Eye (2002) and Ju-On: The Grudge (2002). I found that the scariest and most confronting elements of these films were the fact that they were backboned by established cultural beliefs in the supernatural, that have had a longstanding history in the countries in which they were produced. The fear of such things to the viewers, particularly Asian audiences, are rooted in the idea that these ghosts and spirits are very real dangers that exist in our world. Belief in the supernatural is what makes the threat feel real.
My goal for the short film was to bring the 'realness' of this kind of cultural supernatural lore into the Western world physically, by using Asian diaspora who have migrated to a Western country as the vessel for these spirits to begin manifesting in this other domain. I was prompted by the question – how would Western audiences react to direct encounters with a type of ghost (and cultural background) they were unfamiliar with in their familiar world. I wanted to further reinforce the idea of the "fear of the unknown", on top of the familiar suspense of being haunted by a spirit. This was why I wanted a suburban setting, to reinforce the everyday element to the script, and create an environment that most people would let their guard down.
NY Glam: Tell us about some of the main characters and the lead actors in the film.
Aaron Mak: The three main characters of the short film are Alice, Bec and Chloe. Alice (played by Ashleigh Gray) is the protagonist – she is a curious, introverted and somewhat naive individual, who essentially has the story unfold from her perspective. She is not a confrontational character, and would rather not say anything in retaliation until she's sufficiently provoked. Bec (played by Aurora Lee) is mean, condescending, and a selfish individual. She only looks out for herself, and has a tendency to command and diminish those around her. Chloe (played by Patrina Thi) is a bit of a passive, easily-swayed character, whose family own the house in which the events of the film take place in. She's of Chinese heritage, but being a second generation Chinese-Australian, she has a superficial understanding of her Chinese Taoist culture, but does not practice it like her family.
NY Glam: What was different about being in the director's chair this time around?
Aaron Mak: To directly contrast this work with the previous project, "Cynation: Go Louie Go" (2018), I was actually able to sit in a director's chair, rather than running around the set. This project was much more contained in terms of space, where movement of the camera was minimal due to the confined nature of the house's interior. This meant that as the director, I was able to focus more on the framing of scenes and scrutinise the use of shifts in focus and camera movement. I also had to consider a factor such as audio recording, which was not a major point of concern when working on the two music videos.
It felt refreshing returning to my horror roots, and a script that took place within one location. The difference between this and my first short horror film, "House Sitting" (2016) was the quality of filming gear that we had access to, making it easier to work in low-light situations. The way in which we worked with darkness, also helped create an environment for the actors to feel a real sense of suspense which really helped them convey their fear through their performances. Similar to "House Sitting", I opted to play the part of the ghost in this project, and it was on more than one occasion that I'd look at my reflection in the mirror (in head to toe makeup) and admittedly freak myself out a little bit. The way I see it is – if I can scare myself, I've got to be doing something right.
NY Glam: We saw you in the LA Asians on Film Fest for Cynation's "Go Louie Go" Music Video. Congrats on the Best Music Video Award win. How did you accomplish shooting the mv given the locations and the parkour involved?
Aaron Mak: Thank you, it was quite the honour to be accepted by the Asians on Film Festival and receive awards for "Cynation: Go Louie Go". At the time, this music video was truly our most ambitious projects to date. The music video contained three shoot location (2 in Melbourne city, 1 in a music shop), 97 shots, and to top it all off – we filmed the entire music video in a 15 hour day. It was well and truly an exhausting but incredibly rewarding experience. We chose to film at Southbank and Chinatown – two locations that provided some interesting opportunities to choreograph various parkour sequences, whilst also capturing the spirit of Melbourne city.
As part of wanting to capture the spirit of Melbourne, I looked closely at architectural structures in the locations we wanted to film in, in order to visualise what a parkour chase sequence would look like. Our desire to incorporate parkour into this project was a desire to see a return of stunt work to film, that was not simply created with stunt doubles, green screens and safety harnesses. We were largely inspired by films such as District 13 (2004) and old Jackie Chan Hong Kong films.
We wanted the sensation of risk and danger to be conveyed to the audience, which was made possible by the daringness of our parkour artist and actor, Sam Carter (played Louie). He was an incredible person to work with due to his skill and willingness to experiment with various stunts. We wanted to have a big climatic moment in the music video, where Louie makes a large dangerous jump over a large height in order to evade the boys. It was courtesy of Sam Carter who suggested a location in Southbank, in which he jumped off a bridge 38 feet from the ground, and landed onto a sculpture.
NY Glam: Go Louie Go also received an Official Selection at the IFFNY, congrats. Tell us about what you set out to achieve with this music video. How does it differ from other music videos?
Aaron Mak: Thank you so much, it's really an incredible feeling to see Louie go all over the world and finally reach New York. The intention behind "Go Louie Go" was to blend stylistic action elements with a layered narrative, in order to explore a wider social concept. Specifically – the nature of drug addiction and its prevalence in the music world, as well as the rest of society. We conveyed this idea through the way the band chases Louie (street slang for the drug, "speed") through the city, despite never being able to catch him. However, the band eventually utilise the power of music to reject Louie from their lives and kick him out.
Since the beginning of my collaboration with the Australian rock band, Cynation, we've set out to achieve the objective of telling stories that people often don't get exposure to and stories that make people think harder about the meaning behind the images and lyrics. At our core, honesty and a brutally raw attitude to life is a major driving force behind our approach to our respective crafts. Additionally, collaborating with Cynationhas been refreshing, as we collectively aim to subvert the mainstream association of music videos primarily being superficially flashy videos that simply visually dress songs, rather than add additional layers of meaning. Each of our music videos become an entity of its own, embracing a narrative structure in order to flesh out a story and message in order to have a creation where the visual and audial elements work together to form an uncanny harmony.
NY Glam: Congratulations on your documentary, RISE, also getting accepted at the IFFNY. Tell us a bit about the film, and what you would like audiences to take away from it.
Aaron Mak: "Rise: From Independence to Immortality" (2019)also receiving an Offical Selection at the prestigious International Filmmaker Festival of New York (IFFNY) is truly an achievement to be proud of. "Rise" is a story of how the Australian rock band, Cynation and myself, had a dream to gather local artists together to make our first, incredibly ambitious, music video. Being our first project, we were inexperienced, we faced doubt and constant adversity. However, this story is about how we endured that and remained determined to make the impossible happen.
The intended message behind "Rise" was to inspire independent artists to pursue their dream, despite the inherent difficulty and challenges involved with the industry. It utilises the humorous, down-to-Earth (and borderline ridiculous) nature of the band, Cynation, to convey an important message: experience and knowledge isn't necessarily more powerful than the determination to pursue one's passion.
Additionally, the stakes raised in the documentary about what achieving this first goal meant to us was layered with moments of our experience where jokes were made, laughter was had, and smiles were painted across our faces. The light-heartedness and humour smattered throughout also aim to convey the idea that we shouldn't take life too seriously and we should enjoy the process of creating as much as the end result.
NY Glam: What are the three dos that are essential when making a music video?
Aaron Mak: It's always a difficult question to answer when providing recommendations to approaching the art of filmmaking, however in my experience, there are a few tips and circumstances to consider when crafting a music video – especially a narrative one.
Work with the flow of the song: this is probably both my favourite part of music videos, and one of the most important thing to me. The visual should breathe with the audio, but both should also blend seamlessly so it feels like a well synchronised dance between the two elements. Don't forget that the song has to be produced before the video is made, so know your song incredibly well – know its tempo, its melody, its tone, its rises and falls, etc.
Keep your scenes/storytelling concise: you're not working with a particularly long runtime for songs, particularly nowadays (nobody is putting out another November Rain for a while). This is important to keep in mind, especially when working with narratives. When a shorter duration is a factor, all the more that care should be taken to discern what needs to be in the music video vs what would be nice to have in the music video.
Make it fresh and engaging: I think I speak for a majority of audiences who watch music videos when I say, we've seen too many music videos that start to feel like more of the same thing. I often find that an engaging music video actually encourages even people who were not previously fans of the song, to at least listen for a bit longer because of the engagement already established by the visual element. Moreover, wouldn't it be a great artistic movement to have the standard of music videos essentially be short films in their own right?
NY Glam: What sort of stories excite you? Tell us about the kind of scripts you like to write.
Aaron Mak: I'm a huge fan of strong feelings incited by a film or a script. It's almost irrelevant what the feeling is, but I like it when a story has moments that incite a reaction that's almost uncontrollable. I want to cry so hard, my hands go numb. I want to laugh so loud I wake up the dogs.I want to be rendered so scared, I actually hesitate to go to my kitchen for a midnight snack. I want to feel so confronted by a novel idea or concept that I start questioning my own philosophy on life. Sure, I enjoy the odd popcorn film every now and then, because I also believe that life's to be enjoyed, and not always taken so seriously. But that's all the more why, when I do laugh, I want to laugh big. Stories that excite me are ones that I can revisit and feel the same way I did when I first watched it, or even discover new levels of understanding and feeling upon its second, third, fourth watch.
It's because of this approach of mine to the films I watch, that it's also how I aim to approach the scripts I write. I love drawing inspiration from my pool of film, TV, video games, music, art, and any other inspiration from life, but I particularly search for the more obscure influences within this pool. I find that experiences that are common to one, are often foreign to another. Everyone has a story to tell, and that's where I like to start from. Whether it's things I've experienced, unique stories I've heard from others, or even obscure films I've seen – these are all pools of influence which I tend to dip into from time to time.
NY Glam: What else are you currently working on?
Aaron Mak: Although there are several bigger plans in the works, the next project I'm working on is the Anthem of the Damned music video, which is currently in development. It is shaping up to be our most ambitious project to date. Since Go Louie Go, I've been working alongside Cynation to see how we can raise the bar for ourselves yet again. The concept is one that we have spent the most time on, relative to the other music videos, as we aim to create this video with not just a narrative, but utilising the horror genre.
Working with the band is an absolute delight, as they're all incredibly dedicated artists, and will go the extra mile for their craft (on Go Louie Go, I made them run around the city for 7 hours, so they literally went the extra mile). This project will demand yet a bit more from the band, as we aim to film this in two locations, approximately an hour out of Melbourne – one location is a motel, and the other, a desert.
The goal is to begin production in July, with a larger crew and even better quality filming gear than we've ever had on any prior project. Our intention was to elevate our production value another tier higher, whilst still maintaining our dedication to unique directing and innovative stories. Beyond that, I can't reveal any more about this project so far, but stay tuned as updates will be coming as we continue with this project!
NY Glam: What has been your personal key to success?
Aaron Mak: There is the saying, "work smarter, not harder", which I do believe there is a great deal of truth in that. However, it has been my experience that one truly needs to do both. I believe that balance is key in one's approach. Too idealistic, and one often struggles to get very far, if not, anywhere. Too pragmatic, and one often finds themselves with nothing more than another product, easy to consume and quick to dispose. Idealism may give us something that deserves to live forever, but pragmatism makes sure it does. These are the yin and yang elements that need to be considered hand in hand.
People who begin with money and connections may have a leg up, but it's all about practicing to get better at your craft, grinding hard to push your own limits every day, and dedicating yourself to your passion. Like many other fields, the desire to simply make money is not a sufficient driving force to succeed. To be incredibly honest, you have to be prepared to lose money. I think a truly important attitude to have is to be able to invest your time, effort and resources into your work, and even though you might not make a return on it (or even make a loss), you come out of the other side filled with the joy and satisfaction with yourself having created something that you can be truly proud of.
NY Glam: How has your experience in London and Melbourne contributed to your success in film and video?
Aaron Mak: My experience in these two places have really taught me many things about the world, myself and my approach to my craft – Melbourne being my hometown and where I went to university at Monash University, and London being the place where I spent a lot of time in during my exchange program (spent most of my time in Exeter, Devon at the University of Exeter). These two places were where I spent my time making my academic foray into the world of film and theatre, honing my skills on more theoretical levels.
In Melbourne, I began to develop my skills in the field of directing, scriptwriting, performing and dramaturgy in my theatre course. Directing class taught me how to create visual references to help shape the world of the drama, whilst scriptwriting class taught me how to transform words into a physical, visual manifestation. My film course introduced me to the theoretical, philosophical and critical side of film – I learnt how to approach film as another medium of art. It was a combination of learning about various film theories and exposing myself to previously unseen films and TV shows, that I began developing my skills and desire to create works of significance and engagement. Additionally, it was through the Monash University Student Theatre, that I first began creating short films for their Phone-It-In Film Festival – a festival that required students to make short films only with their smartphones. It was a rewarding exercise that taught me how to maximise elements such as writing, when filming equipment was minimal. Melbourne is truly a city that fosters and values the arts, filled with incredibly talented and hard-working artists just waiting to show the world what they're made of.
My time in Exeter marked my last point of contact with academia, before venturing out into the wide unknown expanse that is the world. Despite being in the U.K, I ironically took a subject that explored American Independent cinema. It was an incredibly informative course, looking not only theoretically at independent (or 'indie') films, but also the indie film industry and how it has changed since its beginnings. This gave me some insight into the sector of the film industry that I intended to enter, since any new filmmaker starting out with their own resources is an independent filmmaker. It was an informative conclusion to my university days which taught me valuable lessons and helped churn my internal fire to return home and get the ball rolling. In fact, one of the reasons behind me choosing The University of Exeter was their incredibly strong and reputable film department. Moreover, it was actually during my time travelling across the U.K and Europe during the exchange program, when I first began discovering my inclination towards experimenting with photography and videography.
NY Glam: As an Australian who migrated from Singapore, what cultural or artistic factors have influenced your filmmaking style?
Aaron Mak: The cultural influence of growing up in Singapore, came largely in the form of family and media. I grew up watching quite a few martial arts films, particularly the works of actor, Jackie Chan. In later years I'd watch Jackie Chan appear in Hollywood movies, which furthered my fascination with the presence of kung fu in films, and the way in which actors like Jackie Chan made these sequences so iconic with his dedication to performing all of his own stunts. The other key influence I developed growing up in Singapore was the general cultural belief in the supernatural, where families would keep shrines in their house to worship their ancestors, and every year, Taoists would celebrate the hungry ghost festival. There was even an old Malay legend about a ghostly female vampire called the "Pontianak", that spilled over into Singapore when I was growing up, where students would spread rumours that certain corridors in the school were haunted by the "Pontianak". These common beliefs in Singapore would shape my initial irrational fear of the supernatural growing up, which only after moving to Australia, I sought to conquer that fear by making horror films.
Australia on the other hand, introduced me to a whole new side of seeing the world. For the first time in my life, I saw how vast and diverse nature could be, and how beautiful it was. Beaches, mountains, rivers, deserts, tropical and temperate forests, pink lakes, caves and bushland – all within an hour's drive from Melbourne. Growing up, my exposure to these places were made quite frequent, courtesy of my schooling. My deepening interest in the natural world eventually opened my eyes to the appeal that these places could make stunning film locations.
Additionally, Melbourne having such a multi-cultural population, I grew up fostering this love for languages and accents, wanting to incorporate various cultural elements to my films. To me, every culture has their quirks, tales and struggles. It all fascinates me, because I believe that it is through people's common quirks, tales and struggles that we can maybe empathise with and understand each other, even though we seem different.
NY Glam: What is next for Melbourne Film Studio?
Aaron Mak: After "Cynation: Go Louie Go" and"Rise: From Independence to Immortality" make their New York Premiere at the IFFNY in May 2019, we will make "Rise" available for release on Cynation's YouTube channel. In the meantime, as we continue with the development stage of "Anthem of the Damned", we'll continue making more short form, original content.
Beyond these projects, there are currently two works in the queue – one is a narrative short horror, and the other is a short concept film.