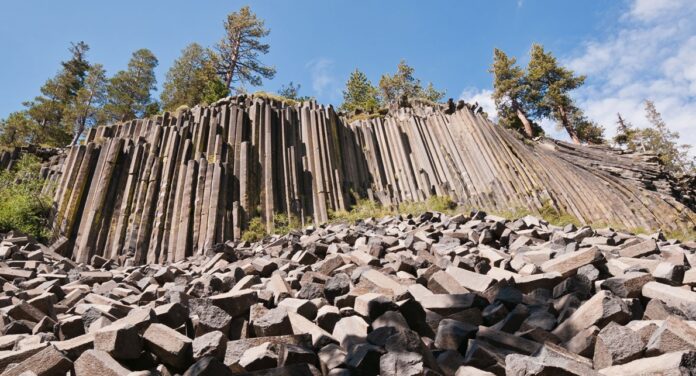 Tucked away in the Sierra Nevada Mountains of California lies a remarkable geological formation known as Devils Postpile National Monument. This natural wonder is a sight to behold, with towering columns of basalt that seem to defy gravity, and a stunning natural setting that makes it a popular destination for outdoor enthusiasts and nature lovers alike.
The Devils Postpile is a columnar basalt formation that was created more than 100,000 years ago when a massive lava flow cooled and cracked, forming hexagonal columns of basalt. Over time, erosion and weathering shaped the columns into the distinctive shapes that can be seen today. The formation stands at an impressive height of 60 feet, and visitors to the park can walk along a trail that offers stunning views of the postpile from all angles.
In addition to the postpile itself, the Devils Postpile National Monument is home to a diverse range of flora and fauna, with a variety of habitats that include meadows, forests, and streams. The park is a popular destination for hiking, camping, and fishing, with miles of trails that wind through the scenic landscape.
One of the most popular hikes in the park is the trail to Rainbow Falls, a stunning waterfall that cascades 101 feet down a cliff face, creating a misty spray that forms a rainbow in the sunlight. The trail to the falls is relatively easy, and offers stunning views of the surrounding landscape along the way.
Visitors to the park can also enjoy a range of other activities, including fishing in the San Joaquin River, which runs through the park, and camping at one of the park's two campgrounds. The Reds Meadow Campground is the larger of the two, with 56 campsites and a range of amenities including showers, toilets, and potable water. The smaller Pumice Flat Campground offers a more secluded camping experience, with just 19 campsites and no amenities.
In addition to its natural beauty, the Devils Postpile National Monument has a rich cultural history that dates back thousands of years. The area was traditionally used by the Mono people, who considered it a sacred site, and artifacts such as grinding stones and arrowheads have been found in the area. Later, in the 1800s, the area was used for grazing and logging, and it was not until the early 1900s that efforts were made to preserve the area for future generations.
Today, the Devils Postpile National Monument is a beloved destination for nature lovers and outdoor enthusiasts from all over the world. With its stunning natural beauty, rich cultural history, and range of activities, it is a true gem of the Sierra Nevada Mountains and a must-visit destination for anyone traveling to California.