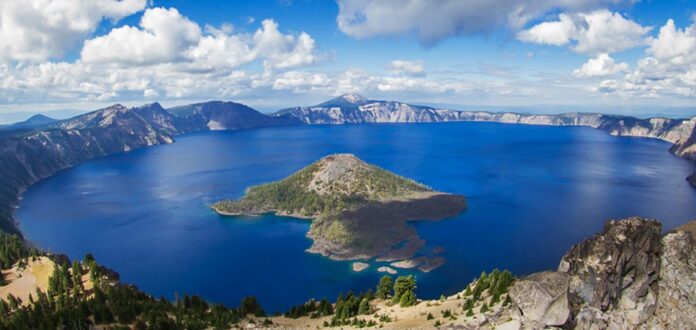 Nestled in the heart of the Cascades in southern Oregon, Crater Lake is a breathtaking natural wonder that attracts visitors from around the world. The lake, which is the deepest in the United States, was formed nearly 7,700 years ago when the eruption of Mount Mazama caused the volcano's summit to collapse, creating a massive caldera that eventually filled with water.
Today, Crater Lake is known for its deep blue color and stunning clarity. The water is so clear that visitors can see down to depths of nearly 400 feet. The surrounding landscape is equally impressive, with rugged peaks and forests that stretch as far as the eye can see.
One of the most popular activities at Crater Lake is hiking. There are more than 90 miles of trails in the park that offer stunning views of the lake and the surrounding mountains. The park is also home to the Pacific Crest Trail, which stretches more than 2,600 miles from Mexico to Canada. Hiking the Pacific Crest Trail is a popular challenge for outdoor enthusiasts, and Crater Lake is a highlight of the journey.
In the winter, Crater Lake transforms into a winter wonderland, with snowshoeing, cross-country skiing, and snowmobiling being popular activities. The park is home to several miles of groomed trails for cross-country skiing, and visitors can rent snowshoes or take guided snowshoe tours to explore the park's winter wonderland.
In the summer, Crater Lake is a popular destination for water activities, including fishing, swimming, and boating. The lake's crystal-clear waters are perfect for swimming, and visitors can rent boats or take a guided tour to explore the lake's hidden coves and scenic vistas.
Aside from the natural beauty, Crater Lake is also home to a rich history and culture. The Klamath Tribe has lived in the area for thousands of years and considers Crater Lake a sacred site. Visitors can learn more about the area's history and culture at the park's museum and cultural center.
Crater Lake, Oregon is a jewel of the Cascades that offers visitors a unique and breathtaking experience. Whether you're a nature lover, an outdoor enthusiast, or a history buff, you'll find plenty to do and see in this stunning natural wonder. So, pack your bags, grab your hiking boots, and come experience the beauty of Crater Lake for yourself.