Exclusive Interview with Larry Manuel – Filmmaker
Born and raised in New York City, Larry Manuel found filmmaking while working an I.T. job at a TV studio in 2008. He moved on to manage the production and programming departments for a performing arts space, which allowed him to immerse himself in the camera equipment laying around the venue. With his newfound experience, Larry began to tell stories through short form docs for many non-profits around the city. The journey of documentary storytelling eventually led him into more commercial and narrative work that includes clients such as Hewlett-Packard, Krispy Kreme, and other brands. Mr. Manuel currently resides in New York City with his wife and dog, where he binges on tacos and Breaking Bad.
NY Glam: How long have you been making films and videos? I've been shooting for about 11 years now.
NY Glam: What film was your directorial debut? I've made a few shorts before, but this film definitely feels like my actual directorial debut because it was the project that allowed me to solely focus on directing and not trying to wear several hats all at once.
NY Glam: What is your recent film about? 91 Steps is about a mother that struggles to navigate healing after a tragedy.
NY Glam: How did you go about casting for the film?
I have to give all the credit to our wonderful on-set "mom," Janine Moore. She went above and beyond for us on this project with helping us with several things during pre-production. 91 Steps actually takes place in Jennings, Louisiana. My DP, Otter Moore, and I are based out of New York, so Janine did a lot of the groundwork with regards to locations, talent, catering, and even acting in our film. Our lead actor, Rachel Whittle, is a family friend to my DP, so we had her in mind from the beginning of this project. She's an incredible actor with years and years of experience, so we knew she'd be amazing for this role from the very start. Janine then coordinated the audition for Carson Turgeon who later went on to be casted as part of the film. We auditioned Carson via Facetime.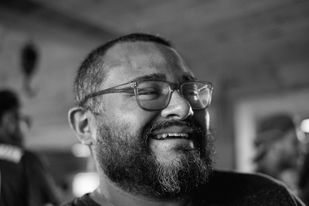 NY Glam: What was the most important lesson you had to learn that has had a positive effect on your film? How did that lesson happen?
I walked away from this project being a better collaborator. I'm definitely not dictatorial about things, I'm just used to doing most things myself. This project was the first time I worked with people I didn't really know (except for my DP), so having to listen to everyone's ideas and work with everyone's talent was so revelatory. I learned the true value of just trusting your collaborators in every department.
NY Glam: Tell us a bit about the other films you've made and your other projects.
I come from the short doc/corporate film space. So, I'm usually shooting and/or editing projects for companies and non-profits. The last short film I directed was an iPhone film for the Moment International Film Festival. It was a comedy short with my long-time friend and collaborator Ashley Noel Jones – that film was a funny ode to living and working in New York City and all the craziness it entails with living here.
NY Glam: What role have film festivals played in your life so far?
There's a certain vulnerability that comes with submitting work to festivals, and I try to lean into the fact that my work will be received differently to each festival. Some may like it and some may not, and that's ok. For me, it keeps me humble and teachable so that I can sharpen myself for the next project.
NY Glam: Is it harder to get started or to keep going? What was the particular thing that you had to conquer to do either?
Great question. I think to keep going is harder, for sure. Failure in some way or another is almost always attached to the process of starting out, but to take those failures and learn from them in order to keep going is tough. For me, I think conquering the fear of failure and just embracing it is always the struggle I go through. I think we've allowed social media to create this impossible standard to strive toward – "what will my followers think?" "what will they say?" "what if they think I suck?" I mean, who cares right? Trying to say something through your story shouldn't have to go through this formulaic type of judgement – there's a story for everyone, and I think just it's important to put it out there.
NY Glam: How has your style evolved?
I think it's still evolving, but it simplifies as it evolves. I don't think I need too much to tell a compelling story
NY Glam: What has been your personal key to success?
Collaboration is the key and choosing your collaborators will elevate your work so much. Honestly, my best work has been when I bring a team on board.
NY Glam: What are you thinking about doing next?
I'm writing a few things at the moment; honestly whichever script gets finished first is what is going to be shot first.
NY Glam: Where does your studio want to go from here?
Still trying to navigate where to go from here, but I can say is that we're definitely moving forward.