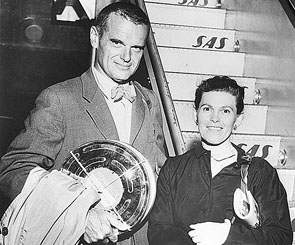 Charles and Ray Eames were American designers who left an indelible mark on the world of architecture and design. Born in 1907 and 1912 respectively, Charles and Ray Eames were a husband-and-wife team who worked together for over four decades to produce some of the most iconic pieces of furniture and architecture in the modern era.
Charles was an architect and product designer, while Ray was a painter and graphic designer. Together, they brought their unique perspectives and skill sets to their collaborations, resulting in a body of work that is both aesthetically stunning and highly functional. Some of their most well-known pieces include the Eames Lounge Chair and Ottoman, the Eames Aluminum Group chairs, and the Eames House, a case study house in Pacific Palisades, California that serves as a testament to their innovative approach to design and architecture.
In addition to their design work, Charles and Ray Eames were also dedicated to educating the public about design. They made several short films and designed exhibitions that sought to demonstrate the beauty and importance of good design. They also lectured extensively on design and architecture, and their ideas have had a lasting impact on the fields.
The Eameses' influence on modern design and architecture cannot be overstated. Their pieces have become synonymous with mid-century modernism and have been widely imitated and celebrated. Today, the Eameses are remembered as true pioneers of modern design, whose work continues to inspire new generations of architects and designers.
In conclusion, Charles and Ray Eames were more than just designers; they were visionary artists who helped shape the world we live in. Their work and ideas have had a lasting impact on the fields of architecture and design, and their legacy continues to inspire and influence the work of designers and architects around the world.