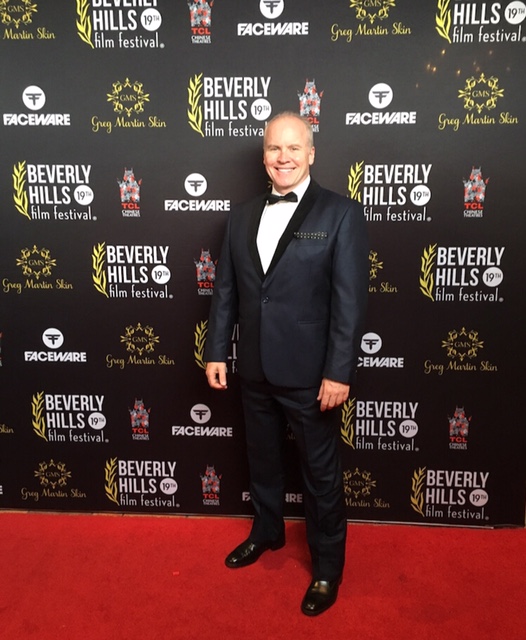 Bill Brock is an American screenwriter who has tossed a variety of artistic hats into the ring of entertainment, including that of professional actor (Theater: Stanley Kowalski in A STREETCAR NAMED DESIRE, Paul Sheldon in the stage adaptation of Stephen King's MISERY, Billy Bibbit in ONE FLEW OVER THE CUCKOO'S NEST, Steve Heidebrecht in AUGUST: OSAGE COUNTY, and Matthew Styler in MINDGAME. Other pertinent titles include roles in 1776, A FEW GOOD MEN, BUS STOP, and LOVE! VALOUR! COMPASSION! Television: Principal roles in three episodes of The Discovery Channel's A HAUNTING; Harmon in Showtime's LINC'S. Commercials: National TV spots for STEAK-UMMS and LOCKHEED MARTIN).
Whenever Bill stepped away from a theater stage or studio set, he could be found at the helm of a 12th grade English classroom for the last 33 years. He retired from public education in June 2021 and currently lives in a suburb just south of Richmond, Virginia.
The next chapter of his life pointed him in the direction of screenwriting as a member of the professional writers' organization, the Virginia Screenwriters Forum from 2014 to 2021, where he mastered the craft of conjuring interesting characters, then weaving them through compelling stories of varying genres. Seven feature screenplays and two short scripts followed, eventually finding national and international recognition on the screenplay and film festival circuit.
Major accolades for his screenwriting abilities include:
The bio-drama, JAMES DEAN: CROSSING THE FINISH LINE ("Best Screenplay" – 2021 Santa Barbara International Screenplay Awards).
The supernatural thriller, THE DRESS ("Best Screenplay"- 2021 Block Island Film Festival; "Honorable Mention" – 2021 Santa Barbara International Screenplay Awards; "Official Selection" – 2019 Beverly Hills International Film Festival; "Best Thriller" – 2017 Beverly Hills Screenplay Contest).
The child-abduction thriller, WHERE'S GRACE? ("Second Rounder" – 2021 Austin Film Festival; "Honorable Mention" – 2021 Santa Barbara International Screenplay Awards).
The psychological thriller, DREAM HOLLYWOOD ("Best Screenplay" – 2019 The Poe Contest; "Official Selection" – 2019 Pasadena International Film Festival).
The psychological thriller, "I'LL HAVE ANOTHER…" ("Best Short Screenplay" – 2017 The Poe Contest; "Official Selection" – 2017 Richmond International Film Festival; "Official Selection" – 2016 Halloween International Film Festival).
With all the boyish enthusiasm he could muster, Bill has worn the triple crown of writer-actor-director twice by turning two of his scripted works into films: the dramatic comedy, PARTY OF 50 (2013) and the aforementioned I'LL HAVE ANOTHER… (2016).
So, there you have it. A quick glimpse into Mr. Brock's Acting and Screenwriting Odyssey. In closing, let's have a bit of fun here. Let's "reimagine" a small portion of the end credits to (almost) every James Bond film known to moviegoers worldwide:   BILL BROCK WILL RETURN.
Exclusive Interview with Bill Brock – Screenwriter
NY Glam: What projects are you currently working on?
In the spring of 2021, I wrote a short screenplay, "Where's Grace?," about a child abducted by a female pedophile (yes, they do exist and comprise of 9% of this horrendous criminal population.). A few writing mentors that I admire enjoyed it immensely and suggested I turn it into a feature script. By year's end, it was completed and is currently submitted in various competitions and festivals for 2022. The short version was quickly recognized in four out of five competitions, so I may be onto something here.
NY Glam: What makes a film great for you? Are there certain qualities that make a film better for you?
Let's start with the ending. As a promising screenwriter, my job is to take the reader by the hand and lead them through an amazing journey, then satisfy them with a memorable conclusion, not one that leaves the moviegoer scratching their head in confusion and not one that abruptly STOPS, then cuts to black, which cues the theater lights to shine brightly. I wish I had a buck for every time the theater lights came up and I muttered to myself, "Is that it?" Other qualities would include excellent script pacing. Case in point: "Titanic" is a 3.25-hour film, but boy, does it go by fast! Didn't glance at my watch once.
NY Glam: As a screenwriter, what is the most important aspect in building a character?
Putting forth the essential 'care' element. As I type away and breathe life into a character, I must care about the individual. If one doesn't apply the extra leg work required (Meh, finger work. We're talking 'writing' here. Lots of hand motion.), then be expected to greet very hollow characters by your script's beginning, middle, and end. Heroes and villains must be granted an equal amount of compelling insight. Whether focusing on good or evil, don't be surprised to be so invested in your characters that you find yourself weeping at your computer screen. Been there. Done that. Caring wholeheartedly about what your characters say and do…. WORKS!
NY Glam: Top three projects that you have been involved in?
"James Dean: Crossing the Finish Line" (Feature script) —I originally wrote this as a stage play back in 1994, then placed it into a drawer for years. Once I joined my writing group, I decided to rework it into a screenplay. Believe it or not, I changed the entire narrative and only kept one speech delivered by Dean. Everything else was new.
"The Dress" (Feature script) – I wrote this a few years ago and it received a considerable amount of praise and awards. I mean, who doesn't like a good, old-fashioned ghost story? — Especially one that takes place in 1985 Hollywood.
"I'll Have Another…" (Short script & film) – The last film in which I wrote, produced, directed, and acted. It has a nice pace to it and I absolutely love the ending. It's the type of film that if you grant it a repeat viewing and pay close attention to what my character says, you'll be rewarded for it.
NY Glam: Do you express yourself creatively in any other ways?
Does bad karaoke count? I'm quite proud of my bad karaoke. Wanna hear me sing? Build a shower around me. Actually, I do enjoy comedy a great deal and have a healthy sense of humor. I wrote my first feature comedy, "South of South Boston… (Virginia)" a few years ago. You can't go wrong with a protagonist named Donnie Wilkes Booth, a distant relative of You Know Who. I really need to expose this script to more festivals. Yep, expose it… unleash it… like a virus.
NY Glam: What advice would you give to someone who wants to have a career in filmmaking?
Turn around and run away as fast as you can! Then stop, light yourself on fire, cut your head off, and toss it into the ocean. It's the only way to survive Hollywood.
Okay, it's time for the non-joke answer: Have patience. Be kind to people. Set goals that are realistic and enjoy what you do. Develop a strong backbone to absorb the large amount of rejection you will encounter. Make a promise to yourself: When it's no longer fun, get out. This bit of advice worked wonders for me when I finally retired from the classroom.
NY Glam: What can we expect from you in this actual year?
Job One this year will be seeking and securing a literary manager for representation. I'm also looking forward to seeing how well my "Where's Grace?" feature screenplay performs out there in Festival Land. Plus, I have an idea for a script that takes place behind the scenes during an Oscar awards broadcast back in the 1970s.
NY Glam: Where can everyone keep up with you to learn more?
Facebook: Bill Brock's "Page and Stage"
@BrocksWritersRoom
Trust me, you'll learn less.