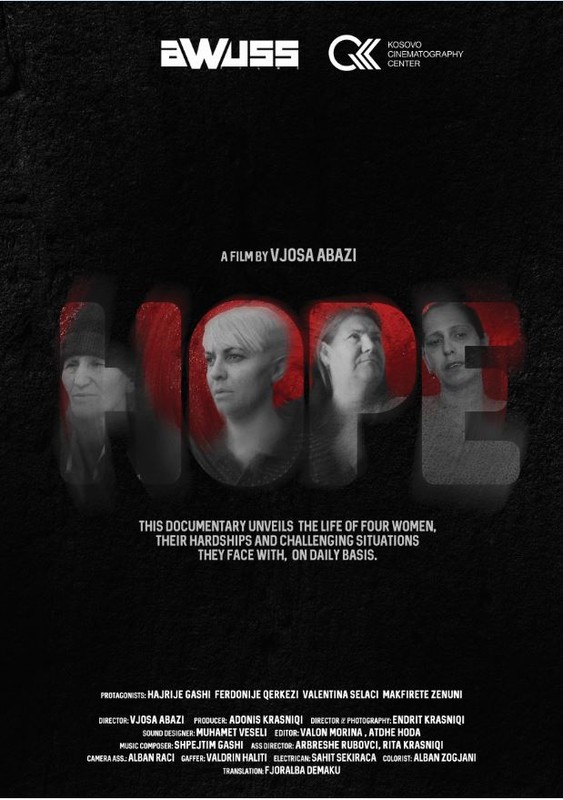 "HOPE" by Vjosa Abazi is winner of 11th Edition of International Filmmaker Festival of New York
"Four women, four heroines, who share a common fate. They have been brutally stricken by misfortune. It is not their shared past that brought them together, but it is "Hope" that keeps them alive, encouraging them to move on.
"Hope" is what keeps mother Ferdonije alive who, during last Kosovo's war, lost her four sons and husband. Two of her sons' bodies have been recovered, while her husband and two other sons remain missing. She does not accept the loss of her husband and two other sons but hopes that they are alive somewhere and that they'll return one day.
"Hope" is what Auntie wishes for a better life in the future. She provides for herself by collecting cans. Her daily life is laborious and burdensome, but it is "Hope" that gives her the strength to get through life, although with great difficulty.
"Hope" is also what keeps Makfirete alive. She has been stricken by a particular calamity. Her son has been in a coma for years. She looks after him every day. Makfirete's pain, sadness, and grief are ever present. However, "Hope" that one day her son will recover and will go back to his normal life is what keeps her going.
Valentina "hopes", for a better life, as life has hit her hard in the past. After the death of her father and two brothers in the war, she had to look after her entire family. She has found the person she is destined to be with, her husband, and is waiting to get together with him. While waiting, she recalls her troublesome past, full of grief and struggles.
Therefore, although life can sometimes be very difficult, one must always try to find something to hold onto. Without hope, these four characters' lives would have ended a long time ago. "Hope" has a power that even magic does not."
Vjosa Abazi is an Albanian actress, known for her roles in theatre, movies and series.
"The Hill Where The Lionesses Roar" film, in the Golden Camera (Caméra d'Or) )competition in Cannes International Film Festival.
Sarajevo film Festival, Toronto film Festival.
"Vera dreams of the sea ", in Venezia Film Festival
She worked for 14 years in a National TV as show leader mainly prompting women.
Currently she works in theatre.