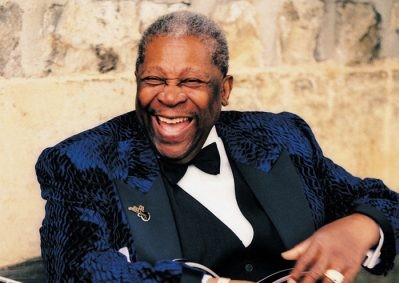 B.B. King, born Riley B. King on September 16, 1925, was a legendary American blues singer, songwriter, and guitarist. He is widely regarded as one of the greatest guitarists of all time, and his soulful and passionate singing style has influenced countless artists across various genres.
Growing up in the Mississippi Delta, B.B. King was exposed to blues music at a young age. He began playing guitar and singing in gospel groups, and eventually made his way to Memphis, Tennessee, where he got his start in the music industry. He started his own band, the B.B. King Review, and began playing at local clubs and radio stations.
B.B. King's breakthrough came in the late 1940s when he signed with the RPM Records label and released his first hit, "Three O'Clock Blues." This song became a chart-topping hit and helped establish B.B. King as a major force in the blues world. He went on to record a string of successful singles and albums, including "The Thrill Is Gone," "Every Day I Have the Blues," and "Rock Me Baby."
B.B. King's music was characterized by his powerful voice and his unique guitar playing style. He played a Gibson guitar he named "Lucille," and his solos were marked by his use of vibrato and his ability to convey deep emotion through his playing. He also incorporated elements of jazz and R&B into his music, creating a distinctive sound that was all his own.
B.B. King's influence on music cannot be overstated. He was a major influence on a wide range of artists, including Eric Clapton, Stevie Ray Vaughan, and Jimi Hendrix. His music has also been featured in numerous movies, TV shows, and commercials, and his impact on the world of blues music has been recognized with numerous awards and honors.
Despite his success, B.B. King remained humble and grounded throughout his life. He was known for his kind and generous personality, and he often used his fame to support charitable causes. He continued to tour and record music well into his 80s, and his legacy will continue to inspire generations of musicians and fans for years to come.
B.B. King was an icon of American music whose contributions to the blues genre will be remembered for generations. His unique guitar playing style and soulful singing voice continue to captivate audiences and inspire musicians all over the world. B.B. King truly was the King of the Blues.