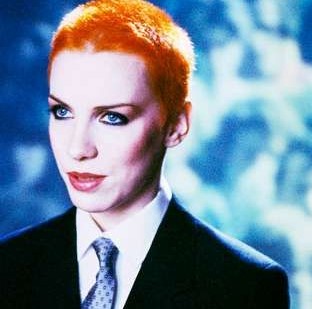 Annie Lennox is a Scottish singer-songwriter who has left an indelible mark on the music industry. With her powerful and emotive voice, Lennox has created some of the most memorable songs of our time, touching hearts and minds with her passionate lyrics and moving performances.
Born in Aberdeen, Scotland in 1954, Lennox started her musical career in the late 1970s as the lead singer of the band The Tourists. The band gained popularity with hits such as "I Only Want to Be with You" and "So Good to Be Back Home Again," but it was not until Lennox formed the Eurythmics with fellow musician Dave Stewart in 1980 that she truly emerged as a musical force.
The Eurythmics quickly became a sensation, blending elements of new wave, electronic, and pop music to create a sound that was both innovative and commercially successful. Hits like "Sweet Dreams (Are Made of This)," "Here Comes the Rain Again," and "Would I Lie to You?" helped make the band one of the biggest acts of the 1980s.
But it was Lennox's solo career that truly cemented her status as a musical icon. After the Eurythmics disbanded in the early 1990s, Lennox went on to release several critically acclaimed solo albums, including "Diva," "Medusa," and "Bare." Her solo work showcased her powerful voice and her ability to connect with listeners on an emotional level, with songs like "Why," "Walking on Broken Glass," and "No More 'I Love You's'" becoming instant classics.
Throughout her career, Lennox has also been a vocal advocate for social and political causes. She has been a tireless campaigner for HIV/AIDS awareness and research, as well as for women's rights and the fight against poverty. Her activism has earned her numerous awards and honors, including an OBE from the Queen of England in 2011.
Today, Lennox's legacy as a musical icon and humanitarian continues to inspire and influence generations of musicians and fans alike. Her music and her message of hope, love, and compassion remain as relevant and powerful as ever, reminding us of the transformative power of art and the importance of using our voices for good.
Annie Lennox is a true musical legend, whose talent, passion, and activism have made her one of the most influential and beloved artists of our time. Her timeless music and her tireless advocacy for important causes make her a role model for us all, inspiring us to use our own voices to create positive change in the world.